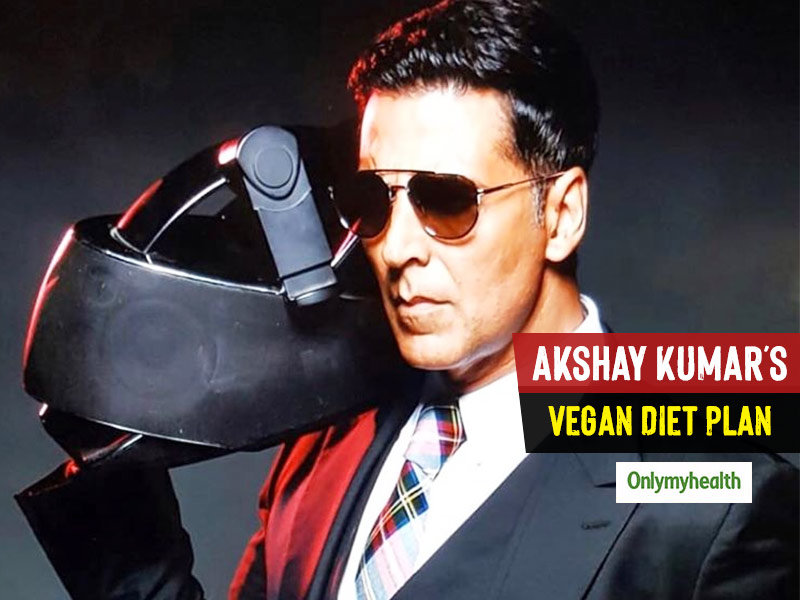 Undoubtedly, Akshay Kumar is known as one of the fittest actors of Bollywood. Akshay is an overall badass in the gym who prefers doing his stunts. Do you know that Akshay is extensively trained in martial arts? Yes, this is an inferred clue to the bottle cap challenge he took last year. And, obviously, you must have all heard about Kumar being an early riser! Hustling in the gym at 4 am. A bit of this urban fable also prescribes that he eats only healthy and he is a teetotaller. Akshay prefers home-cooked meals and often for his co-stars, he even packs extra home-cooked food.
Recently, according to GQ, over a month ago, Akshay started following a vegan food plan, which includes a variety of choices for breakfast, lunch and supper. However, it keeps changing according to Akshay's nutritional requirements and daily routine.
Also Read: Live In Greenery To Get Late Menopause
Akshay Kumar's Vegan Diet Plan
It includes:
Chia mousse with berries
Avocado on toast
Plant-based fruit and milk smoothies
Moong dal chilla
Jowar pancakes
Spinach green tofu curry and rice
Vegan Lentil patties, mushroom patties with mustard tofu dip
Spinach sauce pasta with tofu
Roasted/stir/sautéed/grilled fry vegetables
Steamed cabbage rolls
Vegan cashew, roquette salad
Akshay Kumar's regular routine
Akshay wakes up around 4:45 am and trains at his gym. You'll be shocked to know about his special gym! Akshay's gym lacks any stairs, due to his belief that the only way to travel from one floor to another is through jumping or via ropes(as humans were born as monkeys). This makes an excellent cross-training routine.
At 6:30 am, Akshay eats his breakfast and goes to work. Do you know that Akshay is the one actor who has an excellent work ethic, i.e. he shoots through the day?
Akshay's recent work schedule (from a week ago)
Akshay finished off an ad film in 2 hours, came back to shoot for Prithviraj (Yash Raj Studio), and from there went to shoot for another film (Mehboob Studio).
Lunch between 12.00-12:30 pm.
Evening snack- Walnut milk, sandwiches and berry smoothies.
Dinner by 6:30 pm. Akshay tries to avoid night shoots, as he hates staying up late. Kumar ends up eating his meals maximum by 10:30 pm.
Read More in Latest Health News