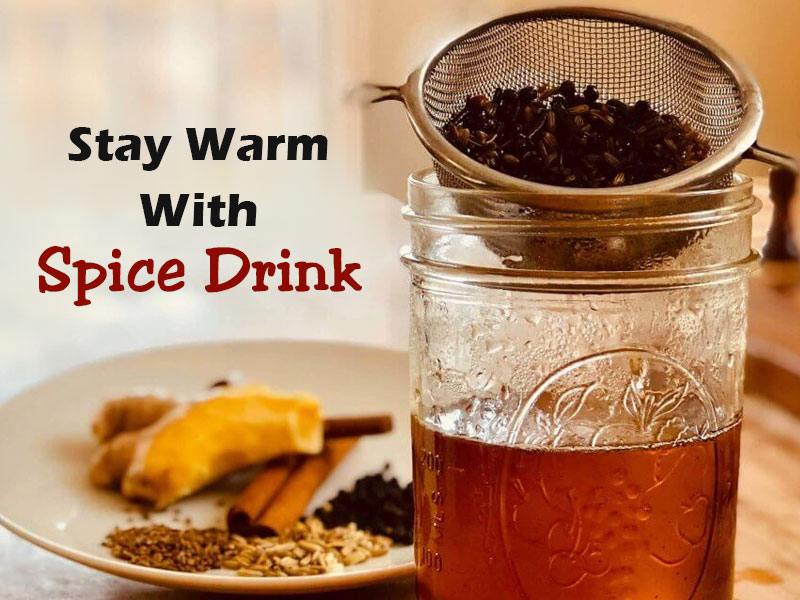 Wearing a warm pullover with a beanie cap and sipping hot chocolate on a cold evening is indeed the best way to celebrate the winter season. But don't forget that it is easy to get sick in this season with germs and bacteria all around in the air. Even a sneeze is an alarm that you mustn't ignore. This might indicate the onset of viral flu or infection which might bring your life to a standstill. Do you want that to happen? Certainly not. You wouldn't want to ruin your New Year plans just because of cough & cold, right?
So, here is a secret winter-warming remedy that would keep you internally warm even in freezing temperatures.
Spice Syrup as Immunity Booster
With the onset of winter, sicks kicks in. Especially for people with weak immunity. Their body is susceptible to bacteria and virus which makes them fall ill very often. As important it is to keep the body externally warm, equally important it is to stay internally warm. There are a lot of warming foods that are advised to be eaten in the season. Here is a winter-warming drink that works outstandingly to boost immunity and prevent seasonal flu and infections.
Health Benefits Of This Spice Concoction
This drink has only natural herbs which are extensively used in Ayurveda to fight off diseases.
Turmeric and Peppercorns: Both posses amazing anti-inflammatory properties as these are loaded with antioxidants
Orange peels: These are high in vitamin C which provides a boost to immunity.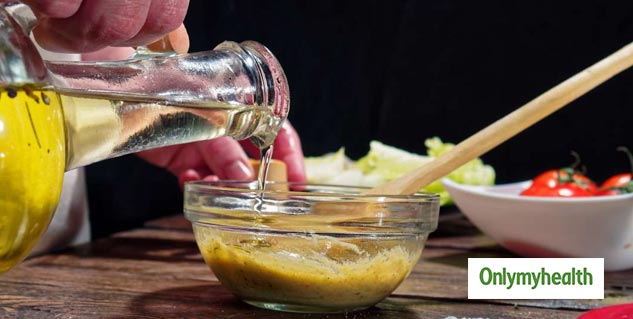 Also Read: Orange Peel Tea: Perfect Way To Combat Cough, Cold and Seasonal Flu
Horseradish: This is a warm spice with high sulfur content. This plays the role of a natural antibiotic which helps to open up the nasal cavities.
Honey: It is the ultimate cure for all immune-related problems. From throat infections to runny nose, this wards off the irritants to keep you safe.
Ginger and garlic: Both are amazing immune boosters that treat the infections.
Collectively, these contents in this syrup fight off all the possible symptoms of winter woes such as viral fever, throat infection, chest congestion, indigestion, nausea, etc.
Also Read: Treat Sore Throat Overnight With This DIY Ginger Wrap
How To Make Spice Syrup At Home?
Ingredients Required: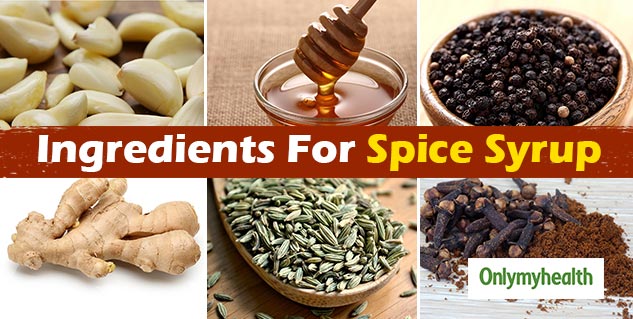 Horseradish root
Peppercorns
Turmeric
Ginger
Garlic
Clove
Fennel seeds
Dried elderberries
Orange peel
Apple cider vinegar
Honey
Recipe
First of all, place a vessel on the gas and add 1 cup of water in it.
As the water gets boiled, add 1 horseradish root, 1 tablespoon turmeric powder, 2 tablespoons of entree, 2-3 cloves, half a piece of ginger, 2 cloves of garlic and 2 peels of orange.
When the color and taste of the water changes, turn off the gas and cool the water.
Add apple cider vinegar to it.
After this, you add 1 teaspoon of honey to taste and drink this sipper.
Read More on Home Remedies