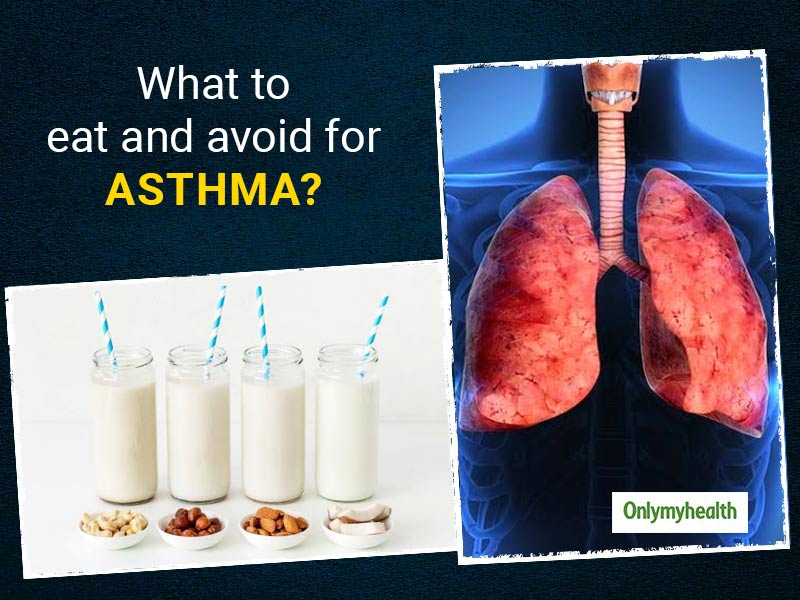 There are some foods that asthmatic patients should eat and avoid in your diet. Read on to know details about it.
Asthma is a chronic inflammatory health condition that causes inflammed airways of lungs that become narrow which creates difficulty to breathe. Cold air that we breathe produces a compound called histamine, which is naturally in our body during an allergic attack that triggers asthma. Changing weather and increasing air pollution in this season can cause infections in many people and can be even more dangerous for asthmatic patients. And, the people who have a weak immune system are at an even higher risk. There are various allergens and irritants in the air that act as a trigger for asthma symptoms and can worsen your condition. Asthma patients need to take care of yourself by maintaining a balance between their diet and other necessary precautions.
You can easily fight this chronic health condition by eating fresh and nutritious foods, that may help in improving your overall health as well. According to a research, having fruits and vegetables regularly can treat and prevent many health problems, including asthma. And, asthma is often linked to the negative effects of processed and added preservative foods. There are foods that help in coping up with this health condition, while there are also some that might trigger allergies and effect your immune system easily. In some cases, these can even result in asthma symptoms. Onlymyhealth editorial team spoke to Dietician Arushi Gupta, Associate Dietician, Dayanand Medical College and hospital, Ludhiana, about the foods to eat and avoid for asthma patients in winters.
What to eat in asthma?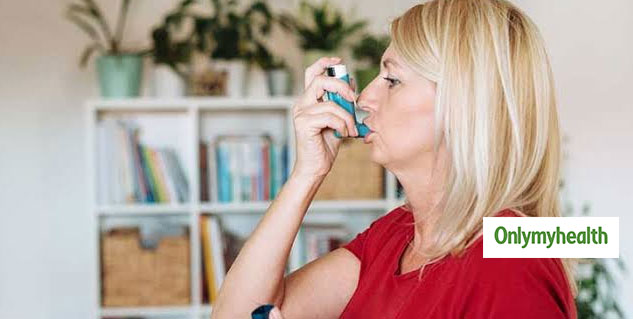 If you are suffering from asthma, then you need to be specific and particular as to what you include in your diet. However, remember that while some foods may act as trigger for some patients, it may not necessarily be true for the other. You need to know about your own allergic and trigger foods. Follow a healthy diet that is loaded with essential nutrients, vitamins and minerals, and can provide relief for asthma. As per Dt. Arushi, here are the foods to eat for asthma in winters:
1. Non dairy milk
It is believed that dairy products are mucus-generating (they increase mucus production in body). Excessive mucus production in our body leads to various other infections as well as blockage of respiratory passage which can lead to wheezing and less oxygen supply in the body. People suffering from asthma should avoid eating too much dairy products. Cold dairy products ie. shakes, chilled curd/yogurts and ice cream should be strictly avoided. Therefore, non dairy or warm milk should be consumed in such cases.
2. Apples
According to a study, people who eat apples everyday are at a lower risk of asthma than people who don't. You might have heard the famous saying, 'An apple a day, keeps the doctor away', and it is true. This healthy fruit not only helps in improving the condition of asthma patients but takes care of your overall health with the beneficial nutrients present in it. You should eat a couple of apples daily to keep asthma under control. Therefore, this fruit is an important part of the winter diet for asthma patients. Avoid having them on an empty stomach as they can lead to digestive problems.
Also read: Are Asthma Patients At The Risk Of Suffering From COVID-19?
3. Garlic and ginger
Both ginger and garlic are excellent antibiotics and they are anti-inflammatory. They help you to suppress asthma, especially during winters. Vegetable soups and chicken broth can be made using ginger and garlic as they have excellent healing properties.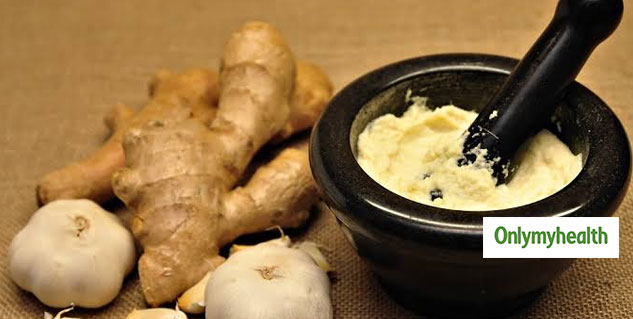 4. Magnesium rich foods
According to various researchers, a body which is weak or lacks nutrients mainly magnesium, is more prone to asthma. Magnesium is found in abundance in green leafy vegetables, pumpkin seeds and dark chocolate. Including these foods in our daily diet will help you soothe the respiratory tracts. Magnesium is a micro- nutrient which is needed in small quantities by our body, but people suffering from asthma should emphasise on adding magnesium rich foods in their diet.
5. Vitamin C and D
It is also believed that lack of "sunlight vitamin" ie. Vitamin D, and excessive moisture also worsen asthma in winters. In fact, excessive moisture also causes breathlessness. Taking good amount of sunlight in winters for some time helps you to fight symptoms of asthma. Vitamin D and Vitamin C supplements have also shown improvements in patient's health. They are believed to suppress inflammatory responses and spasms of bronchitis.
What to avoid in asthma?
Whenever we talk about winter diet for asthma patients, you also need to be aware about the foods that should be avoided in winters, along with the food items that should be consumed. There are some foods to which you need to say a big no, in order to protect yourself from allergies and triggers. According to Dt. Arushi, here are the foods to avoid in asthma during winter season:
1. Preserved foods
If you suffer from asthma, you must steer clear of foods that contain preservatives to avoid complications. Say a big no to pickled foods, dried fruits, bottled lime and lemon juice. Even wine contains sulphites, a kind of preservative that can aggravate asthma symptoms. So, preserved foods should surely be avoided by asthma patients. Beans, cabbage and onion should also be avoided by asthmatic people. It is better to have fresh healthy foods, instead of added preservative food items.
Also read: Asthma Patients Beware: Don't Follow Priyanka Chopra As Smoking Is Synonymous To Death!
2. Junk food
Junk food and foods with a lot of oil and spices should be avoided. And, the focus should be on the food items that provide you with a lot of micronutrients and proteins. Spicy and oily foods contain lots of spices, chillies and oils that can cause cough and gas. An asthma patient should prefer having recommended fruits and vegetables like apples instead of fried junk food or food items prepared in hot spicy sauce as it can even trigger the symptoms of asthma.
3. Shrimps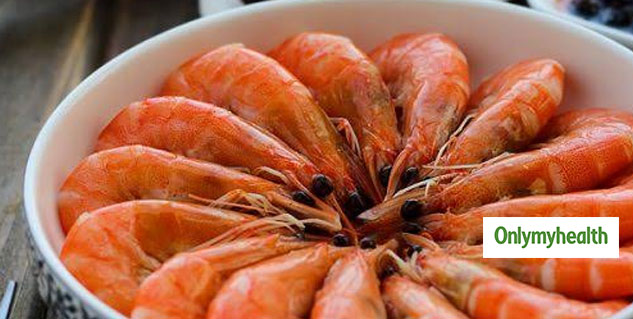 Shrimps should also be avoided by asthma patients in winters to avoid attacks and allergies. Be it frozen or fresh, shrimps also contain high amounts of sulphites, which can immediately trigger coughing and wheezing as it worsens the symptoms of asthma. Another seafood like shellfish can also be likely to cause allergies that might lead to asthma attacks.
4. Cold dairy products
As mentioned above, cold dairy products such as shakes, chilled curd/yogurts and ice cream should be strictly avoided. These are responsible majorly for creating mucus which can lead to congestion and coughing. Drinking milk is not harmful for the body as it contains vitamin D, but having cold milk or any other cold dairy product can result in coughing.
Also read: Sleep Deprivation May Trigger Asthma Attacks In Adults
5. Carbonated drinks
It is suggested to avoid foods and drinks that cause gas and bloating as it leads to breathing difficulty. Carbonated drinks are responsible for weight gain and can have a negative impact on asthma patients as well. Alcohol and other soft drinks should not be consumed in winters, especially if you are suffering from the chronic health condition asthma.
Therefore, these are the food items that you should eat and avoid in winters, if you are suffering from asthma by Dietician Arushi. An asthma patient should always ask his doctor or dietician before adding any food items in your diet in concern about the allergies and triggers. You also have to take care about various other environmental factors that might cause breathing difficulty for asthmatic patients.
Read more articles on Healthy diet