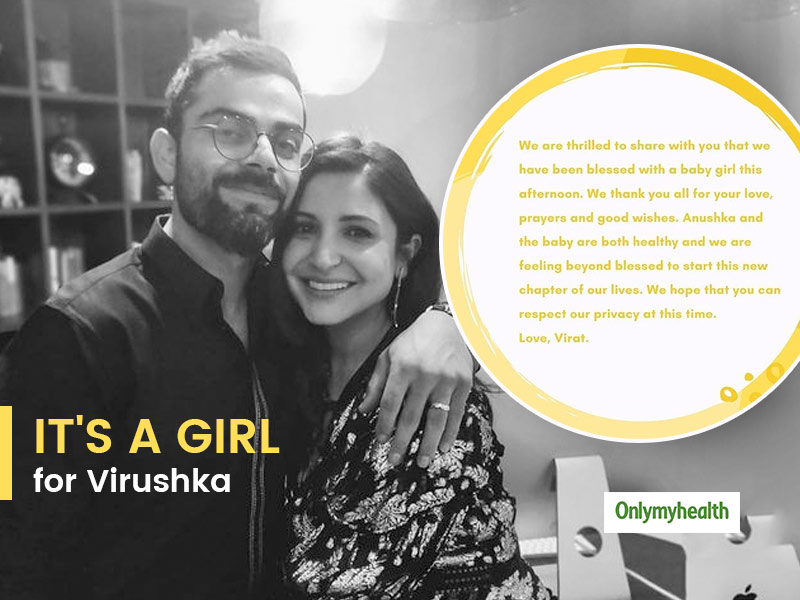 Congratulations and blessing are pouring in as the ace celebrity couple Virat Kohli and Anushka Sharma become parents to a beautiful baby girl. Yes, Virushka are now parents and this has come as a great news for their friends and family. Virat informed about this new addition to the Kohli-Sharma family through social media posts. The B-Town couple already mentioned that they would be keeping the baby away from the public eye. Now that their princess has arrived, we cannot wait to see them as doting parents.
Anushka and Virat welcome their daughter
Ace cricketer Virat Kohli and all-rounder actress-cum-producer Anushka Sharma are blessed with a baby girl this afternoon. The celebrity couple shared about their pregnancy in August '20 and the fans have been waiting to see their little one ever since. The wait is finally over as Virat Kohli took to his social media handles to share the good news with all of us.
View this post on Instagram
Virat has ecstatically mentioned the arrival of their daughter this afternoon and how he and Anushka are thrilled to start the new chapter of parenthood. Despite being a star couple, they both like to live a private life with limited media attention. Earlier, Anushka expressed her opinion on raising the child stating that they want to keep the baby away from the media spotlight. They don't want to raise brats but their children would be raised how they both grew up in their respective families. They want their children to be respectful towards others and so, unlike other celebrity kids, their baby girl would be kept away from social media.
Also Read: Learn From Virat & Anushka How Easy It Is To Maintain Marriage With Career
Virushka Setting Goals for Parenthood
These days where we see parents making accounts for their babies on social media platforms, Virat and Anushka are certainly setting examples for modern-day parenting with a conventional touch. They know what kind of media attention their girl would get and thus, they want to keep her away from paparazzi as far as possible. This is indeed a task for them as they will be followed everywhere but they have requested everyone to respect their privacy.
View this post on Instagram
Healthy Pregnancy Lessons from Anushka
We are sure that most to-be mothers must be following Anushka and other celebrity soon-to-be mothers for pregnancy fashion and style. But there are many other things that they can learn from their pregnancy journey and especially Anushka's who remain physically active throughout the term.
Also Read: 7 Yoga Mistakes That You Should Not Be Doing
Yoga during pregnancy
View this post on Instagram
Anushka created a lot of buzz after she shared her picture doing a headstand or shirshasana in her third trimester. While Yoga is advised for expecting mothers throughout the pregnancy, headstand is something that is termed 'unsafe' during pregnancy. A lot of Yoga experts were against this move however, Anushka wrote a detailed post on why she is doing a headstand. She mentioned that "As yoga is a big part of my life, my doctor recommended that I can do all such asanas that I was doing before I was pregnant(after a certain stage)barring twists & extreme-forward bends, but of course with the appropriate and required support. For the Shirshasana, which I have been doing for many years, I ensured that I used the wall for support and also my very able husband supporting me balance, to be extra safe. This was also done under the supervision of my yoga teacher who was virtually with me through this session."
Thus, pregnant women must consult their doctors about what yoga exercises they can do during pregnancy and they must make a routine. This not only helps in staying fit but also helps in postpartum weight loss.
Also Read: Pregnant Anushka Sharma Clicked While Swimming, Is It Safe?
Pregnant Women can do Swimming
View this post on Instagram
Another myth that Anushka Sharma busted during her pregnancy period was that women can swim during pregnancy. She shared a picture of hers in the swimming pool which soon got people going crazy. We also contacted experts to know if swimming is safe during pregnancy and they told us about the myriad benefits of swimming for pregnant women. It is absolutely safe to swim during pregnancy if your doctor allows it. Women who have complications may need to consult their gynaecologist for the same.
Read More Articles in Women's Health