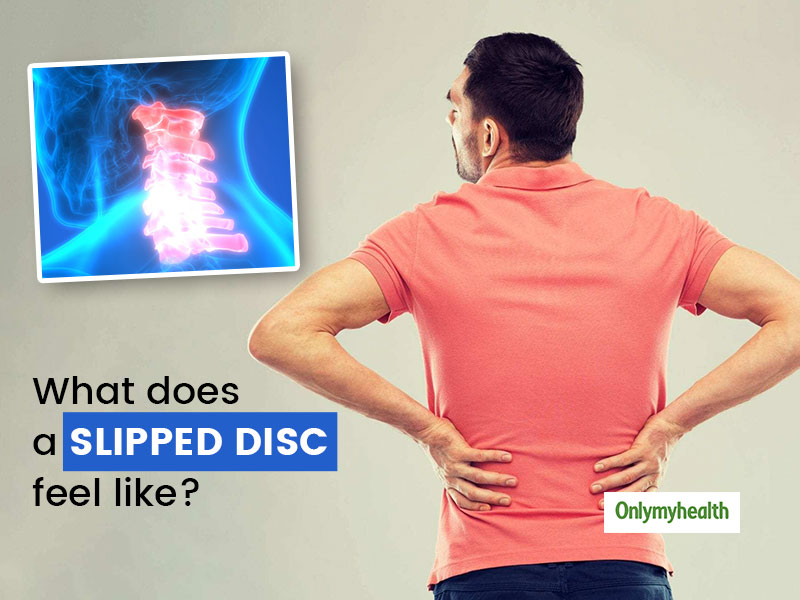 What is spinal disc herniation? When Should One Seek Medical Advice? All your FAQs answered by Orthopaedic Surgeon Dr Shahrookh Vatchha.
What is the slipped disc? When the vertebrae push out the soft cushion of tissue, it leads to a slipped disc. It is also known as a herniated disc or an intervertebral disc prolapse. In our body, the spinal cord supports the bones. There is a group of small bones in the bones of the spine; if a small bone becomes more extensive than its size, it is called slip disc in the language of medicine. Pain is experienced when the bone grows. Apart from this, there is a problem in slip disc due to bone damage and injury. What is the diagnosis of a slipped disc? A diagnosis has arrived from the: history, presenting features, clinical examination of the neck and back to localize the involved segment, confirmation by X-rays and an MRI of the back. Slip discs can cause weakness in the arms or legs. Many people will not be aware of the reason why a slipped disc causes a problem. Let us explain the type, causes, symptoms, and treatment of slip with this article in detail.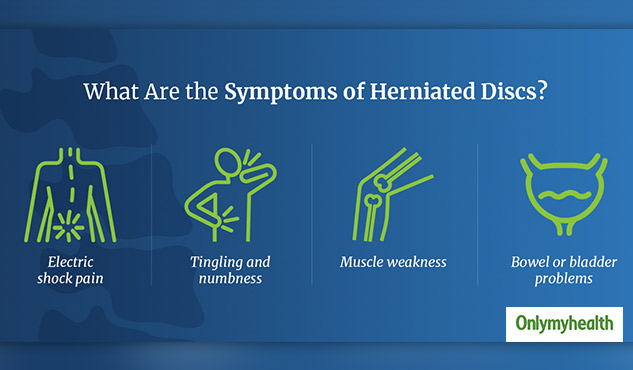 What are the signs and types of a slipped disc?
Sudden pain originating in the neck or lower back and radiating to the arm or leg. Claudication-pain or cramps on walking or activity -relieved on rest. Weakness in the muscles involving the nerve segment- sometimes even paralysis of the parts involved. In severe cases, bladder/ bowel symptoms such as retention of urine and stools. There are mainly three types of slip discs.
Thoracic Slip Disc: Thoracic disc slip occurs in the part of the spinal cord. This causes pain in the middle and back of the shoulder.
Cervical Slip Disc: Cervical disc slip occurs at the neck. It causes pain in the back of the head, shoulder bone, arms and hands.
Lumbar Slip Disc: Lumber disc slip is in the lower part of the spine. This causes pain in the lower back femur, rinse, genitalia.
What are the reasons/causes behind a slipped disc?
It is still unclear why some people manifest a prolapsed 'slipped' disc and not others, even when they lift the same objects or do the same job. It also seems that some people might have a defect in the outer part of the concerned disc. Many things may trigger the inner softer part of the disc to squeeze out through the disc's weakened outer part. For instance, sneezing, awkward bending, or heavy lifting in an awkward position may cause excess pressure on the disc. In people with a defect in a disc, this may be adequate to generate a prolapse. Factors that may raise the chance of developing a prolapsed (slipped) disc include: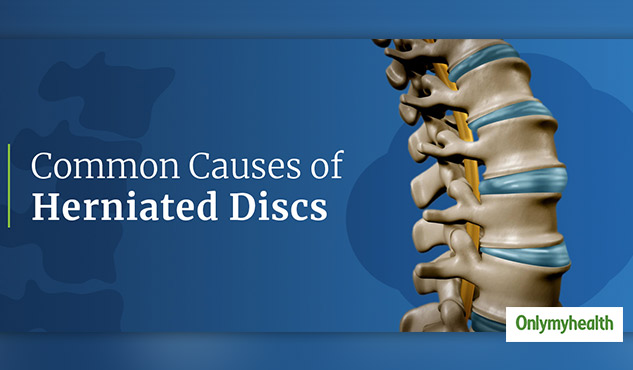 A job involving driving (especially lots of sitting).
Weight-bearing sports (weightlifting, etc.).
A job involving lots of lifting.
Being overweight
Smoking
A slipped disc is more likely to develop a weakness as we become older (hence increasing age is a factor too)
Slipped Disc: When Should One Seek Medical Advice?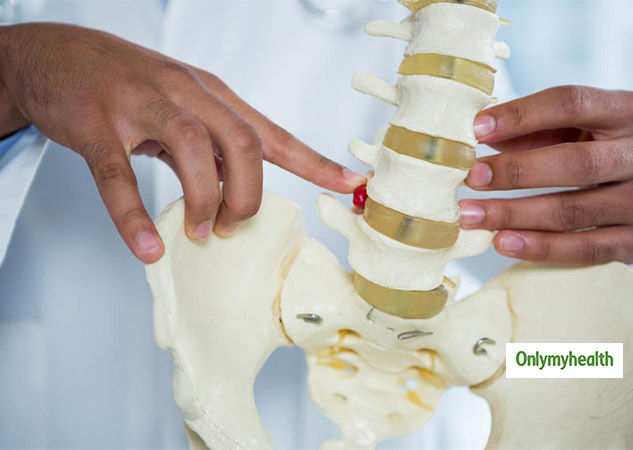 Sudden onset of neck/back pain with radiating symptoms to the armour
A progressively increasing pain or paralysis
Leg not relieved by rest or analgesics
Signs of bladder bowel involvement
All of these should warrant a consultation
What are the medications and treatments for a slipped disc?
Taking painkillers in case of a slipped disc relieves pain. Keep in mind that slip discs should not carry heavy items in case of distress. For example, paracetamol/ibuprofen or similar anti-inflammatory medication.
Treatment of slip discs depends on the cause of the individual. Apart from this, the doctor gives some suggestions so that the person's problem can be reduced.
If you are not getting any adequate relief from taking painkillers, your doctor can change your medicines. If you have spasms, you can prescribe some medication for the same.
In some severe cases, the doctor may replace the first disc and replace it with an artificial disc. Besides, the disc can be removed and mixed with the vertebrae.
If there is no difference in pain for more than a few days, you can suggest taking some medicines to reduce the muscles' slip disc pressure.
Some people are advised to do medical exercises to improve the slip disc. Because of this, the muscles become more assertive.
Gentle physiotherapy; Microdiscectomy; Fusion of the segment with bone graft spacers and instrumentation.
Here are some home remedies to get rid of slipped disc pain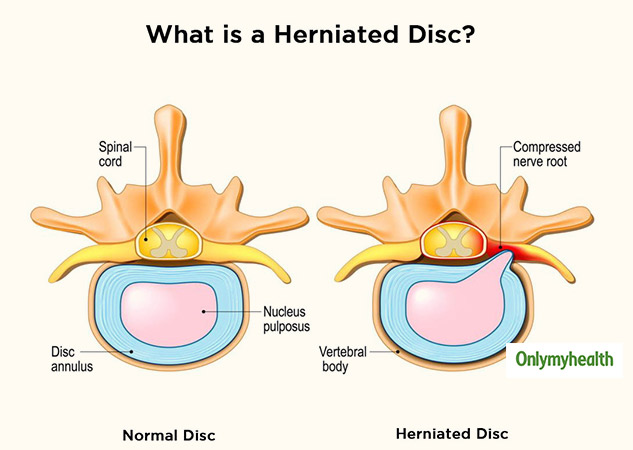 Coconut oil: Do you want to get rid of the slipped disc pain? Don't worry as you can get relief by massaging it with coconut oil. Let us tell you that coconut oil contains vitamin D, calcium, which works to strengthen bones. So it can give you relief if you have back pain. Massage your waist daily with coconut oil by adding mustard oil and 1-2 garlic buds in it.
Pepper and cloves: If you have a slip disc problem, you can get rid of it with cloves and black pepper. For this, you make a powder by grinding five cloves and five black peppers, and after that, you put this mixture in tea and drink it twice daily. This will give you relief in pain as well as your slip disc problem can also be avoided.
Honey and cinnamon: If you have back pain and sleep disc, mix one spoon honey in two grams of cinnamon powder. Consuming it two times a day will relieve the pain of slip disc in a few days.
How can one prevent slipped disc?
Some of the following measures can be avoided to reduce the risk of slip discs.
Sleep while sleeping with your back straight. Put a pillow between the knees while sleeping on one side. When sitting, keep a round of pillow or towel on the chair so that the slip disc is not damaged.
Smoking causes problems with the disc, so avoid smoking. Maintain a healthy lifestyle without physical and mental stress.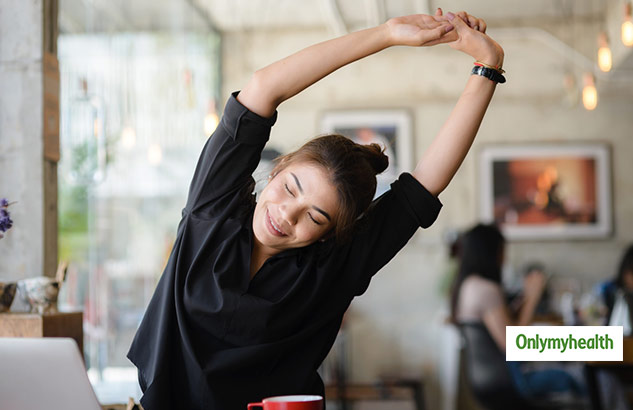 There is no pain during bending and standing. But an injury to the back or sitting in the wrong way can increase the pain.
If you are lifting any weight, use the correct technique to avoid sudden unusual unaccustomed physical endeavours.
To keep your body healthy, keep your body weight balanced so that lower back pressure can be reduced.
You should exercise regularly. Exercise strengthens muscles and does not cause slip discs.
Here are some FAQs related to slipped disc
How to manage the side effects of a slipped disc? Rest, analgesics/ anti-inflammatory medication, support as in collars or belts, gradual exercise and physiotherapy and surgery when symptoms persist or progress are some of the methods to manage side effects of slipped disc.
What is the connection between diabetes and slipped disc? Diabetes is more associated with lumbar canal stenosis. Healing and recovery can be affected in patients undergoing treatment of diabetes.
How does it feel to be living with a slipped disc? Once recovered, you can live an everyday life provided you pay attention to weight control, regular exercise and avoiding physical or mental stress.
Points to remember for spinal disc herniation: A neck and back pain radiating to the limb, progressive neurological symptoms, bladder bowel signs are all alarming signals.
Is there any self-treatment for a slipped disc? Rest, analgesics for a very short duration and eventually, a consultation with a specialist is a must for self-treatment of slipped disc.
What are the risk factors related to a slipped disc? Four risk factors are obesity, lack of exercise, sedentary lifestyle and heavy lifting work.
(Inputs by Dr Shahrookh Vatchha, Consultant Orthopaedic Surgeon, Masina Hospital.)
Read More on Other Diseases