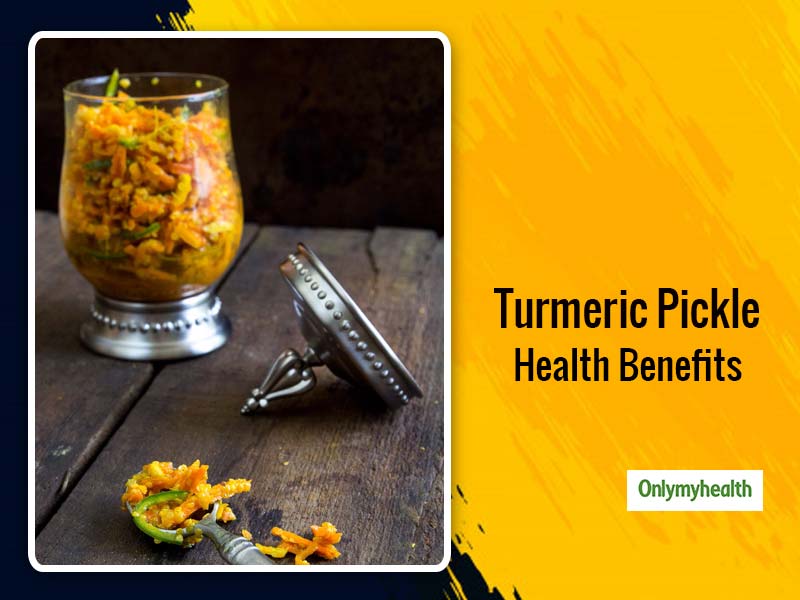 Turmeric pickle recipe and health benefits: Turmeric has medicinal properties that help maintain your overall health. It is also used to tackle problems varying from internal injury to cold and cough. Turmeric helps in the treatment of many diseases as it is rich in anti-bacterial and anti-inflammatory properties. Do you know that it also aids in improving your digestive system? Generally, you all must have heard the benefits of turmeric milk, turmeric water and turmeric powder. But today, we are elaborating you some of the advantages of turmeric pickle.
Here is the fresh recipe of ginger, black pepper and turmeric pickle
Material/Ingredients
250-300 grams of grated raw turmeric
100 grams of mustard oil
Two teaspoons salt
One teaspoon red chilli
Just a pinch of black pepper
Two tablespoons ground fenugreek
Two teaspoons mustard powder
One teaspoon ginger powder
Half teaspoon ground asafoetida
Two tablespoons lemon juice
How to make ginger, black pepper and turmeric pickle?
To make turmeric pickle, first of all, you have to wash raw turmeric properly.
After cleaning the turmeric, dry it in sunlight. After this, you either grate it or finely chop it.
Now, take a pan, put oil in it and heat well.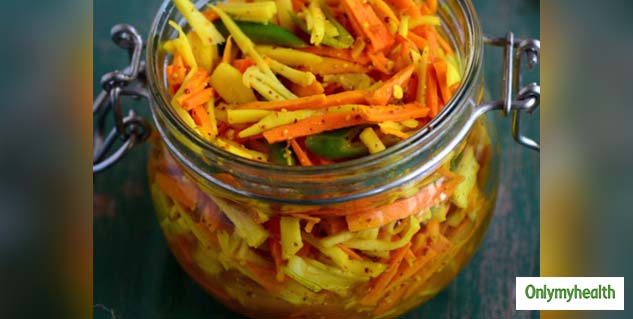 When the oil is hot, dilute it and add ground asafoetida, fenugreek, salt, chilli, mustard powder, saute and chopped turmeric.
Now mix lemon juice with all of them and mix well. If you want, you can also add green chillies by making an incision.
After this, you put this pickle in a glass container and keep it in the sun for two days.
What are the health benefits of turmeric pickle?
People usually consume turmeric mixed with milk and water. But do you know the health gains of turmeric sauce and pickle? From helping you sleep well to healthy immunity, turmeric is a spice that does wonder!
Turmeric pickle is full of such unique properties that it can reduce the risk of prostate cancer in men. It has anti-cancer properties and powerful antioxidants that help in fighting cancer-producing cells.
Why is turmeric pickle beneficial? It contains raw turmeric, which is more valuable than turmeric powder. Therefore, it helps promote joint pain and digestion.
Turmeric pickles contain lipopolysaccharide, which helps to strengthen your immune system.
Not only this, turmeric pickle is beneficial in controlling your blood sugar (healthy for diabetics), as it helps maintain your insulin and glucose levels.
Because of its antiseptic and antibacterial features, it also helps cure the infection and skin-related problems.
Black pepper has piperine a compound which helps in absorption of turmeric - compound curcumin in the gut. Just a pinch of black pepper can increase absorption by 200%. Otherwise out gut doesn't absorb curcumin.
This comfortable and quick turmeric pickle can be consumed in small amounts with meals. The pickle comes with a Vitamin C rich fruit, the goodness of lemons, which supports weight loss, promotes hydration, improves digestion and skin quality.
Some studies suggest that turmeric and ginger and could help relieve chronic pain, decrease markers of inflammation, improve immune function and reduce nausea.
Read More in Healthy Diet