Do you fall sick now and then? This might be due to poor immunity. Getting sick is really uncomfortable as it brings your life to a halt. And when this happens frequently, it completely drains out your body. Not only you feel low, but it is highly likely to get attacked by viruses. This makes you prone to various illnesses. Therefore, it is imperative to strengthen the immune system to safeguard holistic wellness. To boost immunity, you don't have to go for medication, and the solution is there in your kitchen. We are talking about black pepper. Drinking warm water with black pepper powder every morning, preferably on an empty stomach is the best remedy to boost immunity. It is said that drinking this pepper water for at least a month can relieve you from myriad health problems. Read all the benefits here.
Health Benefits of Drinking Black Pepper Water
Here are some of the notable benefits of drinking water with a pinch of black pepper powder in it.
Boosts Immunity
First and foremost, this solution is a great immunity booster as it nourishes the cells of the body and prevents their damage. It inhibits free radical damage to keep the body safe from seasonal attacks.
Naturally detoxifies the body
Gut health is significant for overall wellness. A healthy gut means a clean and detoxified stomach. This magic water flushes out all the toxins and chemicals from the body. This improves digestion and helps in keeping stomach issues at bay.
Aids weight loss
One of the major health benefits of this solution is weight loss. While a lot of people do drink water as a part of their morning ritual, adding a pinch of black pepper powder would only add up to the benefits. These two together increase metabolism to better digestion and burn more calories. Thus, you'll get the desired body weight in just a month!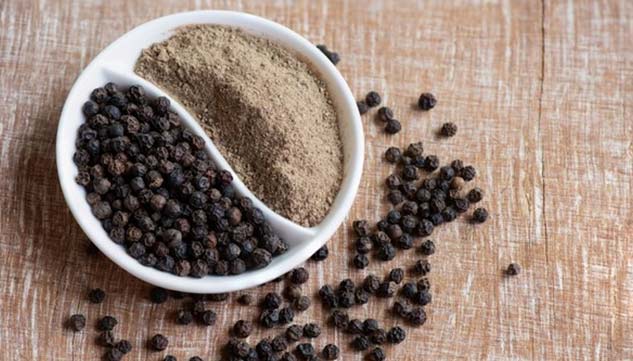 It prevents dehydration
Hot water and black pepper combination are exceptionally great for gut health. Similar to other benefits, it treats dehydration by nourishing the skin cells. This helps you stay energetic all day long. Also, it keeps the skin moisturized.
It prevents constipation
People who suffer from chronic constipation should definitely drink this water daily. It will better your bowel movements which would eventually lead to a healthy stomach. You'd see your problem subsiding with each day. With the elimination of toxins from the body, your stomach would feel lighter.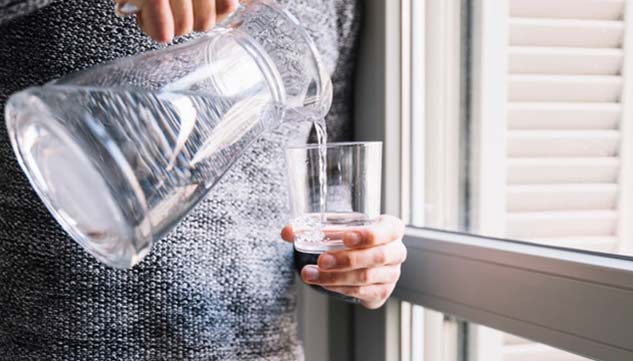 Also Read: Does Black Pepper Reduce High Blood Pressure? Here Are Expert Opinions
It boosts stamina
Once you begin drinking this water on an empty stomach every morning, you'll feel your stamina levels almost double up. This is because it gives a boost to your metabolism.
Improves the texture of the skin
It detoxifies and hydrates the body, which eventually impacts your skin. Your skin will get a healthy and radiant glow within a month. Also, it manages sebum production.
Dr. Pooja Kohli, VP (Ayurveda Growth), NirogStreet says that "drinking warm water with a pinch of black pepper for a month is an excellent idea due to various medicinal properties of both. Black pepper enhances metabolic performance, and it has anti-inflammatory, anti-oxidant property, helps in maintaining respiratory tract system's health and health of joints. Black pepper and hot warm is excellent in pacifying Vata and Kapha but increases pitta, so good for those who have arthritis, joint pains, constipation and health issues related to the respiratory tract. If used in excess can cause acidity, irritation of intestinal wall."
Read More on Healthy Diet
Image credits- freepik