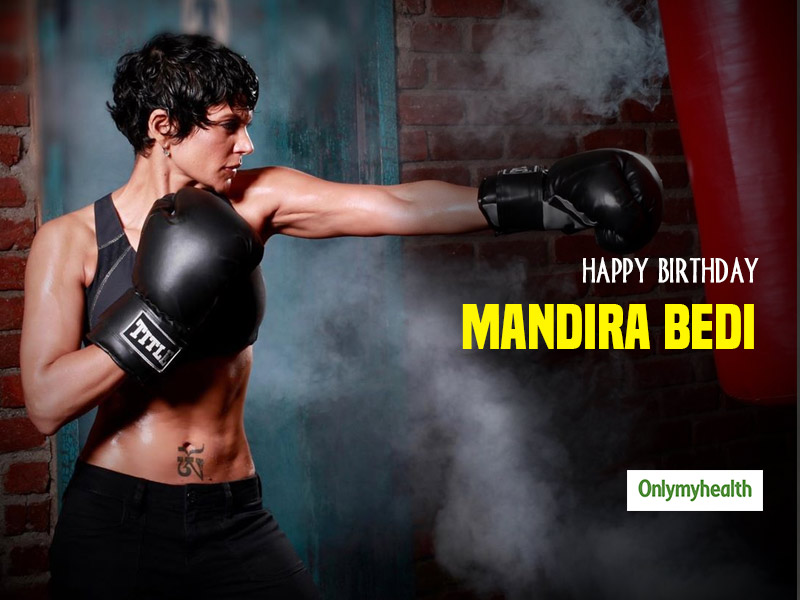 Mandira Bedi became a household name after her stint in the popular TV serial 'Shanti' and later mesmerized audiences with her stint in many Bollywood films. At that time, she was seen as a shy and typical Indian girl but breaking the stereotypes, she is a strong independent woman who is an icon for a lot of girls. Those who believe fitness is a man-only thing, see Mandira Bedi and then see where you stand in front of her. Mandira is nearing 50 but her personality defies her real age. Mandira is a sporting soul and takes up one or the other fitness challenge every now and then. Currently, she is documenting her daily workout as #365daychallenge. Let's tell you more about her mantra of fitness.
Always Up To Take Fitness Challenges
She is a wonder woman who can do almost anything that involves fitness. In one of her recent Instagram post, she is seen taking up the T-Shirt challenge where she is wearing her tee and shorts while doing a handstand! What caught our attention is how easily she completed the challenge that seems easy but it is very difficult
Circuit Training
She is fond of circuit training and she is doing it without the gym. She is the perfect example of how one can do a workout without needing any equipment. People who believe that workout is only possible with equipment, learn from Mandira.
Also Read: Some Fun Ways To Stay Active During Work From Home
Inverted Poses for Calmness
Here is another video that shows her strength. Inverted poses are believed to aid mental instability. Days when you feel low on concentration, practice these. she captioned this video- "I know I have the grace of a clumsy Elephant but the will of a Bull! And that's what keeps me going! I do a few minutes of inverted poses every day to keep my anxiety at bay. There are so many to choose from."
Also Read: Know How Alia Bhatt Keeps Herself Pumped Up All The Time
Skipping
This is an underrated exercise that people don't find worthy enough to be included in their fitness regime while Mandira has a different perspective. She likes to experiment and which is why she does both front and backward skipping. This is a different technique altogether that has different timing and it requires practice & patience both. Mandira nailed it with 2000 skips and 100 free weight squats. She surely deserves the title of Female Fitness Icon.
If you are looking for inspiration to start working out at home, here it is. Follow Mandira's footsteps and you're good to go.
Read More in Exercise and Fitness