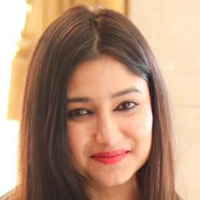 Healthy Diet
Reviewed by: Swati Bathwal, Dietitian and Diabetes Educator
Published at: Sep 07, 2020
Written by: Tavishi Dogra
There are a lot of choices of green leafy vegetables in the winter season. But what can you eat in rainy weather? As per Ayurveda, methi balances the Vata and Kapha doshas, which are worn down during the monsoon season. One of the excellent remedy to revive your sluggish liver is to sip on methi-infused water. You can also add some methi sprouts to stews and curries to get the benefit of its blood purifying properties. Nowadays, children do not like these vegetables much, but if you make a delicious dish from them, then they will eat it with great fervour. Methi is a very nutritious vegetable, and you can make tasty paratha with it. Yes, these parathas are not only delicious but also much healthier than potato or paneer parathas.
Today, Dr Swati Bathwal will tell you the five tremendous benefits of eating methi parathas.
Methi Paratha is light and digestible: You can eat breakfast or lunch at any time as these parathas are very soft and digestible. Methi leaves are considered very beneficial for the stomach, so fenugreek/methi parathas are also good for your gut. Fenugreek has the right amount of vitamin C, which cures common stomach problems like constipation, acidity, indigestion etc. and reduces allergies.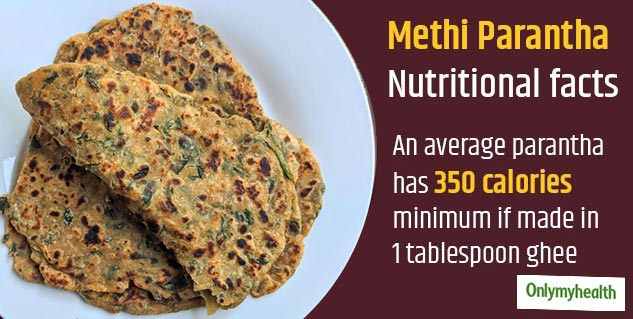 Controls Cholesterol: If your cholesterol is already very high, then the doctor refuses you to eat oil-ghee. Therefore, in such a situation, you should bake the paratha without oil and make it dry. If your cholesterol level is average, then you can eat paratha cooked with light oil. The remarkable thing is that fenugreek itself is known to control cholesterol. Research shows that fenugreek helps in reducing LDL cholesterol and also reduces inflammation in the body. Consumption of fenugreek keeps blood pressure under control and also keeps the body healthy.
Beneficial for breastfeeding women: Fenugreek is a good source of calcium, making it an excellent herb to consume during breastfeeding (as it increases the production of breastmilk in women). Therefore, for those women who feed their infants, eating fenugreek/methi paratha or fenugreek vegetable can be very beneficial.
Beneficial for men: Consumption of fenugreek also improves testosterone hormone production in men. These hormones are essential for men's physical abilities and health. Apart from this, these hormones also increase the sexual skills of men. Therefore, fenugreek/men parathas can also be very beneficial for men.
Keep your stomach full for long: The fenugreek/methi paratha is a complete meal in itself, so you don't need a lot of things to eat with it. You can eat methi parathas with curd, pickle or tea. It also controls appetite and calories.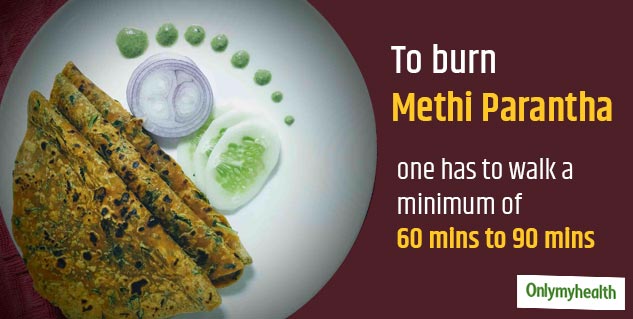 Easy Recipe of Methi Paratha
It is effortless to make methi paratha, and it is prepared in a short time. To make it, first of all, wash the methi leaves well and chop them. Now take all the flour you need. Knead the flour by adding a little salt, fennel, parsley and chopped methi/fenugreek. After this, roll them like paratha and bake them in very little oil. If you want to make the parathas healthy, you can make them on a non-stick pan and make them in low-fat oil or butter. This will make the parathas crispy and cook well in very little oil.
Takeaway Tip by Dr Swati Bathwal: Hence, when we combine methi in a parantha is nutritious, but one can also do methi stuffed roti or parantha without ghee. It also has a low Gi effect making it delay the response of high sugars after consuming a meal. Ideally, a studded roti with methi or fenugreek parantha with one teaspoon oil will work wonders.
Read More on Healthy Diet