Admit it or not but we all love smooth hands, soft cuticles along with those trimmed and freshly painted nails especially in the upcoming wedding and festive season. As going to a salon for a manicure session, that too for a hot oil manicure session can be quite expensive and time consuming but that's not it, even for the most tempting manicure session you never know what all is being applied on your skin and nails and how is it going to affect you in the long run? If you are someone who can actually relate with all this, you surely need to give the new and trending hot oil manicure a shot. Before jumping into the procedure let us find out what actually this hot oil manicure is and in what ways it can be beneficial for your hands, nails and cuticles.
What is Hot oil manicure?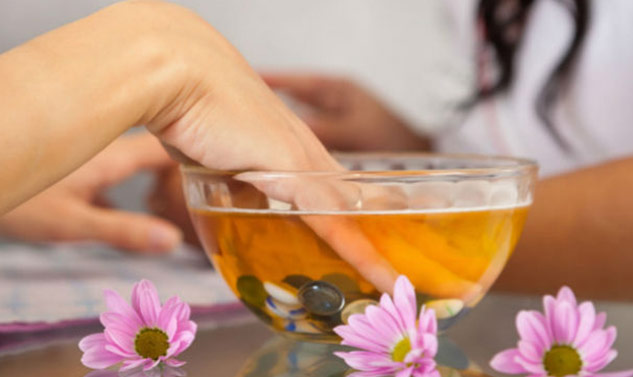 Not just trending but a very relaxing, luxurious and expensive manicure treatment which would not just treat your ribbed, flaky and dry nails but is also proven to be the best treatment to heal those damaged cuticles. Way more than, filing, shaping, clipping and pushing of the nails a hot oil manicure which uses a rich blend of nourishing hot oils which deep cleans your nails, nourishes the cuticles and provides your nails a natural and healthy shine without the use of any chemical treatment of polishes. Let us take a step ahead and learn about the benefits of getting this hyped hot oil manicure.
Also Read: Nail Care: The Ultimate Nail Shape Guide And Tips To Maintain Healthy Nails
Benefits of Hot Oil Manicure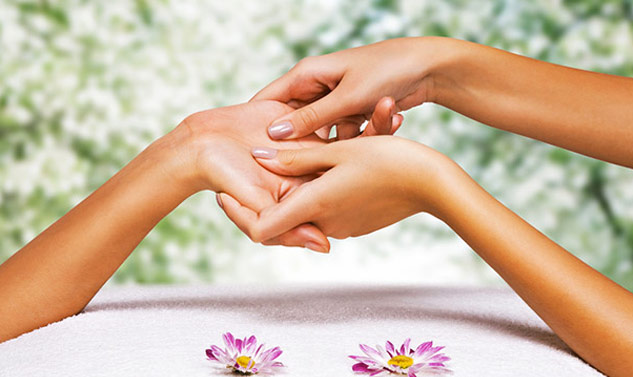 Also Read: How To Remove Nail Paint Without A Remover? Try These Weird But Worthy Hacks
As said, a hot oil manicure goes way beyond your regular shaping, clipping, pushing and filing manicures which are accompanied by not so nail friendly acrylic powders and nail polishes, it is a nourishing nail treatment which comes along with many benefits like-
Detoxifying and exfoliating the nails and the cuticles which helps them to grow faster.
Slows down the process of aging by nourishing your nails and the skin from inside.
Provides a deep hydration to the nails and cuticles that have been damaged due to the regular use of acrylic powders and gel polishes.
Helps in increasing the flexibility of the nails.
This process helps in the removal of hangnails.
Gives your hands a glow and helps in improving the skin texture by proving it with nourishment.
As a massage is accompanied with the treatment it helps in improving the blood circulation and works as an accupressure technique which improves the skin health.
It streangthens your nails, makes them less brittle and prevents them from breaking and chipping.
It makes the skin around your nails and your fingers softer and smoother.
How To Do Hot Oil Manicure At Home?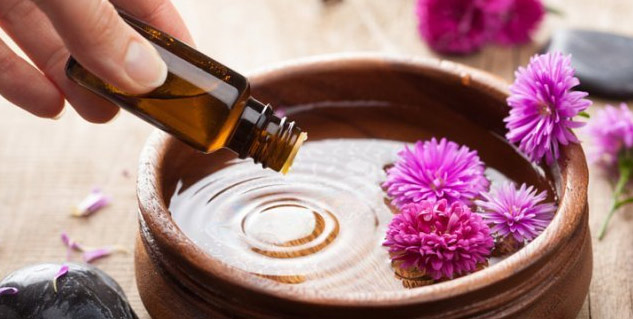 No matter how beneficial or tempting a few things might seem to be but there are times when we hold ourselves back from getting them done due to the high cost it is involved with. Well the super beneficial hot oil manicure can be quite expensive but is also packed with many benefits. Do not worry, we are not telling you to spend a fortune to get those healthy, shiny, whiter, detoxified and smooth nails along with soft, supple and pliable hands.
Well you do not have to spend a fortune to enjoy all the benefits as we are going to learn an inexpensive, quick and smart hot oil manicure that you can perform at the comfort of your home.
So without a further ado let's dive into this exciting procedure of hot oil manicure.
What do you need?
1 ½ cups of castor oil
1 ½ cups of sunflower oil
1 ½ cups of olive oil
1 ½ cups of almond oil
15 drops of tea tree oil
2 capsules of Vitamin E
Also Read: With this new trick I do not go to parlour anymore for manicure and pedicure
Procedure
In a large microwave safe bowl add castor oil, almond oil, sunflower oil, olive oil and tea tree oil in it.
Puncture the vitamin E capsules and add its contents into the bowl.
Mix the oils together and microwave the oil mix for about 30 seconds.
Dip and soak your hands in this mix for about 4-5 minutes.
After the oil mix cools down, slightly massage your hands from your wrist to the fingers and nail edges to cuticles.
Massage your hands for about 5-7 minutes.
Finish this off by washing your hands with tap water, wipe off with a soft towel and moisture using a light moisturizer.
Make sure that you stay away from all kinds of soapy products for about 5-6 hours and you are good to go. Follow these simple steps to get nourished nails, healthy cuticles and soft hands in no time at the comfort of your home.
Read more articles in Skincare