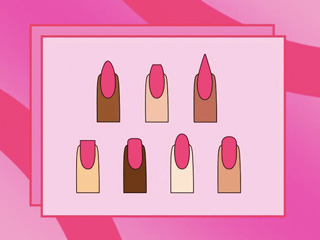 Don't we all love those freshly painted and perfectly shaped nails after every manicure? The way they instantly make our hands look so pretty has the power to lift up our mood and make us feel happy. Whenever you go to a salon for your mani-pedi sessions you're forced to make a few decisions; what colored nails do you want, what shape do you want your nails to be. Well if the only options you have are round and square then my friend, you surely are living under a rock and this article is going to be an eye opener for you. From oval to squoval and from almond to coffin, Here is our guide to the different nail shapes so you would know what to ask for at the salon or create yourself for a perfect manicure.
Nail Shape Guide
Listed below are the possible nail shapes that you can get at the comfort of your home too:
1. Round Shaped Nail
Straight sides and round edges, the classic round shape is something you can never go wrong with. This nail shape is best for people with short nails. It is the easiest one to maintain and suits all types of fingers.
Fun fact- This shape has ruled the era of 50's and 60's and is back with a sass.
2. Square Shaped Nails
Sharp square shaped nails are undoubtedly the most popular ones which best suit the long fingers as they have wide nail beds. A flattering shape with no risk of breaking as it follows the natural width of your nails.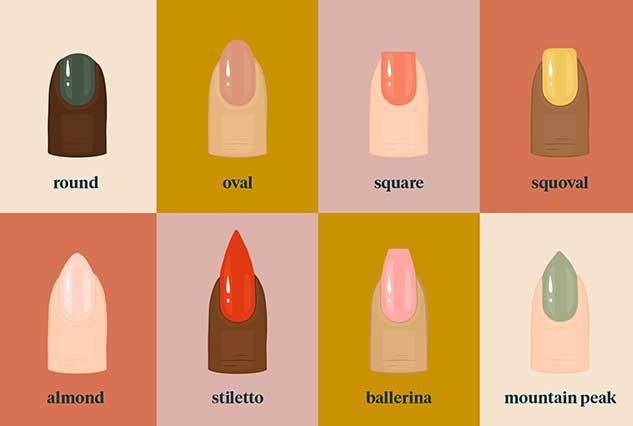 3. Oval Shaped Nails
Filed down on the sides in addition to the tips, a shape which gives your fingers a very elegant appearance. These long nails with soft rounded edges and tips make your fingers appear longer and hence are best suited for people with small hands.
4. Squoval Shaped Nails
As the name suggests, squoval is a variation of square and oval which is actually a soft square shape. It has the flat edge of the square but has softened corners so that you can get the best of both worlds.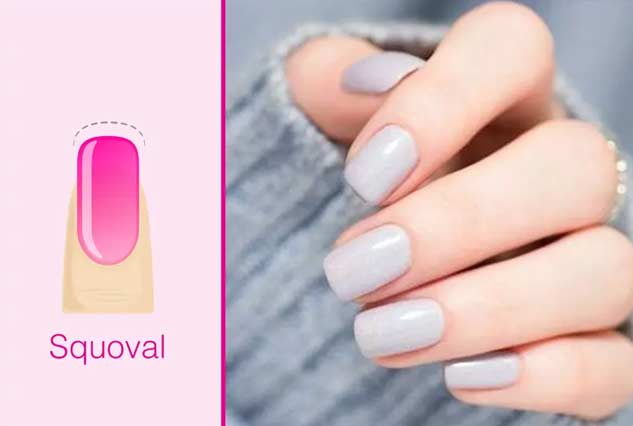 5. Almond Shaped Nails
Filed along the sides just like the oval shape but with a slimmer tip. This shape looks like an almond as the nail wall is tapered and the end has a round peak. It suits short fingers very well and makes them seem a bit longer. Almond shaped nails are a bit difficult to carry as it can make your nails fragile and hence they can break easily.
6. Stiletto Shaped Nails
Long nails with a pin pointed tip, stiletto are the brassiest of them all and need a lot of guts to pull off. However cool they might look but they can actually make your life a lot more difficult. This celebrity nail shape can actually become a major hindrance in your daily life activities such as eating, typing, dressing and what not. This nail shape is Riri's favorite.
7. Coffin Shaped Nails
Also known as squareletto or ballerina, this nail shape is a bit hard to achieve but once done, there is nothing like it. These surely are The Bold Type nails which look very similar to a coffin or the ballerina slippers. As this shape can only be achieved with long nails, people often use acrylic or gel nails for it. This nail shape is a stiletto with a square edge and is Kylie Jenner's signature nail shape.
Also Read: Tired Of Your Nails Chipping And Breaking? Here Are Remedies and Tips To Strengthen Brittle Nails
8 Mountain Peak Shaped Nails
Stiletto nails with shorter length, pointier edge and a wide base. It is sleek, simple, delicate and easy to carry, something which is very comfortable to work with and also looks chic.
9. Lipstick Shaped nails
How flattering is that fresh cut of a new lipstick, and secretly we all try to maintain its shape as long as we can. This nail shape is the new beauty trend inspired by the shape of a brand new bullet lipstick which has a slant squared end accompanied by flat edges.
Nail Care Tips
Once you know the shape, listed below are some simple nail care tips to do at home for healthy and pretty-looking nails:
1. STOP Biting Your Nails
Not just one or two but this habit has a lot many ramifications, it makes your nails lookugly, makes them weak and brittle and is also hazardous for your health as the germs from your nails get transmitted to your mouth which in turn can cause stomach infection and other diseases.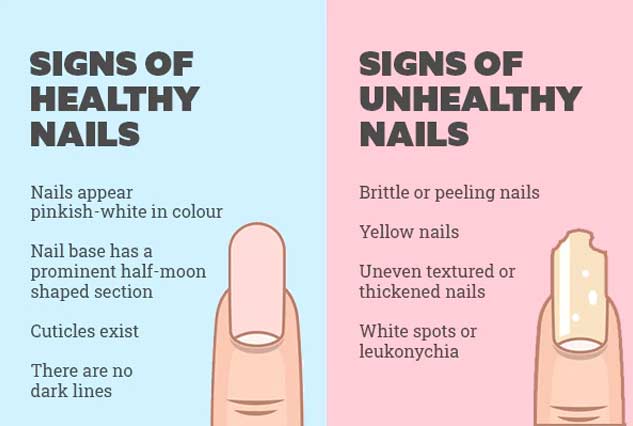 2. Moisturisation is the key
Just like your hair and skin, your nails need to be moisturised too. Moisturising your nails makes them strong, shiny, healthy and also prevents them from brittling.
You don't need a separate moisturiser for your nails, you can use any oil, moisturizer, hand cream or even vaseline for them.
3. Trim! Trim! Trim!
Trimming is essential for the healthy growth of your hair and nails. Make a routine and trim your nails after regular intervals so that they can grow longer and stronger.
4. Never scrape off your polish
Scraping off your nail paint can make your nails rough and can strip off the top layer of your nails. Always use an acetone free nail polish remover.
5. File your Nails Gently
Don't be harsh on your nails while filing them. Go in one direction to make the edges smooth. When you go on vigorously it makes your nails blunt and leaves no scope for shaping.
(Written by Charu Sharma, Sub-Editor, Onlymyhealth)
Read more articles on Fashion & Beauty