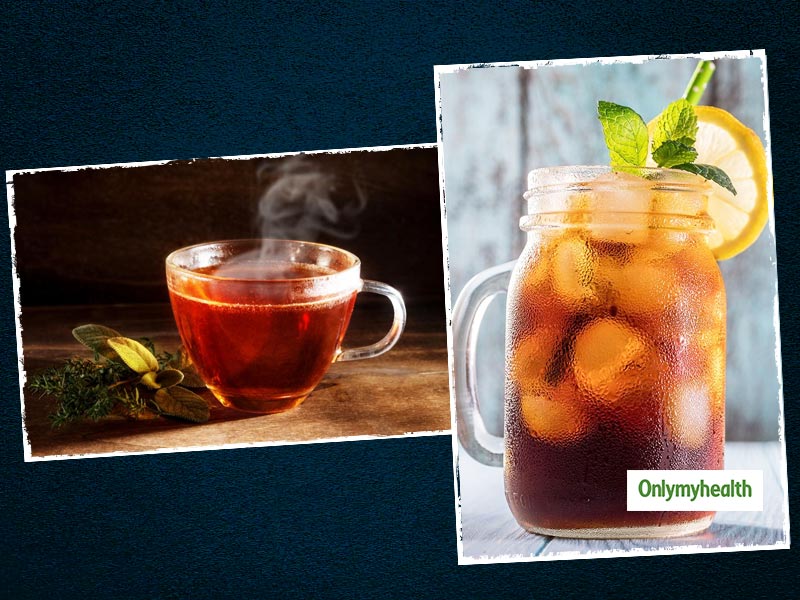 When the teas are brewed well, they can be had hot or cold, they derive similar health benefits and contain the same properties.
Iced Tea Vs Hot Tea: The drunkest coffee in the world is tea. Most of it is served in the form of iced tea in western countries and is typically eaten hot in the Asian subcontinent. Tea is a drink that is safe to have. It is densely packed with several antioxidants and is highly nutritious and calming too. It does contain caffeine but much less in comparison to coffee. Hence, it is a much better option. Tea is one of the commonly consumed and most common drinks worldwide. A tedious and exhausting day can also turn into a calming one because of its stimulating and refreshing flavour. No matter what kind of tea you like—hot or cold, green or black, its ubiquitous popularity can not be underestimated. But there are some health benefits from drinking tea every day, aside from its comforting taste and fragrance. Teas are preceded using a plant bush called Camellia sinensis by the process of fermentation. When fermentation is completely done, the tea becomes green tea or yellowish-brown in colour. The leaves darken to become 'black' tea as the fermentation period is extended. Oolong tea is produced somewhere in between. "Teas" are often called hot-water infusions made from spices, but they are legally not teas since they are not from the Camellia sinensis plant. Herbal teas were initially being brewed for medicinal purposes. Herbal teas have endless health benefits depending on which plant or herb they coming from.
Tea drinkers prefer their tea as either hot tea or iced tea. Generally, iced teas are excellent during summers as a cooling and refreshing beverage, where hot teas are more prevalent during winters to keep the body warm. But when it comes to the difference in their health benefits, this is quite a debatable topic.
Health Benefits of Tea Consumption
Hot tea is one of the most traditional drinks fondly consumed across the world. These days the market is flooded with various types of teas, each having their significant benefits. Hot tea consumption has also been linked with multiple health benefits under numerous studies. For example, green tea is known for its anti-cancer and chemo-preventive effects due to its rich an antioxidant profile containing epigallocatechin-3-gallate, quercetin, kaempferol, etc. Similarly, chamomile tea is known for its stress-relieving attributes and oolong for boosting metabolism.
The hot tea is known for its antioxidant properties. But the amount of antioxidants produced in your body depends on the type of leaves you use and how hot it is. Milk tea has the maximum amount of antioxidants and that too, when it is soaked and left for a long time. It is also common in green tea. So if you want to get the maximum intake of antioxidants, then it is a good idea to soak it in cold water.
Drinking excessive hot tea is associated with cancer. According to a 2018 study, drinking hot tea may increase the risk of cancer. Another research written in the International Journal of Cancer in 2019 showed that drinking tea immediately after boiling may increase oesophagal cancer risk.
Advantages of Hot Tea by Ms Preety Tyagi, Lead Health coach, nutritionist, and Founder of MY22BMI
Antioxidants: Tea leaves are infused with hot water, and the flavonoids and other antioxidants are drawn out. The antioxidants and therefore, their health benefits are diminished by allowing the hot tea to sit and then grow cool.
Flavour: It tastes great with hot tea. When the tea is hot relative to cold, the human the body is more able to experience intense aromas and tastes.
Caffeine: There's the same caffeine level in hot tea and cold tea, but if you're only looking for an energy boost, you can drink any.
Cholesterol: Your unhealthy HDL cholesterol levels, LDL cholesterol, and triglycerides can be decreased by consuming hot tea. When drinking iced tea, the same advantages are not noticed.
Iced Tea Vs Hot Tea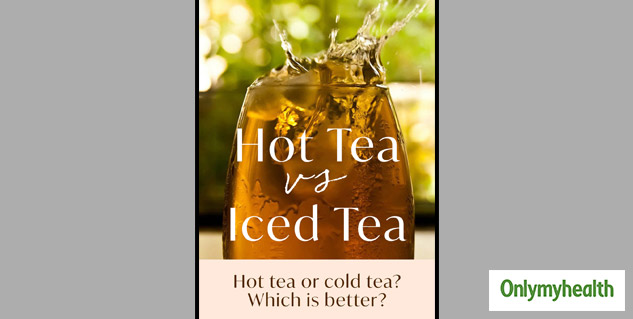 Yes. If the tea is brewed well, even iced tea has the same amount of antioxidants, catechins, and flavonoids as hot tea. However, instant iced tea, which most available in the markets, contains negligible amounts of catechins. The highly sugared Iced Teas available in departmental stores are very unhealthy. They include zero nutrition and infant, have a lot of unwanted chemicals in their composition.
During the winter season (like these days), it is advisable to consume hot teas and herbal teas. The main difference between hot and iced tea is their aroma. Hot teas have a more pungent smell as compared to iced teas. Studies say that our taste buds pick the scent of hot beverages more quickly than cold drinks.
Generally, iced teas are consumed in sweetened form, and they may contain high levels of sugar or other sweetening agents. Therefore, weight watchers should be extra cautious if they are a fan of iced teas. But if tea is preferred to get a dose of caffeine, then there is no significant difference between hot and iced tea.
Advantages of Iced Tea by Nutritionist Preety Tyagi
Boosts Your Antioxidants: All these days is more the antioxidants. In certain fruits and vegetables, black and green tea can have more than 18 times the polyphenol antioxidants.
May Help Your Teeth: Drinking tea can help avoid tooth loss; the pH in your mouth improves with tea, which can prevent cavities. At least, as other drinks do, it does not seem to weaken tooth enamel.
Chills the Nerves: Following a stressful case, individuals consuming black tea four times a day for six weeks had lower amounts of the stress hormone cortisol in their blood relative to a test group drinking a placebo.
Helps Your Heart: People who drink green tea would have reduced blood pressure and insufficient cholesterol levels. Besides, a systematic review analysis showed that they have a lower risk of heart disease and stroke when individuals drink two or three cups of tea a day.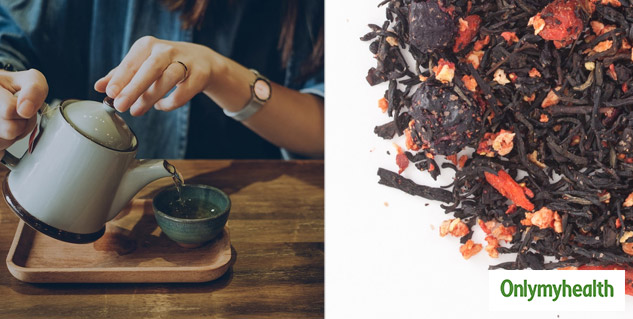 Research on ICED TEA by Fitness Nutrition Specialist Aman Puri
Several researchers say that iced teas contain more antioxidants than hot teas because of more significant steeping time, but there are no conclusive studies to support the claim. Moreover, different teas' antioxidant content differs based on plant variety, growing weather conditions, temperature, tea manufacturing, and brewing time.
A study conducted in 2018 by Claire M et al. found that when an unsweetened caffeinated herbal tea was consumed at cold temperature, it exerted more significant heart health benefits than hot tea. It was assumed that cold weather persuaded more fat oxidation and thermogenesis, thereby improving overall cardiovascular health. But researchers believe that more clinical trials are needed on the same.

Conclusion
"To sum up, it can be concluded that both hot tea and iced tea are equally beneficial. Since we do not have any conclusive clinical studies, it won't be wise to give them an extra edge. We can enjoy the benefit of both and choose as per our taste and liking. It is essential to keep a check on the sugar intake if you prefer more iced tea as they may increase the unwanted load of calories on the body. Else we can make our teas more flavourful by adding some natural flavour enhancers like mint leaves, cinnamon stick or innate essence" Aman Puri, Founder, Steadfast Nutrition.
Read more articles on Healthy diet