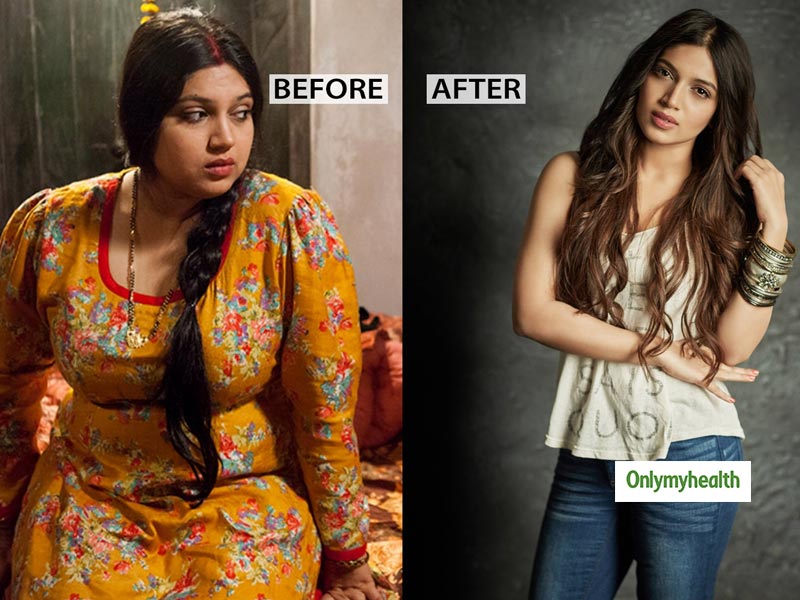 Unlike other actresses who have set significant goals for the youngsters in terms of looks and appearance, Bhumi Pednekar took off with a power-packed performance role in Dum Laga Ke Haisha. In the film, she played the role of an overweight married woman. For the role, she had to put on extra kilos, yet she killed it in the part by not fearing about her weight and looks. In no time, the actress took on the challenge of shedding of all that weight, giving all of us primary transformation goals. Right after her first release, she managed to lose 21 kgs in just four months by adapting an incredible diet and weight loss plan. She once said, "Do not set unachievable goals or targets. Slowly work towards your plan. I was able to lose all the weight as I was in a happy state. I ate everything right from ghee to butter but controlled on certain elements like sugar and carbs. I followed a regular diet and weight loss plan and exercised. I even allowed myself a cheat meal every five days for me to be hooked on to my journey."
View this post on Instagram
Here's how Bhumi went from 89 kilos to 57 kilos without following a diet plan. Use these tips and achieve what the actress did without jumping into the fad of starving:
Also Read: Ram Kapoor Went Fat to Fit Through Intermittent Fasting
Lose it Like Bhumi: Diet
The actress herself took to the social media, sharing the secrets behind the incredible weight loss. She divided her day in precisely three meals. Looking at her diet, she never really believed in fasting or starving but ate whatever was required in limited portions.
Breakfast: Her breakfast consists of the following:
Starting the day with a glass of lukewarm water
Muesli with low-fat milk; She also added flax seeds to be cereal.
Half an hour before hitting the gym in the morning, she had bread, egg whites and fruit.
Post-gym, her diet included boiled egg whites
Lunch: Her lunch consisted of the following:
Her lunch was mostly, multigrain rotis, lentils and lightly tossed vegetables. She supplemented her meals with homemade curd and buttermilk.
As a variation, she at times had grilled chicken, brown bread sandwich with a homemade spread.
One serving of brown rice and homemade chicken gravy
Dinner: She calls it a day with the following meal options:
In between meals, she had fruit in the evening, followed by a cup of green tea
Before dinner, she loaded herself with a big bowl of salad, including all the seasonal veggies and light dressings like vinegar or chilli oil.
For dinner, she had grilled chicken or fish, paneer or tofu supplemented with one serving of brown rice or a thin roti.
She also gives us some extra info on how to counter sugar cravings regularly:
She said, "It's to opt for the better. Why not have a cake which is amazing to taste and also not to fatten? Be it, honey or low-calorie sweeteners, they are easily available and not heavy on the pocket too."
Also Read: Jacqueline Fernandez Fitness Routine: Know the Secret Behind the Bollywood Diva's Fab Body
Lose it Like Bhumi: Workout
Bhumi is known to be regular with her workouts. Some people often go overboard and over-enthusiastic with the gym, but Bhumi believes in the opposite. The first rule in her case was to set achievable targets. She started her day with morning walks and even sprints at times. Further, she did 15 minutes of cardio and weight training for good 30-40 minutes. She even tried functional training as a variation from weight training. Apart from exercising in the gym, she also danced on her favourite Bollywood numbers as a stressbuster and fun activity and played volleyball, badminton and swimming.
View this post on Instagram
In Bhumi's words, "One should love their body type. There is nothing good in fat-shaming people. No one should tell their friends, mothers or sisters to lose weight. Do not judge people according to their weight."
Read more articles on Exercise and Fitness