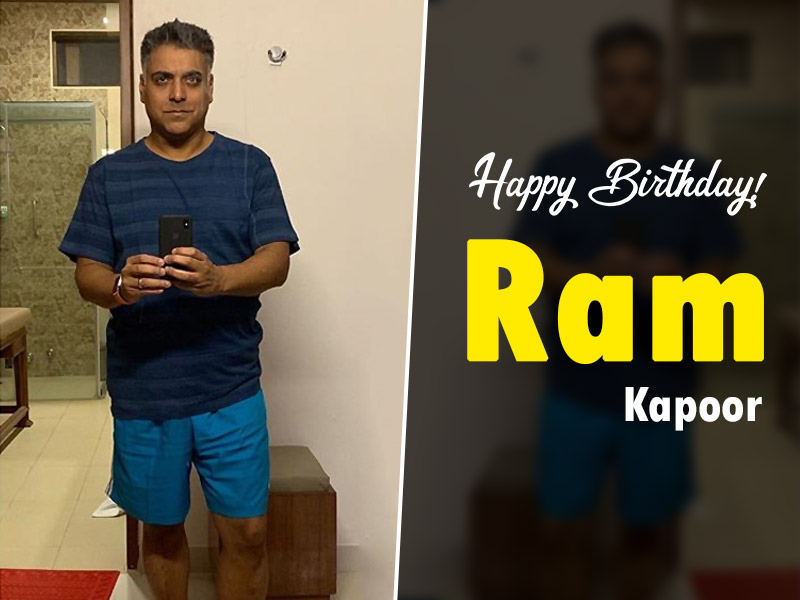 Tv Actor Ram Kapoor celebrates his birthday on September 1. With another year added, this dapper actor has lost all the extra weight and looks ravishing with all the weight lost. 'Bade Ache Lagte Hai', this phrase was often used as a jibe for the soap's star Ram Kapoor who made TRPs soar albeit his rotund belly. But Kapoor just made social media dizzy with his extreme transformation. His Instagram post revealed a fitter physique and chiseled looks, and we are loving the before and after pictures. On his birthday, let's find out how the actor went from fat to fit by following a diet and fitness routine that we should totally know about.
Haven't we all been obsessed with these oddly satisfying stories of body transformations of our favorite stars? Be that Sonam Kapoor, Alia Bhatt, Bhumi Pednekar, Arjun Kapoor… Who would have thought that Ram Kapoor would add to the list of names of the 'fat to fit' transformations?
View this post on Instagram
Ram Kapoor made his debut in the television industry in the year 2000 with Ghar Ek Mandir where Ram charmed his viewers with his earnest looks, sincere acting, and lean body. After that, he played a number of significant roles not only on television but also in movies like Student of the Year, Mere Dad ki Maruti, Baar Baar Dekho, etc.
His most popular role was in Bade Ache Lagte Hai opposite Sakshi Tanvar. Over the years, Ram Kapoor put on oodles of weight, but the audiences loved him anyway.
Also Read: Huma Qureshi's 28 Days Detox Diet Plan: Here's The Fitness Mantra Of The Actress
After being away from the piercing gaze of the media for some time, Ram is now back with a bang! He has shed 30 odd kilos and is now sporting a salt and pepper French beard.
Goes without saying that this transformation was not easy. Excruciating workout schedules and tough diet has what has worked for Ram. At a 130kgs, which is what Ram Kapoor weighed before starting his weight loss journey, his system needed something impactful to start shedding the pounds.
View this post on Instagram
INTERMITTENT FASTING
Ram Kapoor has reportedly been on a trending technique known to us as intermittent fasting. Intermittent fasting is a dieting method in which 16 hours a day is spent fasting. This is also often referred to as a 16/8 diet plan. Ram only has an 8-hour window to eat, healthy and low-calorie food.
Also Read: Sports Supplements: The Importance of Taking Supplements for Gym Enthusiasts and Its Benefits
Sounds impossible? Well, Ram Kapoor just proved this otherwise! Let's dig into his new look and transformation using intermittent fasting.
Ram Kapoor's Workout
• Ram has planned a strict workout schedule and follows it religiously.
• He hits the gym each morning on an empty stomach.
• He sticks to heavy weightlifting exercise in the gym after warm-up.
• Ram's day ends with an intense cardio workout before bedtime.
• Sweating twice a day daily is helping him reduce inches and making him fitter.
View this post on Instagram
Ram Kapoor's Diet
45- year old Ram switched to intermittent fasting for a life transformative change in his body. In the 16/8 diet, he chooses a low carb diet in the 8-hour eating window.
• His diet schedule is focused on 'when to eat' rather than 'what to eat'.
• He chooses to fast for 16 hours and eat only from noon to early evening especially before 8 pm.
• Fiber is very important to include in the intermittent diet, so Ram focusses on fruits.
• The intermittent diet works wonders if a switch to whole grains, like quinoa, rice, oats, barley, buckwheat, etc is made
• Include protein in the intermittent diet through meat, poultry, fish, legumes, eggs, nuts, seeds, etc
Ram Kapoor's transformation has been a well-fought one. He has been able to change the way he looks and feels in just a matter of a few months. He is now an inspiration for many who think that losing weight is an impossible task.
Read more articles on Exercise Fitness