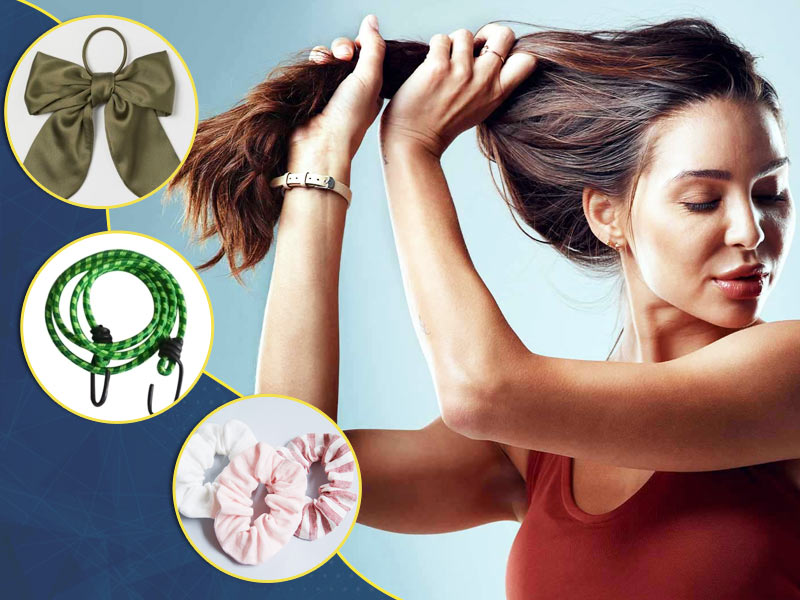 How many times have you lost bundles of your hair to those cheap, painful and super tight elastic hair ties or rubber bands as you call them. Using elastic hair ties can damage your hair by causing hair breakage, diminishing hairline and even baldness. Not just this, these super tight elastic ties can even cause headaches by tugging your hair so tightly. Tying your hair up doesn't mean that they should end up broken, dented or snagged. Well of course we are not asking you to keep that pretty mane open throughout the day but you can do a favour to your hair and at least go for some better alternatives. Well you do not need to worry about this problem anymore because we have got it all sorted for you and have got 5 hair ties that will tie up your hair gently without damaging or breaking them and will keep your strand healthy and happy.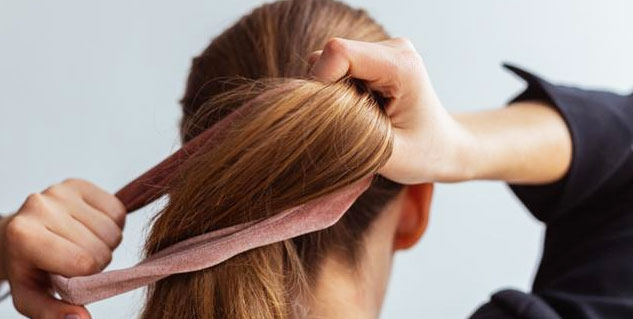 Satin Scrunchies
If you are someone who doesn't know what these scrunchies are, then my dear friend there's no doubt that you are living under a rock. Silk or satin scrunchies are one of the gentlest ways to tie your hair. As silk and satin both the materials are slippery and gentle on your hair there is not even a slightest chance of your hair tugging, denting or snagging. Although scrunchies come in other fabrics like cotton and velvet as well, it is better to opt for one made up of satin or silk as these fabrics would not take away moisture from your hair and will be super gentle.The extra layer in scrunchies helps to prevent any kinds of dents caused on hair due to hair ties. Another benefit of these soft and smooth scrunchies is that it would not cause headaches. If these reasons were not enough to convince you to start using a scrunchie, here's the last shot, these scrunches can double up as a beautiful accessory while resting on your wrist.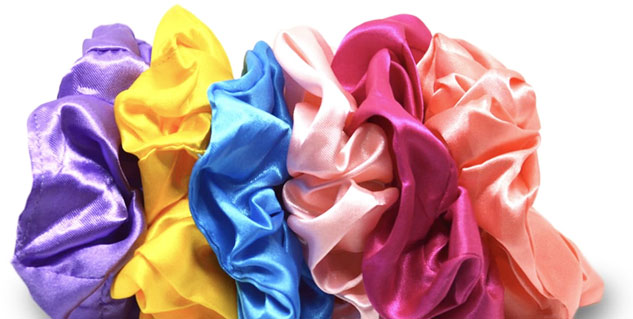 Also Read: Common Mistakes That Lead To Hair Loss
Snapees/ Snap off hair ties
Yup! You read it right, there are a kind of hair ties called snappee hair ties. These hair ties are elastic free and are specially designed for those hard to manage, super curly hair. These hair ties are coated with a soft and stretchy material and can be snapped together through small buttons given at the ends. Soft, gentle and durable, these hair ties would not snug or break your hair.As these hair ties are totally adjustables you can adjust their tightness according to your choice and can also double them up as a hair band.
Hook Bungee Bands
They might sound a bit funny but you would surely be surprised after listening to what all it can do. Used for making ponytail, buns, braids and half-knot these hair ties come with hooks at both the ends. As it is surrounded by a soft material bungee hooks are firm and can stay in place for long without tugging your hair. You do not need to pull them in order to untie your hair as you can just simply unhook this amazing hair tie, it minimizes the risk of any kind of hair breakage caused due to pulling the ties.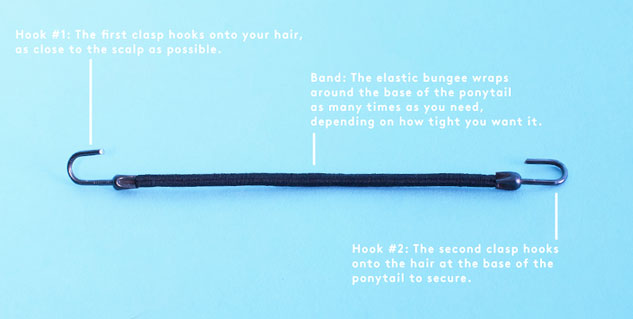 Knotted ribbon ties
Cute, sleek and simple non damaging hair elastics which come in unique knot designs. These hair ties are gentle on your hair and can keep your hair at place without causing any damage. These ties slide over your hair smoothly instead of bending them and leaving dents. These can also be worn to gym or while doing your at home workouts as they help you to keep your hair bunched back without pulling them and restrains from causing any breakage.
Spirals
Easy to use, gentle on hair and super funky, these hair ties can be your best friend. Made with coated plastic these hair ties are popular as they would not tangle up your hair and even after using them for hours they would not leave a dent on your hair. It has such a gentle grip that even the slightest of the creases formed by them could vanish within a few brush strokes. These can be used for workouts and for general purpose as well. They are super soft and flexible and would not cause any harm to your hair. I would surely give them brownie points for not causing headaches. Wanna know a secret hack? They can be re-shrunken with the help of a blow dryer.
Also Read: Get Heatless Curls With These 5 Simple Hacks
These were some of our suggestions that can help you to keep your mane healthy, shiny and happy without denting, tugging, snagging or breaking your hair and will also prevent you from balding or getting a diminishing hairline.
Read more articles in Hair Care