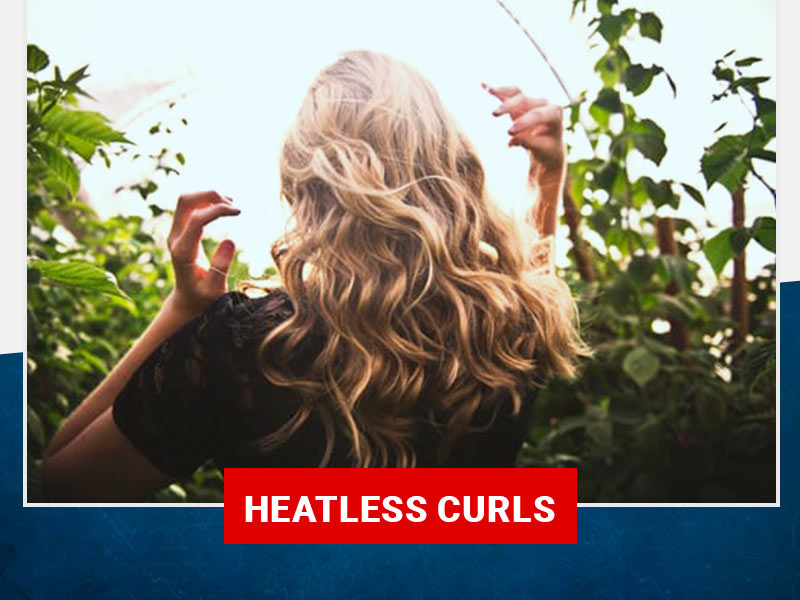 All of us love shiny curls and beachy waves as they look gorgeous on any hair length and texture. Well, some people are blessed with naturally curly hair, but if you are not one of them and have been chasing heat styling tools like blow dryer, curling rods and flat iron and ruining your hair, this one's for you. All these heat styling tools might help you attain that gorgeous curly hair look but are not good for your hair in the long run as an excessive use might lead to dryness, split ends, hair loss, breakage and what not. But we have got something for your rescue. Here are some easy ways to get those beautiful curls without damaging your hair with styling tools.
1. Braiding
Back in school, there was this one teacher who used to force us to braid our hair tight, and we had to do it because we didn't have any other choice and I bet you hated that too. Well, this hack is going to remind you of that teacher along with giving you beautiful beachy waves.
Method-
Detangle your hair and then by using a spray bottle, spray some water on the lengths of your hair in order to dampen them.
Make a nice braid and tie it using a hair tie and now go for a good night's sleep.
Next morning, undo the braid
Apply some hair serum to your lengths, and here are your nice and easy beachy waves.
Also Read: 9 Kitchen Remedies To Get Rid Of Dandruff
2. Sock Buns
This surely is the most bizarre method out of all but works really well. All you need is some socks, but make sure that they are clean, or no one could save you from the way your hair's going to smell the next day.
Method-
Detangle and divide your hair into as many sections as you want depending upon how tight or loose you want the curls.
Spray some water over the lengths and grab a sock.
Start wrapping a section of your hair over the sock starting from the middle so that you would have the ends free to tie them up.
After rolling the hair, tie the ends of the socks together.
Repeat this with all the hair and keep it overnight.
The next morning untie the socks very gently and there you have those classic curls.
3. The Headband
You are the next queen B who will rule the world with her pretty curls, so go and grab a cute headband or a bathrobe tie maybe and get started.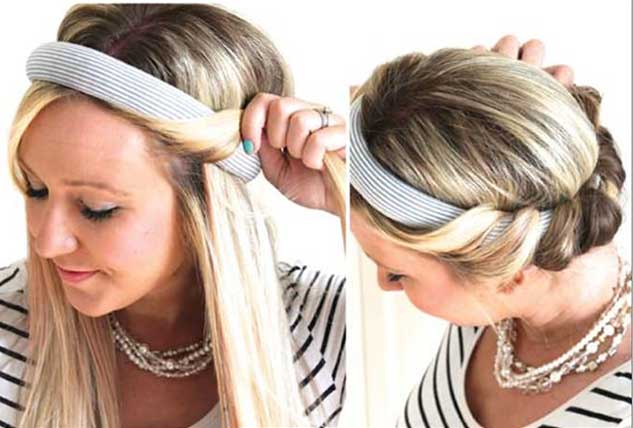 Method-
Divide your hair into two sections and spray some water over the lengths.
Place your headband on the centre of your head, leaving equal lengths on both the sides.
Start twisting your hair inwards or outwards depending upon the type of curls you want but make sure to keep it the same on both sides.
Tuck your hair into the headband and prepare yourself for the bed.
Next day unwrap your hair and rock those luscious curls.
4. Straw Twists
Now this one is for those of you who want a head full of those tight and tiny curls that will give you a super voluminous look.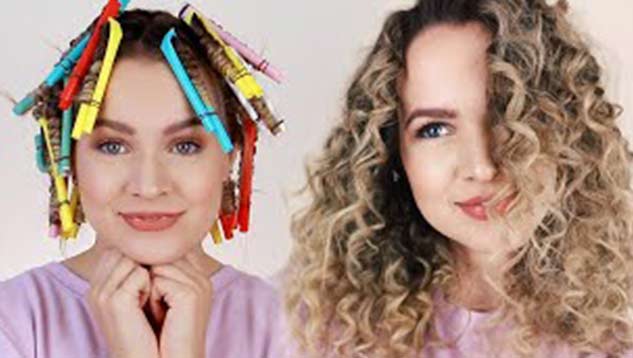 Method-
Grab some straws and rubber bands to get started with and make sure that your hair is properly detangled.
Spray some water over your lengths and using a pintail comb, divide your hair into small sections.
Wrap each of these sections over straws starting from the middle so that you have the ends free to tie on.
Once you have wrapped your hair strands around the straw, fold it to secure the ends of your hair and tie both the straw ends together using a rubber band.
Repeat this till you have these straws all over your head.
Once it's all wound up, wait until it's dry and remove the straws very patiently and gently and there you go.
5. The Twist
A simple technique for which all you need is a few rubber bands and your pretty fingers.

Method-
Make sure that there are no knots in your hair and dampen them with the help of a spray bottle.
Divide your hair depending upon how tight or loose you want your curls to be.
Roll each section of your hair over your index finger and middle finger.
Go mid-way or up till your scalp, the way you like it and use a rubber band to secure the curls.
Do this with all the hair sections and get ready for your beauty sleep.
Gently untie your hair the ,following day and there you have your pretty curls on the go.
Also Read: Bursting 5 Curly Hair Myths That Might Be Damaging Your Hair
As simple, quick, tempting and appealing heat styling might sound but it surely does a lot of damage to your pretty mane. Give these heatless curling methods a try as they are free, can be done at the comfort of your home and would not damage your hair at all. Just make sure that you are gentle with your hair while curling.
(Written by Charu Sharma, Sub Editor, Onlymyhealth)
Read more articles on Hair Care