Have you also received a message titled 'A Reminder for All Women' that you shouldn't get vaccinated on your periods? This message is circulating like wildfire and many women must have believed it to be true. But is this true? Has this been verified by a doctor? Is this information released from the Health Ministry? Until and unless something comes from an authentic source, don't fall for it. These kinds of forwarded messages only create a chaotic environment that is dangerous in the current pandemic situation. Refer to this article where we will talk about the authenticity of this message and if it is true.
Can women get vaccinated during periods?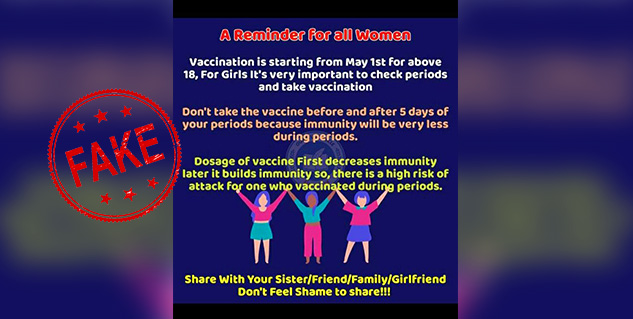 This wasn't into account ever by doctors. You must have heard doctors chalking out limitations for covid-19 vaccination including medicines that you can take along with vaccination, who can get vaccinated and who shouldn't, etc. Whether women on their periods can get vaccinated or not didn't have any mention on this list. The buzz is created with this message confusing women around the nation. This message says that women shouldn't take the jab 5 days before periods and 5 days after periods. This is FAKE!
Here is the Twitter link of PIB Fact Check that has confirmed this being a fake message.
#Fake post circulating on social media claims that women should not take #COVID19Vaccine 5 days before and after their menstrual cycle.

Don't fall for rumours!

All people above 18 should get vaccinated after May 1. Registration starts on April 28 on https://t.co/61Oox5pH7x pic.twitter.com/JMxoxnEFsy

— PIB Fact Check (@PIBFactCheck) April 24, 2021
If you have received this message, don't pass it to others as it may create a panic mode right before when the vaccination for 18 years and above is about to start.
Doctor Busting This Fake News
Dr. Tanaya, MBBS, MSc (Oxon), FRSPH who is famous on Instagram by Dr. Cuterus has also shared a story busting this myth. Sharing a picture of a similar message that warns women of not getting the coronavirus vaccine shot during periods and 5 days before and after periods. She informed the viewers that this is a myth that the immunity of a woman is at its lowest when she is menstruating. She cleared that immunity has nothing to do with periods. Women have full-strength immunity during menstruation and it is completely safe for a woman to get vaccinated on either day. You don't need to plan it according to your periods fearing that it might wreck your immunity.
Also Read: Public Health Expert Swati Bathwal On Tackling COVID-19 At Home With Home-Care Tips
View this post on Instagram
Vaccination is important
Dr. Cuterus emphasized that getting vaccinated is very important for women. This is to ensure that the virus doesn't affect their body. Vaccination boosts immunity and doesn't compromise it if you are menstruating. There are many women who have received their doses of coronavirus vaccine during the periods and no side-effect has been reported yet. In fact, one of the comments on Dr. Cuterus's post also goes like, "I GOT MY VACCINE ON THE 2ND DAY OF MY PERIOD and I had no side effects except a little sore arm! My immunity is stronger than ever thanks to the vaccine!". This shows that it is safe to get vaccinated whether or not you are menstruating. Your immunity will only strengthen after the jab. It is for your betterment and you shouldn't miss it for any misinformation that you may receive.
Read More in Miscellaneous