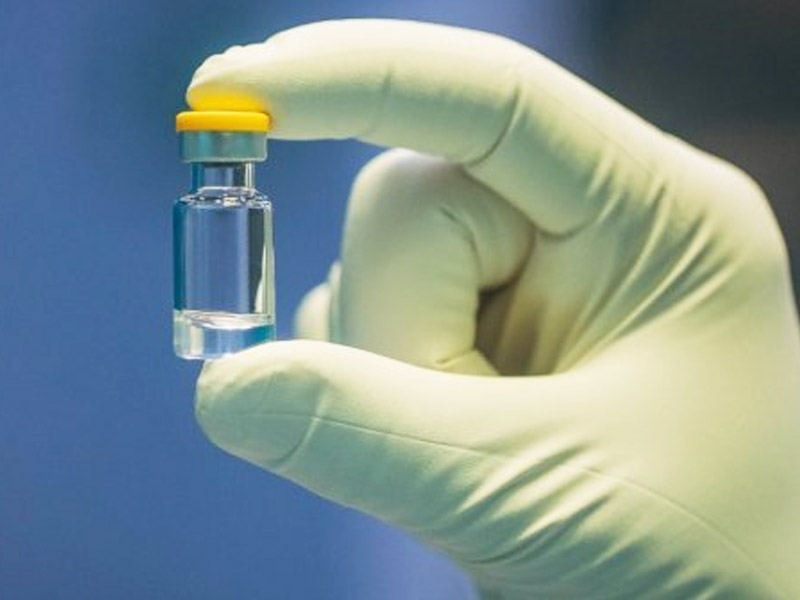 Coronavirus patients suffering from moderate to severe disease can heave a sigh of relief as there is a new anti-Covid drug to treat the symptoms of the deadly disease. Available in a powder form in a sachet it can easily be taken orally by dissolving in water. Good news is that the first batch of the drug has already been released on May 17. Called 2-deoxy-D-glucose or '2-DG' it is developed by Defence Research and Development Organisation (DRDO), in collaboration with Hyderabad-based pharma company Dr Reddy's Laboratories (DRL). It has got government's approval for emergency use as an adjunct therapy in moderate to severe Covid-19 patients early this month.
What Exactly Is 2-deoxy-D-glucose And How It Works?
It is a generic molecule and analogue of glucose. Along with the primary treatment, the drug is recommended to be used as an adjunct therapy. Clinical trials have shown that 2-deoxy-D-glucose molecule helps in faster recovery of hospitalised patients and reduces patient's supplemental oxygen dependence.
"2-Deoxy-D-Glucose drug has historically been extensively tested for treating Cancer but is so far an unapproved drug. However, for COVID19, the drug shows promise," says Dr. Rahul Pandit, Director-Critical Care, Fortis Hospitals Mumbai & Member-Maharashtra's COVID Task Force.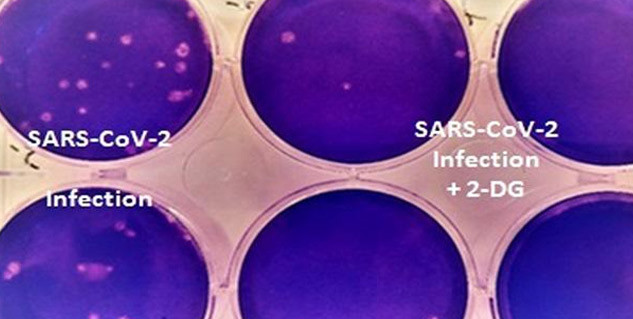 Also Read: Sputnik V FAQ: All You Need To Know About The 3rd Vaccine Approved in India
Once taken orally, it accumulates in the virus infected cells and prevents virus growth by stopping viral synthesis and energy production. Its selective accumulation in virally infected cells makes the 2-DG drug unique.
"The basic mechanism of the drug involves inhibiting glycolysis or one of the ways in which cells break down glucose for energy. This approach while used to starve and kill Cancer cells could also work in inhibiting virus cells too, that were dependent on glycolysis for replication, noted Dr Pandit.
As per an official statement issued by Ministry of Defence, the drug is expected to save precious lives due to the mechanism of operation of the drug in infected cells. This will reduce the need for the Covid-19 patients to stay long in hospitals and help them recover quickly.
How Effective Is The 2-DG?
As per clinical trial data, the Covid-19 patients treated with the 2-DG drug showed faster symptomatic cure than Standard of Care (SoC) on various endpoints.
"A significantly higher proportion of patients improved symptomatically and became free from supplemental oxygen dependence (42% vs 31%) by day-3 in comparison to SoC, indicating an early relief from Oxygen therapy/dependence," adds Dr Pandit.
Who Developed The Unique Drug?
The anti-COVID-19 therapeutic application has been developed by Institute of Nuclear Medicine and Allied Sciences (INMAS), a DRDO lab in collaboration with Hyderabad-based pharma major Dr Reddy's Laboratories (DRL). In a way, it is an example of public-private partnership (PPP) in drug development.
When Was The Idea Of The Drug Was Conceptualised First?
During the first wave of the pandemic in April last year, INMAS-DRDO scientists conducted laboratory experiments with the help of Centre for Cellular and Molecular Biology (CCMB) and found that the 2-deoxy-D-glucose molecule works effectively against Covid-19.
Based on the positive outcome, Central Drugs Standard Control Organization (CDSCO) permitted Phase-II clinical trial of the new drug. Following this, the DRDO along with its partner Dr Reddy's started the clinical trials to test the safety and efficacy of the drug in Covid 19 patients. During the trial, the drug was found to be safe and quickened the recovery process.
The official press note on the drug said that Phase IIa was conducted in six hospitals and Phase IIb (dose ranging) clinical trial was conducted at 11 hospitals across the country. The phase-II trial was carried out on 110 patients. Subsequently, Phase-III clinical trial was conducted on 220 patients at 27 COVID hospitals in the country.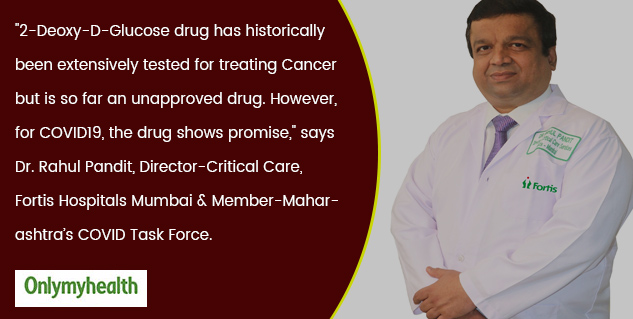 Also Read: Post COVID Insomnia: Why It Happens And What To Do About It
Can 2-DG Be Taken Without Prescription Of A Doctor?
No. Medical experts say that the drug should not be taken without prescription. Not surprisingly, the drug is being supplied directly to the hospitals for emergency use.
With inputs from Dr. Rahul Pandit, Director-Critical Care, Fortis Hospitals Mumbai & Member-Maharashtra's COVID Task Force
Read more articles on Miscellaneous