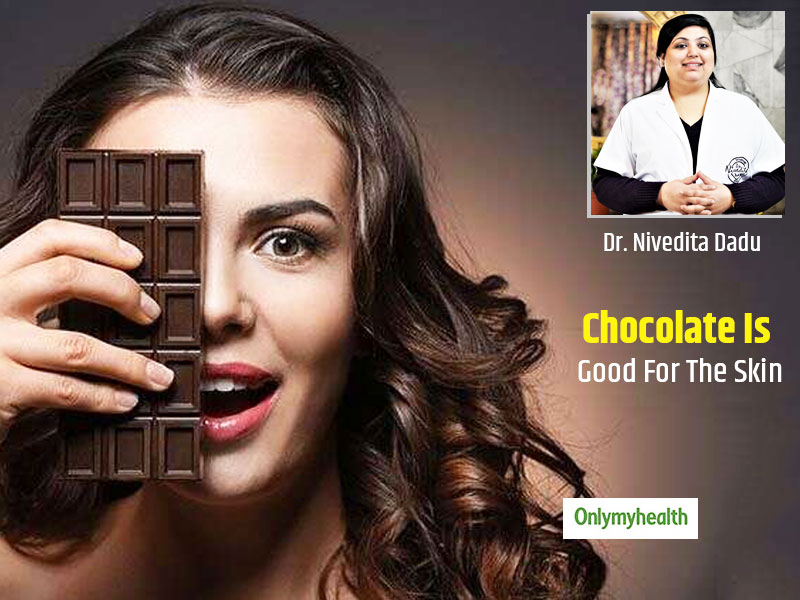 Eating dark chocolate is good for health and applying a dark chocolate mask is good for the skin. Check out chocolate face masks for flawless skin.
Is there anyone on the planet who doesn't like chocolates? Probably NO. There are different types of chocolates for different people. Dark chocolate for health enthusiasts and milk chocolate for sweet lovers. But today we will be talking about chocolate benefits for the skin. Yes, chocolate is great if applied to the skin as a face mask. Read this article as Dr. Nivedita Dadu, Renowned Dermatologist, Founder & Chairman of Dadu Medical Centre explains the benefits of chocolate for skincare and how you can use it to treat different skin issues.
Benefits of Dark Chocolate for The Skin
Firstly, let us tell you that we are talking about dark chocolate for the skin here. It is loaded with polyphenols, catechins and flavanols. In short, dark chocolate is supremely rich in antioxidant properties. The reason behind this is that these are made from cacao seeds that are abundant in antioxidants. Here is the list of benefits of dark chocolate for the skin and why it might help in healing your skin:
Chocolate contains lots of nutrients and is an excellent source of antioxidants. The flavonoids present in chocolate can protect the skin against sun damage.
It helps to even fight against premature skin discolouration. Not just that, eating chocolates can give you a smoother skin texture.
The skin would remain hydrated for a long time and you would not suffer redness when the skin is exposed to the sun.
As we all know that chocolate reduces the release of stress hormones, it can also aid collagen breakdown that would promote skin health and contribute to glowing skin.
Eating and applying chocolates to the face can also boost skin's elasticity to keep wrinkles at bay.
Chocolates can promote skin cell regeneration that helps in maintaining the youthful natural look of the face.
Chocolate detoxifies the skin as it opens the pores after exfoliating the dead skin cell layer.
Cacao extracts are proven effective in curing atopic dermatitis symptoms. These are also found to be potent in treating inflammation and skin allergies.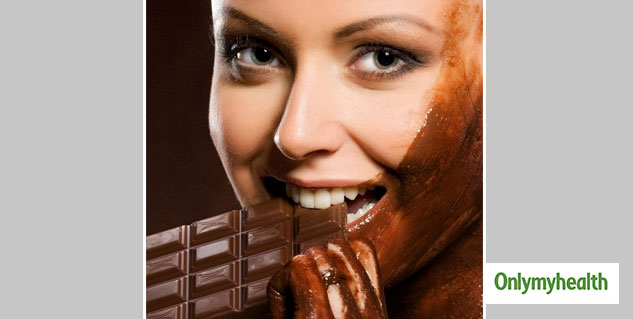 Chocolate Face Masks For Glowing Skin
Now that we are done with the benefits, let us tell you how to get glowing skin with chocolate. Here are some chocolate face masks for different benefits.
#1 Chocolate Face Mask Acne-Prone Skin
If you have oily skin that often gets breakouts, you must try this chocolate face mask.
In a bowl, add 1 tablespoon of unsweetened cocoa powder, 1 tablespoon honey and a pinch of cinnamon powder.
Mix all of them well to form a thick paste. You can increase honey if the paste is too thick.
Apply this homemade chocolate pack to your face and neck.
After it is dried or after 20-30 minutes, wash with lukewarm water.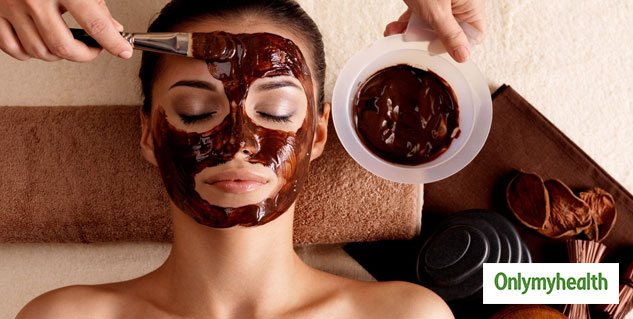 #2 Dark Chocolate Face Pack For Skin Nourishment
Dark chocolate is rich in antioxidants that can prevent free radical damage and provide optimal nourishment to the skin.
Take dark chocolate(preferably 70% cocoa) and melt it.
Pour melted chocolate in a bowl and add 2/3rd cup of milk, 3 tablespoons of brown sugar and 1 teaspoon of sea salt.
Mix them well to form a paste and let it cool down.
Now apply the paste to your face and neck.
Wash your face after 20 minutes.
#3 Chocolate face pack for skin whitening
If you are looking to rejuvenate your skin, you can try this chocolate mask made with yogurt, fuller's earth and lemon juice. These are high in antioxidants and unclog the pores. Here is how to make it:
Take 1/4th cup of cocoa powder and mix 2 tablespoons of Multani mitti(fuller's earth).
To this dry mix, add 2 tablespoons of yogurt, 1 teaspoon of coconut oil and 1 teaspoon of lemon juice.
Apply this paste to your face and neck.
After 15-20 minutes, wash it off with normal water.
#4 Chocolate and Fruit Face Mask For Skin Toning
During the summer heat, your skin needs maximum hydration. Drinking water won't suffice the need and therefore you need to provide extra moisture with topical masks. This mask is made with hydrating fruits and antioxidant chocolate to tone your skin.
Melt some dark chocolate and put it into a bowl.
Take a ripe banana, 2-3 strawberries and 1 small slice of watermelon. Blend these into a paste.
Add the fruit paste to melted chocolate and mix well.
Apply this mask to your face and neck.
Keep it until it is dried and then wash it off with cold water.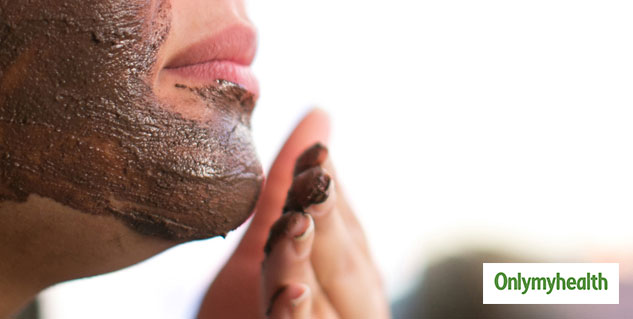 #5 Chocolate Face Pack For Dull Skin
Apart from antioxidant properties, dark chocolate also possesses brightening properties. It exfoliates the skin and leaves the skin hydrated after removal. Let us tell you how to make this brightening chocolate face mask.
Take 4 tablespoons of unsweetened cocoa powder and add 4 teaspoons of coffee powder to it.
Take 8 tablespoons of heavy cream or add coconut milk, almond milk in place of that.
Combine them together and apply this to your face and neck.
After 20-30 minutes, wash your face with lukewarm water.
#6 Chocolate Peel Off Mask
Here is a homemade chocolate peel-off mask that you can make to exfoliate your skin and eliminate dead cells for a rejuvenated glow. This peel off mask also contains honey which has impeccable moisturising properties to hydrate the skin and not make it dry.
Take equal amounts of unsweetened cocoa powder and organic honey.
Add 2 tablespoons of brown sugar to this and mix well.
Apply this paste to your face and neck.
Wait for 10-15 minutes as the mask dries out.
Peel off the mask carefully.
You may also scrub it for exfoliation.
Wash it off with water.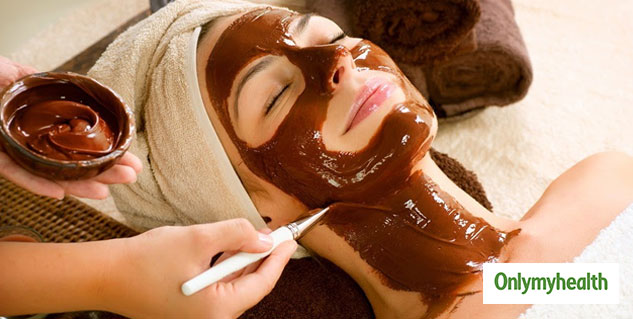 #7 Chocolate Beauty Treatment Mask
Cocoa contains vitamin E that is very essential for the skin. It helps in enhancing beauty. Besides, chocolate also has other potent vitamins and minerals that help in building the texture and tone of the skin. You can make this mask whenever you are feeling it to uplift your beauty or before an important occasion. Here is how you can make it:
Take half a cup of unsweetened cocoa powder.
Add 1 tablespoon of honey and 2 tablespoons of yogurt.
Take out the extract from 2 vitamin E capsules and mix it with the paste.
Apply this chocolate face pack on your face and neck.
Leave it for about 20-30 minutes and then wash it off.
Conclusion
Chocolate is amazing for your skin. Eating dark chocolate and applying the same on your face can enhance your skin's tone, texture and overall appearance. You must make these masks for different purposes. Follow this guide to chocolate face masks for flawless skin and flaunt your pretty face.
Read More Articles in Skin Care