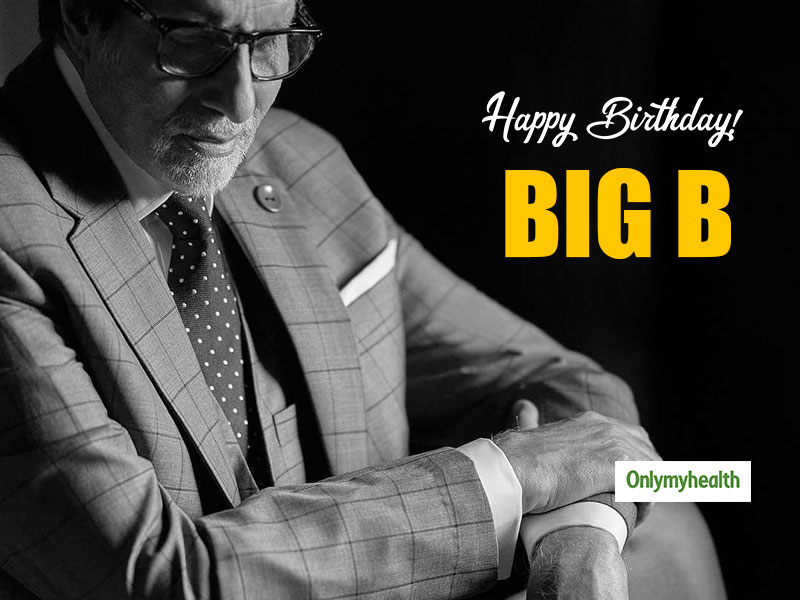 The megastar Amitabh Bachchan is turning a year older today but it seems he is not a mood to age and retire! He is one of those very few actors who are the example of 'age doesn't matter'. Despite fighting numerous health issues, he is still the fittest actor in the B-Town. You would find him jogging in the park, strolling on the streets which depict his dedication to stay fit and healthy. He shoots 16 hours daily, hosts shows, travel and what not! This level of fitness is truly unmatchable. Everybody is eager to know the secret behind his energy and stamina which is revealed in this article. 10 habits that make him fit and fab even at the age of 77.
1. Vegetarian diet
Amitabh Bachchan is a pure vegetarian now. A few years back, he used to eat meat but he has completely gone vegetarian as he ages. Non-veg food is high in vitamins and minerals but it is difficult to digest it especially for elderly people. He takes all kinds of fruits and vegetables to get essential vitamins, minerals and antioxidants.
2. Regular exercise
Even at this age, Amitabh is very particular about his fitness. Nothing can affect his workout routine be it his aging body, work commitments or time constraint. If he misses his morning workout, he makes sure to cover up in the evening as he is very disciplined in this regard. He also practices yoga daily to keep his mind and body in sync.
View this post on Instagram
3. No Tea, Coffee
This might come as a surprize but Amitabh drinks neither tea nor coffee. He used to drink coffee earlier but now he has left this habit for the sake of his health. Since coffee has a high amount of caffeine, it becomes bad for health after a certain age. This negatively impacts memory and cognition. No wonder there can't be any other host better than Big B for KBC aka Kaun Banega Crorepati!
Also Read: Amitabh Bachchan: 8 Years Of Tuberculosis And Not Knowing It
4. Love for Lemonade
Amitabh drinks only water and lemon water or lemonade. Water is good for hydration and lemon is good for digestion. Therefore, he absolutely swears by lemon water to keep his stomach healthy.
5. One teaspoon Honey
Aishwarya once revealed this habit of Amitabh in an interview that he consumes one spoonful of honey every day. Not just him, but the entire Bachchan family follows this.
6. Don't consume rice and sugar
Neither he eats rice nor processed sugar. His diet has zero carbs and zero sugar. He is a lover of Kheer and Jalebis but he left all his sugary love for good health.
7. No aerated drinks
Cold drinks, soda or any aerated drink is a strict no for him. In an interview, he told the media that carbonated drinks contain high amounts of sugar and calories that are unsafe for your health.
Also Read: Amitabh Bachchan-Jaya Bachchan relationship tips
8. No alcohol
Amitabh used to drink beer and other alcoholic drinks in the initial years of his career but it has been around 38 years since he has left drinking. Alcohol is catastrophic for your complete mind and body. He certainly sets and example for the youth.
9. No Smoking
You must have seen him smoking in movies but in reality, he doesn't smoke. Though he indeed used to smoke earlier, he has quit smoking long back. Smoking is injurious to health. It takes willpower to leave this habit but one should do it for the sake of their well-being and long life.
10. Hates Chocolates
As chocolates have calories, Amitabh makes sure to not eat anything with chocolate in it!
Read More on Exercise and Fitness