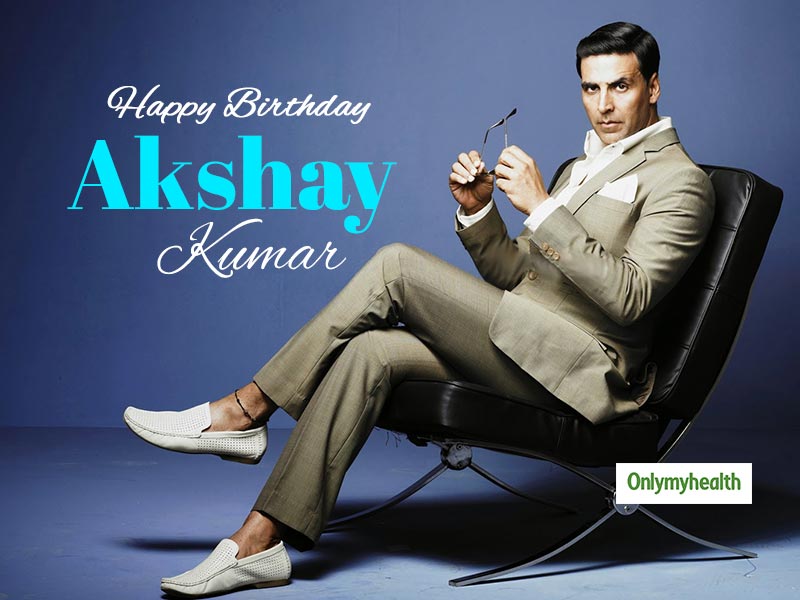 Rajeev Bhatia aka Akshay Kumar aka Khiladi Kumar is considered as the epitome of fitness in the Bollywood industry. Born on 9th September 1967, he is ageing reversely where instead of getting old, he is becoming younger day by day! His fitness level is unmatchable owing to his strict workout routine and disciplined lifestyle. He wakes up early, sleeps on time, eats healthily and works out daily! Here are some fitness and diet tips from Mr Khiladi Kumar that you can incorporate in your lifestyle.
Akshay Kumar's Fitness
After digging deep into Akshay's Instagram handle, we found some amazing fitness-related stuff that may inspire you to get fit.
1. Kickboxing
Not many people know that Akshay is very much into martial arts. He has learnt a lot of martial art forms. Kickboxing is a mixed form of karate and boxing. This exercise is the best for weight loss and muscle gain.
View this post on Instagram
2. Cycling
Just by cycling half an hour a day, you can strengthen the core of your body. Akshay does know and therefore he promotes cycling. This practice can improve stability and balance.
3. Neck exercises
We often workout on all body parts but forget the neck. Akshay knows the importance of neck exercises. According to him, exercising the neck in the morning gives a boost to your day.
Also Read: Do These 7 Exercises To Get Rid Of Knee, Foot and Hip Pain
4. Swimming
Dipping in the pool tones the muscles of your body and helps you shed those extra pounds off the body in the long run. As per Akshay, swimming is a great leg workout.
5. Yoga
Akshay is one of those Bollywood celebrities who are fond of Yoga and promote this ancient practice on a global level. In this post, he is seen practising yoga for holistic wellness. Akshay does mindful Yoga every day to release stress and enhance mental health.
View this post on Instagram
6. It is important to do some sports
Playing a sport is very important for one and all irrespective of age or gender. Pick up a sport that you like and practice it daily to secure your fitness levels. Be it badminton, basketball, tennis or anything that you are interested in.
Also, Read Running Vs. Climbing Stairs: What's Good and What's Bad
Akshay Kumar's Diet Plan
Coming to Akshay's diet habits, he is very particular about what he eats. He is a homely person and savors home-cooked food. He is famous as a no-party and no-alcohol man in the film fraternity. Surprisingly, he makes sure to eat his dinner by 7 in the evening so that he can sleep by 10! Another interesting fact about Akshay is that he has never ever tasted coffee or tea!
Take a look at what Akshay eats in a day
Breakfast: Parathas, juice or milk and eggs
Snacks: fresh fruits, dry fruits or mixed green vegetables
Lunch: Roti, green vegetables, dal, boiled chicken and curd
Dinner: soup, saute vegetables or salad
Read more on Exercise & Fitness