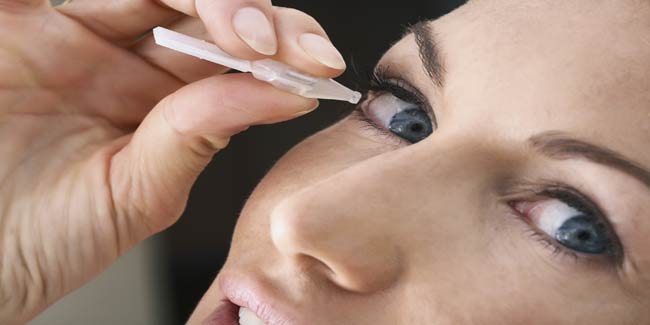 The human body is a machine which doesn't shut down when things go wrong, but sends us warning signals letting us that something is amiss. A physical symptom (from a fever that accompanies an infection to hair loss, to dry eyes) is the body's way of alerting us about the health imbalances. Popping a pill may get rid of the symptom, but sometimes it only suppresses the problem.
You must take time to decipher the body's codes and get to the underlying cause. Some of the physical signs can have a confusing range of meanings. Here are the common signs that your body is telling you something.
Dry eyes

If you have dry eyes, there could be many reasons behind it. The most common include extended use of computer, excessive alcohol intake, being in cold or dry conditions and use of antidepressants or antihistamines. Dry eyes for a prolonged time can also point to hyperthyroidism or an autoimmune disease, like lupus.
What you need to do

Always wear UV-cream around the eyes with sunglasses when out in cold or dry conditions.
Apply preservative-free artificial tears to lubricate the eyes.
If the symptoms don't seem to go away, get your eyes examined.
Also read : 10 Surprising things your eyes reveal about your health
Cold hands

Slow blood circulation and stress are the common causes of cold hands. The less common causes of cold hands are Raynaud's phenomenon (a condition that affects blood flow to the extremities), a connective-tissue disorder, blocked arteries or side-effect of medications.
What you need to do
Deep breathing or relaxation technique can improve blood circulation if you think stress is the culprit.
If your hands go cold for no apparent reason and that happens often, talk to your doctor.
Muscle cramps

Sitting or standing for too long can strain the muscles in the calves. Muscle cramps can also occur due to dehydration or an electrolyte imbalance. The less likely reasons behind muscle cramps are antihistamines, estrogens, and osteoporosis drugs. Moreover, blocked or narrowed arteries may also decrease blood flow to the legs and cause cramps.
What you need to do

Stay hydrated, drink plenty of fluids and eat foods rich in the electrolytes (calcium, potassium, and magnesium).
Make sure you wear comfortable shoes and avoid high-heels.
Stretch your legs after exercising, when you sit still for a long period.
Also read : What Does Your Tongue Tell About Your Health
Cracking Joints

Cracking joints is often overlooked. They crack as gas bubbles of oxygen and nitrogen are released. Another reason behind the snap, crack, or pop sound could be a tendon rubbing across bone. If you feel pain every time a joint cracks, it is a symptom of a serious joint problem (such as arthritis) or cartilage problem.
What you need to do

If the cracking doesn't hurt, there is no need to be concerned.
In case you have a pain or swelling, the joint is red or has limited motion, talk to your doctor.
It's a good for you to listen to what your body has to say; your health relies on it.
Image source : Getty
Read more articles on Exercise and Fitness.
For more such stories, Download Onlymyhealth app