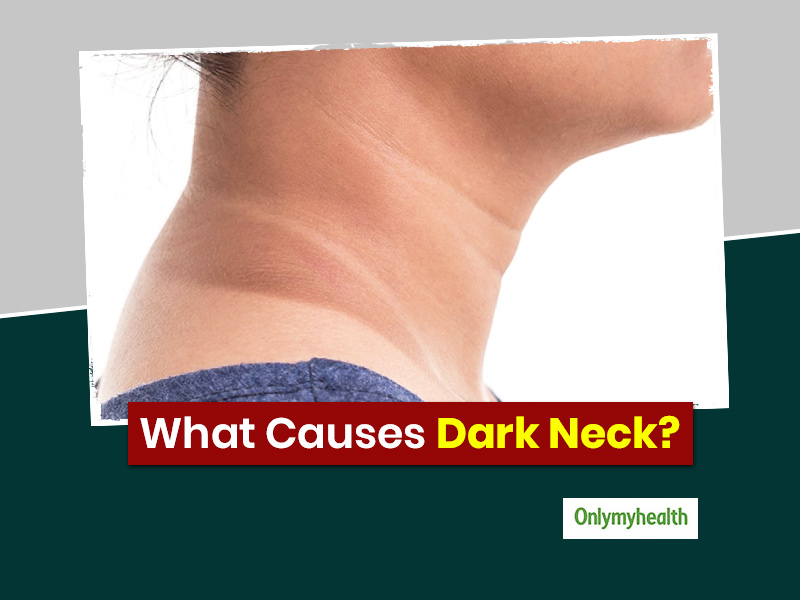 A lot of people have darker necks or there s a visible black patch around their neck. The skin around the neck is visibly black as compared to surrounding skin. While there is nothing concerning as such, in some people, it increases with age. If you are wondering whether this is contagious, no it is not. This is just darkened skin. But sometimes, this is a warning sign of an underlying condition. Rea this article as Dr. Ajay Rana, Dermatologist and Aesthetic Physician explains everything in detail.
How is black neck identified?
While the most prominent sign of black neck or dark neck is darkened skin, there are some other symptoms of black neck also such as:
Thickened skin around the neck
Velvety or soft skin
Itchiness around the dark part
In some cases, people may experience darkened skin on other areas such as armpits and under the breasts. If you have recently started noticing the dark neck, you must consult a doctor before it spreads. Consultation is also needed to find out the root cause and eliminate any severe issue that might be behind this.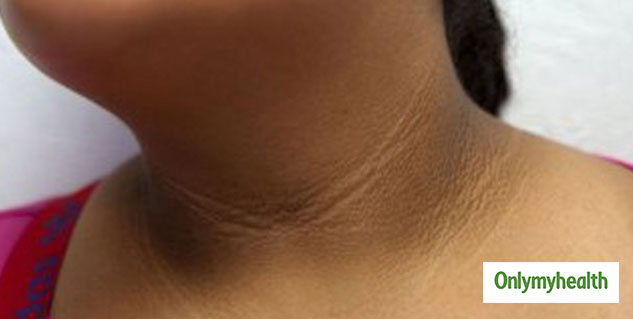 What Causes Black Neck?
If you are interested to know why darkening of neck is caused, here are some of the possible causes of dark neck.
High blood insulin levels
If you have high insulin in the body, hyperpigmentation can be caused around different parts of the body. A lot of people with chronically high insulin levels are found to be dealing with black neck. Similarly, dark neck is also common in women who have PCOS or polycystic ovary syndrome.
Acanthosis nigricans
Another common cause of dark neck is Acanthosis nigricans or AN condition. When a person has AN, they tend to have a darker, velvety and thick skin particularly around the neck, under the breasts, armpits and groin. This basically occurs in skin with folds. People with darker skin are most suffered with these. Other than that, both men, women and children can get black neck problem.
Also Read: What Is Tech Neck? Here Are Some Symptoms And Basic Stretches To Get Rid Of The Pain
Before you think that AN is a disease, it is not. This is largely related to insulin levels. Also, it is not contagious or harmful. People with diabetes or prediabetes condition tend to have hyperpigmentation issues that lead to dark neck. However, if someone is not diabetic, darkened neck may indicate greater risk of developing type-2 diabetes in them. AN also signals towards other serious ailments like obesity, hormonal disorders, Cushing's disease and cancer. Taking certain medicinal drugs may also cause AN.
Dermatitis neglecta
This is another cause of dark neck where the colour of the neck darkens due to improper washing. Sweat, sebum, dirt, bacteria and other matter build up on the skin that causes darkening of the skin. Dermatitis neglecta is also called unwashed dermatosis and it is a rare condition. People who do not follow proper hygiene may get back neck. Since it is not a disease, you can easily treat it by cleaning and scrubbing the area with soap and water.
Drug-induced skin pigmentation
As dark neck is majorly caused due to hyperpigmentation, it can also get triggered by some drugs or medicines. Therefore i is called drug-induced skin pigmentation. Here are some drugs that you may taking are making your neck darker:
Nonsteroidal anti-inflammatory drugs
Antipsychotic drugs
Antimalarials
Amiodarone
Phenytoin
Tetracyclines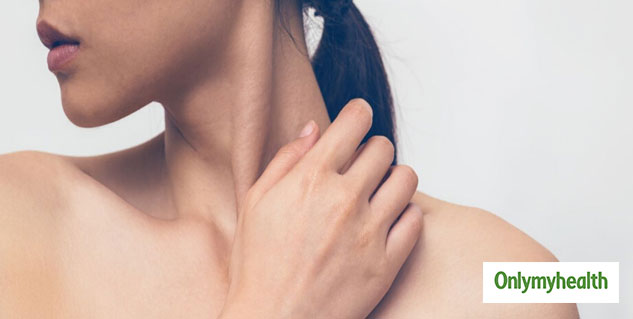 Don't worry if skin surrounding your neck looks discoloured than the other parts. It can be blue-black or dark brown. Find out the cause and then proceed with the treatment. If the discolouration persist for long, you may need to consult a dermatologist. In most cases, treating hyperpigmentation would heal the skin.
Also Read: Know From Dermatologist, What Causes Neck Wrinkles and How To Get Rid Of Them
Black Neck Treatment
Black neck is not a disease that requires treatment but if it is caused due to any underlying condition, you may need to treat it. Treatment would prevent recurrence of that condition. If your dark neck problem isn't resolved after that, you are required to treat hyperpigmentation. For example, once you stop taking medicines that cause hyperpigmentation, your dark neck problem would resolve automatically. If your skin still looks dark and dull, you may consider other dermatological treatments. Only a doctor can suggest the best possible treatment for your condition. Here are some of the possible options:
Exfoliation
Chemical peels
Laser treatment
Prescription medicines
Dark neck is not something that requires proper treatment. Consider this as a temporary skin condition that can go on its own. If it doesn't, then you may need to see a dermatologist. Meanwhile, scroll down to find black neck home remedies.
How to get rid of dark neck
Here are some natural remedies that you can try to get rid of black neck naturally.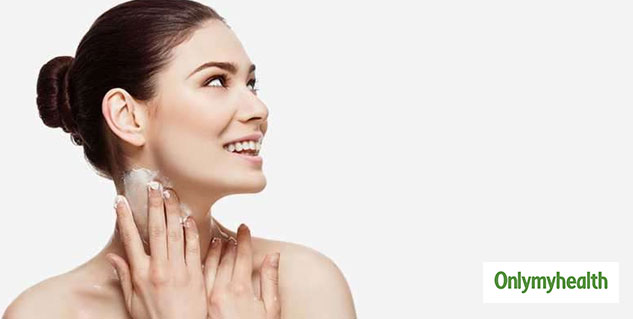 Apple Cider Vinegar
Apple cider vinegar is a potent ingredient for most skin conditions. It helps in balancing the pH of the skin to treat the root cause. Besides, ACV also helps in removing dead skin cells layer as it contains malic acid that is a powerful exfoliator.
In a bowl, mix two tablespoons of ACV and four tablespoons of water.
Using a cotton ball, apply this liquid on your dark neck and leave it.
After 10 minutes, rinse it off.
This can be done once a day or every alternate day. Also, you must moisturise the skin after doing this remedy as ACV tends to dry out the skin.
Baking Soda
Another natural exfoliant is baking soda that effectively removes dirt and dead skin cells. This helps in boosting blood circulation which allows natural skin colour to show. To try this home remedy, follow these steps:
In a bowl, add 2-3 tablespoons of baking soda and make a smooth paste by adding water to it.
Apply this paste on your black neck and leave it to dry.
After it is completely dried, just scrub it off.
Now wash the skin with water.
Apply moisturiser to hydrate the skin.
Do this every day.
Potato Juice
Have you ever heard about potato scrub and potato cream? Potato has potent skin-lightening properties that can help in reducing darkness around the neck. It can effectively lessen the dark patches.
Grate a potato and squeeze out all the juice.
Using a cotton ball, apply this on your black neck.
After it is dried, wash it off with water.
You can do this twice a day as it won't cause any side-effect.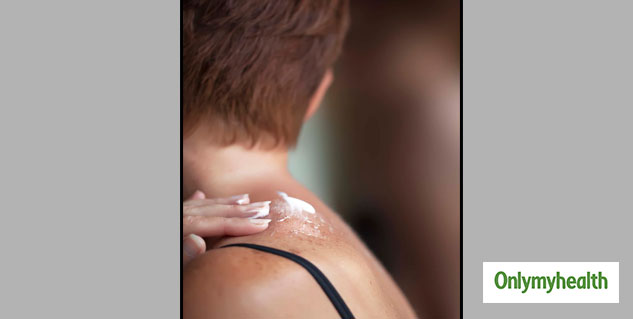 Get rid of dark neck with yogurt
Yogurt or curd has powerful bacteria and enzymes that helps in lightening the skin. It is natural and is suitable for people of all skin types. It provides similar effects as lemon.
In a bowl, add one teaspoon of lemon juice and two tablespoons of yogurt.
Mix them together and apply it on your dark neck.
After 20 minutes or it is completely dried, wash it off with water.
Conclusion
Dark neck or black neck is very common as it is mostly caused due to hyperpigmentation. However, there are several other reasons too that can cause darkening of neck. If you have this condition for long, consult a doctor. If not, try the remedies mentioned in this article.
Read More Articles in Miscellaneous