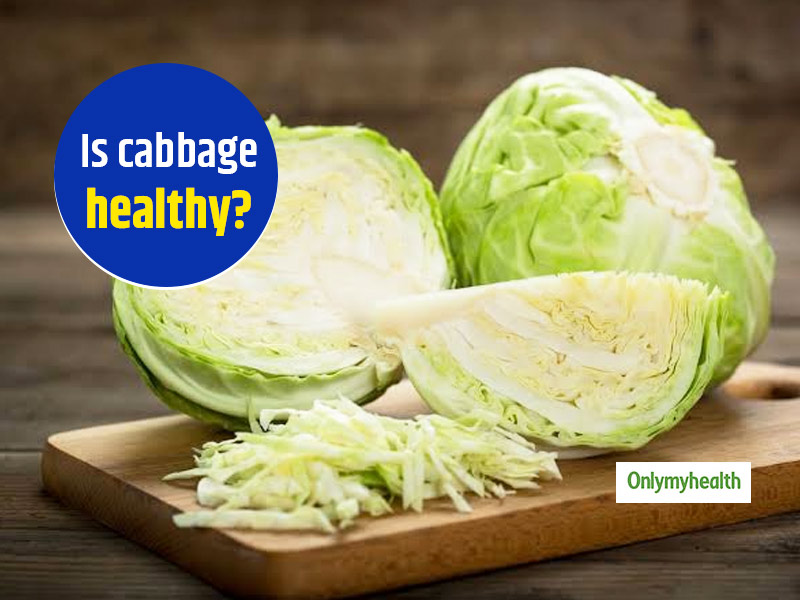 Cabbage is a vegetable that is used in many cuisines. Check out its health benefits, side effects, nutritional value and ways to consume it.
Cabbage comes from the Brassica genus family of vegetables, which includes lettuce, broccoli, cauliflower and kale. This vegetable is available in various chapels and colours, including purple, red, green and even white. Cabbage is basically a leafy vegetable that is easily available in green colour. It is known for its many health and skin benefits. It is made up of soft leaves which are covered with harder outer leaves, layer after layer. It is not season specific and is available in the markets all round the year. It contains good amounts of Vitamin C, potassium and fiber, and is very low on fat. There are different types of cabbage found in each part of the world. It is used for many dishes in various cuisines like kimchi in Korea. Cabbage is packed with essential nutrients, vitamins and minerals. Onlymyhealth editorial team spoke to Dietician Arushi Gupta, Associate Dietician, Dayanand Medical College and hospital, Ludhiana, about the health benefits, side effects, nutritional value and ways to consume cabbage.
Cabbage health benefits
Just like any other vegetable, cabbage also offers a wide range of benefits. It is not only good for your overall health, but is also a recommendation for skin care. According to Dietician Arushi, here are the major health benefits of consuming cabbage:
1. Maintains good heart health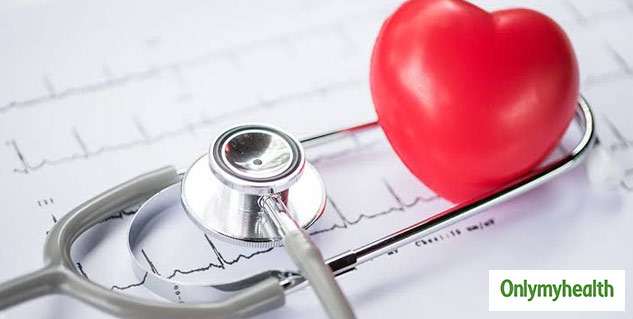 Cabbage is a good source of fiber and potassium, and both of them are beneficial for heart health. The fiber present in the vegetable helps in lowering the cholesterol levels, this leads to maintaining good heart health. Moreover, cabbage is also a rich source of B-vitamin and folate, that reduces the risk of having a stroke and heart attack.
2. Lowers blood pressure
Cabbage may also contribute in lowering down the blood pressure levels in a person. Many doctors often advise patients with high blood pressure to cut down their salt intake. But, dietary potassium is also important to lower blood pressure levels and cabbage has high potassium content. It helps in reducing the sodium effect in the body, this regulating blood pressure.
3. Reduces the risk of cancer
Cabbage also has properties that help in reducing the risk of cancer. Many studies suggest that having cruciferous vegetables like cabbage, cauliflower, broccoli and kale can help in preventing certain cancers such as prostate, lung, breast, and colon cancer.
Also read: Secure Your Liver Health By Adding Cabbage In Your Diet
4. Helps in weight management
Cabbage is a low calorie and has very less amount of fats present in it. You can incorporate this vegetable in your diet through juices, salads or even curries. Therefore, cabbage is an aid for weight loss and helps in weight management as well.
5. Very good for eyes
It has also been observed in some studies that cabbage is very good for eyes. The antioxidants present in the vegetable prevent oxidative damage that is also connected to poor vision. Cabbage is a good source of vitamin A that are known to prevent vision damage and also improves eyesight.
6. Protects the skin
Cabbage also protects the skin against radiations and makes the skin glowing as ever. Cabbage juice can be a really good choice for your skin health. Cabbage has vitamin C, K and antioxidants that protect the skin from free-radical damage.
Cabbage side effects
Along with the above mentioned health benefits, cabbage also has some side effects that you should be aware of. It contains indigestible sugar that can be harmful for your body. Therefore, it is important to have this vegetable also in control. Unless it is being consumed in small amounts, the food will be good for your body. As per Dt. Arushi, here are the main side effects of having cabbage:
1. Diarrhea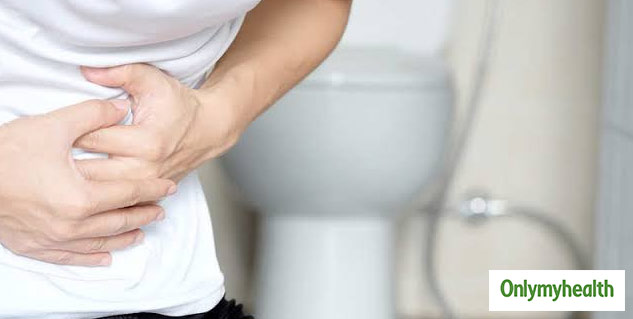 For some people, cabbage can even trigger an irritable bowel and other gastrointestinal problems like diarrhea. It has an indigestible sugar which can be root cause for this problem. This only happens with people who have a weak digestive system or consume a lot of cabbage at once. The fiber present in this vegetable is good for you, but only till you consume it in appropriate amounts.
2. Hypothyroidism
Consuming high quantities of cabbage might also become a cause for hypothyroidism. Iodine deficiency, combined with too much cabbage intake can lead to lack of the thyroid hormone. Certain chemical reactions can intervene with the production of your thyroid hormone, and result in the condition of hypothyroidism.
Also read: Eat Cabbage To Make Your Face Crystal Clear With A Radiant Glow
3. Interference with medications
Cabbage can even interfere with your medication of some conditions. It has good amounts of vitamin K present in it, a vitamin that helps your blood clotting. Overconsuming cabbage can interfere with your blood thinning medications, creating a huge problem for your health. You an have a small amount or according to what is suggested by your doctor.
4. Colic in baby
There is even a risk of Colic in babies. A mother has to take care of many things while breastfeeding her newborn and that includes a limit on cabbage consumption. Developing an IBS due to the excess intake of cabbage in adults can also have an impact on the baby. It can be a major cause for colic in the baby.
5. Cabbage allergy
Some people are even allergic to cabbage. They might develop a skin rash or itching after having cabbage. Therefore, it is important to maintain a balance, take care of the triggers and only have cabbage if your doctor allows. So, even fruits and vegetables can make you allergic sometimes.
Cabbage nutrition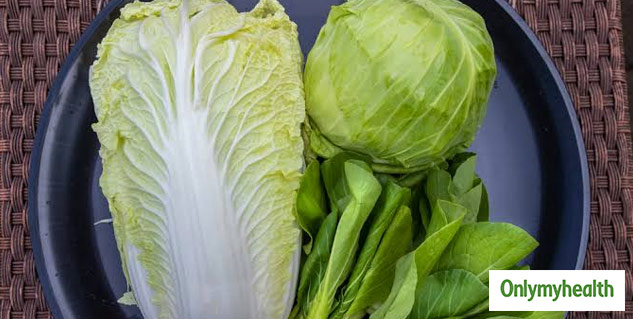 It is a fat free and low calorie food, that can be consumed in moderation. It is an inexpensive and undervalued vegetable, that can be a good contribution in our daily diet. Besides the below listed nutrients, cabbage also contains small amounts of other micronutrients, including vitamin A, iron and riboflavin. As per Dt. Arushi, the nutritional facts of cabbage are:
Calories: 22
Protein: 1.1 grams
Carbohydrate: 5.2 grams
Fiber: 2.2 grams
Fat: 0.1 grams
Sugar: 2.9 grams
How to eat cabbage?
This vegetable can be eaten raw, steamed, fermented, and even juiced. Cabbage can be consumed in various forms including soup, salad or even juice. You can add flavours, spices and various dressings to make it even more delicious. Here are 4 ways to eat cabbage and include it in your diet schedule:
1. Cabbage soup
You can have cabbage soup especially in winters. By having soup, you will get many added benefits too. Just boil some cabbage in water and strain it with a strainer. After that, saute a clove of garlic in olive oil or butter. Add water and a little cornflower in it. Mix it well and put cabbage in the end. Cook it for a while and your hot soup is ready!
Also read: Red Cabbage Nutrition Facts: 4 Important Health Benefits Of Eating Blaukraut
2. Cabbage curry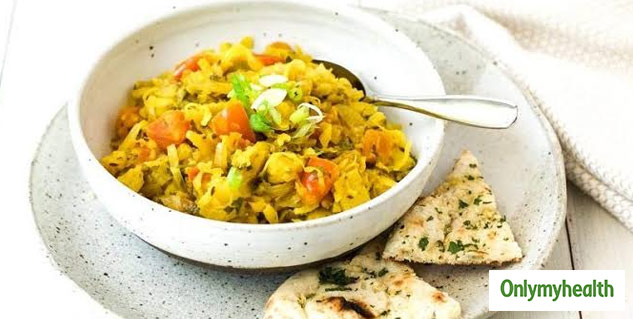 Another way to eat cabbage is in the form of a curry. This is mostly followed by people to include this veggie in their diet. You can use many other vegetables along with cabbage to make this curry, like tomatoes, capsicum and onion, as per your choice. Saute all of these together in some olive oil and add some spices according to your taste. Cook it for a while and your curry is ready. You can have it both for lunch as well as dinner.
3. Cabbage juice
Cabbage juice is also a healthy way to start your day or you can even consume it during the evening. Firstly, blend some cabbage in the juicer and then add a tomato into it. Then, blend both of these together and take it out into a glass. Lastly, add a pinch of salt and squeeze a little lemon to enhance its taste.
4. Cabbage salad
You can take cucumber, onion, tomato, carrot, lettuce and cabbage to make a good, healthy and delicious salad out of it. After cutting these down in a bowl, add a pinch of salt according to taste, pepper and any other salad dressing of your preference. This can make a tasty and healthy breakfast for you.
So, these were the health benefits, side effects, nutritional facts and ways to consume cabbage by Dietician Arushi. If you already have a medical condition or are on any medication, then it is better to ask your Dietician/doctor before consuming cabbage. In fact, you should also be aware if you are/are not allergic to the vegetable. After verifying all these factors, you can consume cabbage freely!
Read more articles on Healthy diet