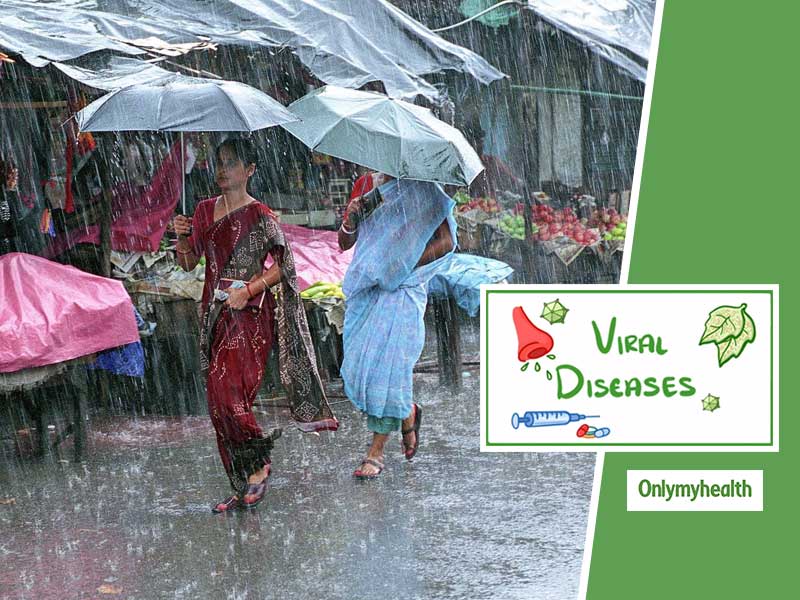 Worried about the changing season? Beware of the viral outbreak!
With the advent of monsoon, there comes the viral fever too! Usually, it is seen that the viral infection spreads due to cold weather during the night and scorching heat in the day. Do you know that people who have low resistance power become prey to viral infection? Yes, as in the changing season, viruses usually are more active. The capital city, New Delhi, has recently seen a rise in rainfall, and this could lead to a stream in viral infections. This could influence common cold, influenza, and conjunctivitis. The diseases such as dengue and malaria (vector-borne) had seen a dip, and this can be credited to the delayed monsoon. But the risks are arising as now with the rains pouring back in. Causes of Viral Disease: Do you know how most viral infections are spread? They are covered by direct contact or by the intake of contaminated food or water. The virus then spreads in the lymph or bloodstream channels. Some of the other factors which cause viral disease include overwork and fatigue, poor nutrition, emotional stress, smoking, living or working in crowded conditions.
Prevention of Viral Disease
Dr Verinder Anand, consultant, Internal Medicine, Moolchand Medcity says that "one should avoid too much of ice creams, drinking chilled water, and other cold things in the changing weather. Avoid fermented meals like pickles, curd, etc. Do you know that too much fasting can lead to gastro and acidity problems? It is advisable to drink plenty of boiled water. One must eat a good quantity of roughage, green leafy vegetables, to get adequate vitamins and avoid constipation. Develop a habit to consume food at shorter intervals in small quantity so that there is sufficient time for digestion. Don't let rainwater putrefy, particularly around suburban regions. Besides, some useful natural herbs are belgiri churan, saunth, neem leaves, moong dal, giloye, Guduchi, etc."
Also Read: 4 Types of Viral Skin Infections And Their Characteristics For Timely Diagnosis And Treatment
Why is antiviral drug...the need of the hour?
Nowadays, city doctors are stressing on the need for an antiviral drug to counter the vector-borne disease. Now there are antiviral drugs for HIV as well as chickenpox. Bu the question arises why are there no such drugs for dengue?
Dr Vivek Nangia, Head, pulmonary and infectious diseases, Fortis Hospital, Vasant Kunj said that "an antiviral drug for dengue would have certainly helped." Do you know the risks of recurrence of dengue among patients are not different? There are 4 kinds of dengue, i.e. type 1, 2, 3 and 4. According to medical experts, if someone is suffering from one form of dengue, then they may be affected by another kind in future.
Dr V M Katoch said that "if someone had already been attacked by dengue virus, then the risk increases when the person is attacked a second time. Even the government feels that the time has come to find an antiviral drug is needed for dengue. The solutions that have been created with many mixtures have sadly been disappointed."
Changing weather and viral infections
Dr Atul Gogia, Diabetes Specialist, Internal Medicine, Infectious Disease, has said that the freezing temperatures can cause germs to grow, which in turn could lead to conditions such as disease. According to Dr Gogia said (in a statement), now that the weather is changing (cooler), there will be an automated rise in flu cases. Signs include runny nose, fever, sore throat, body ache, cough, and fatigue. We have seen a sudden increase in incidents of respiratory disease.
Internal Medicine at Max Hospital, Senior Consultant, Dr Romel Tickoo said that in the past days there had been a surge in the number of patients of gastroenteritis, along with problems such as viral fever, respiratory tract infections and viral hepatitis. Also, last year, there has been a rise in cases of conjunctivitis, eye infections, inappropriate.
Senior Consultant at Columbia Asia hospital (Gurgaon) also stated that the rains increase chances of viral and bacterial infections and viral eye infections happen due to the humidity in the weather. One must need to wash his/her hands regularly. However, here's a piece of good news; malaria and dengue cases (compared to other years) have been less this year. Despite the fear, the good news is that the climate has become pleasant in the national capital and remains so with constant rainfall leading to a dip in temperature.