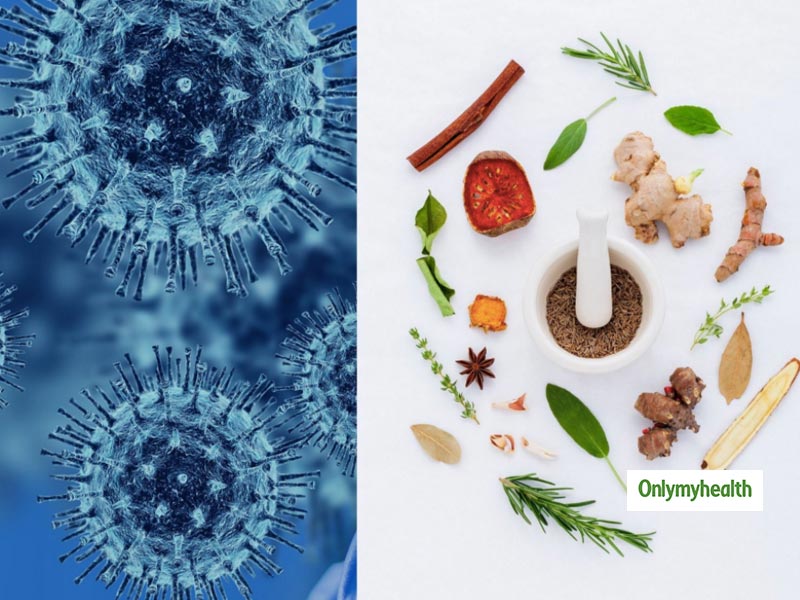 In times when we are all worried about how, in different ways, we can keep ourselves safe and sound, it is more an approach towards holistic healing than only relying on modern medicine. Here comes the need of revising the perils of Ayurveda, which since time immemorial has stressed on essential and natural lifestyle changes to be safe from becoming an open target to those various lifestyle-related disorders. Specifically, in times when every person is trying their best to stay safe, healthy and coronavirus-free, we must understand that it is all about taking up a holistic approach for complete wellbeing. Here, the critical part is to not only stay safe physically from various diseases but also not let the mental peace go for a toss.
Watch: Ayurvedic Benefits For Enhancing Immunity During Pandemic Times
Also Read: Viral Infections Cure: Fight Viral Infections With These 7 Antiviral Herbs
What Is The Role Of Ayurveda In Boosting Immunity?
Cleanliness, social distancing and strong immunity are the most effective ways to stay safe from COVID-19 infection. Also, various other immunity-booster foods and lifestyle habits like oil pulling, jala neeti, etc. had suddenly become the talk of the town, when they came into existence thousands of years ago for stronger immunity. The Ministry of AYUSH of India has time and again supported the use of various Ayurvedic to increase immunity in the atmosphere of coronavirus epidemic. We can say that the multiple immunomodulators, which are medicines for boosting immunity, have become essentials to live a coronavirus-free life in these pandemic times. During one of the seminars held on Immunomodulators for the management of Health & Disease in Modern Medicines, various eminent personalities and experts from the field of Ayurveda connected to address this public issue. Read below to know some essential immunomodulators to stay safe and for holistic health.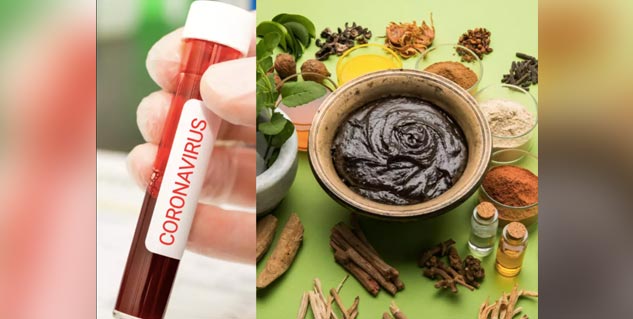 Building immunity through various rasayanas, and following the basic guidelines as stated by the ministry, explained Padma Bhushan Vd. Devendra Triguna. The basics required to follow in such times is to wear a mask, follow social distancing, wash hands with soap and water and take care of self-health in such sensitive times. Also, what else that was discussed was to give a shoutout to various companies and experts in the field of Ayurveda to work together in making living stress-free during the times of coronavirus.
TIP: One can work towards making dhoopam samagri as a spray to purify the air and also work as a disinfectant for COVID-19 safety.
What Is The Concept Of Rasayana To Fight COVID-19?
Natural Diet Remedies
Ayurveda Consultant Max Hospital, Dr Deepika Gunawant, deliberated about the concept of Rasayana - Immunomodulators and how these could help in building the immunity. "I feel that it is various natural remedies, which can make for great immunity boosters to stay safe from viral diseases. Examples like ashwagandha, giloy, Guduchi, Chyawanprash, and Immunity booster kit from Multani Pharmaceuticals, which could help in enhancing the Immunity. Further, even home spices like turmeric, ginger, tulsi help in enhancing immunity, one must be regular with its consumption for long-term benefits."
Watch: Know the benefits of eating giloy during these pandemic times
Tips To Eat, Sleep And Procreate
As explained by Dr Akhilesh Sharma, Former Advisor (Ayurveda) Govt. of Delhi, he said that the four pillars of Ayurveda are a great source to understand the basic immunomodulators that one must need to fight any virus. The need of the hour is to keep all these essential pillars in mind – Dharma, artha, kama and moksha and ensure that the overall wellbeing is not compromised. One must eat well, work stress-free and learn how to embrace happiness and enlightenment to live stress-free and disease-free. One must know that these four pillars only stress on the basics of healthy living, which include eating, sleeping and procreating. These three factors help in striking a balance for a healthier mind and body connection for health and wellness.
Some tips to follow by Ayush Ministry: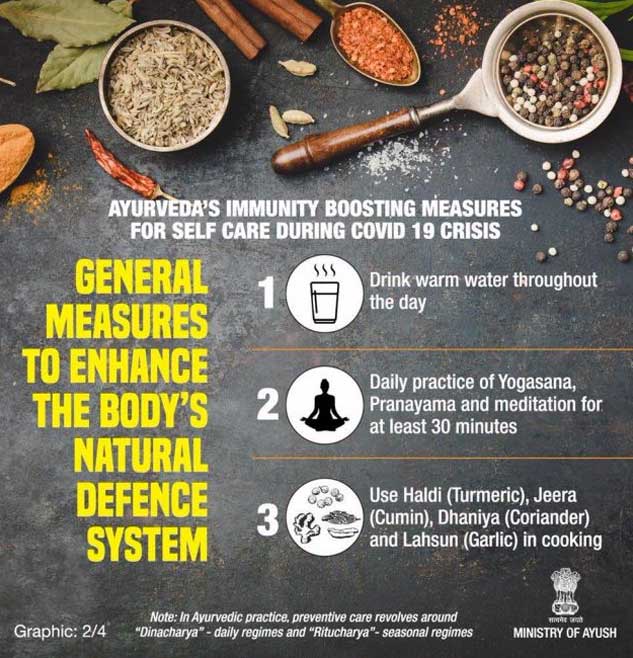 Preventive Care For Ageing
One must understand and be more empathetic towards those who are ageing and are undergoing various changes internally, adds Dr Ritu Sethi, Senior Consultant, Holy Family Hospital. There are certain factors, which make mental wellness a more significant challenge for the elderly and those in the process of ageing. Hence, some primary care must be taken to ensure that they remain stress-free as stress is a significant cause of compromised immunity too. Some tips for managing ageing or slow the process of ageing can be simply by living a healthy life. Some advice to follow:
Do not smoke and resort to an excess of alcoholic beverages
Take a healthy diet
Let your skin breathe by taking primary care and precautions like exfoliating, moisturising it daily.
Not to take any stress as it shows on the skin too in the form of fine lines and sagging.
Taking Care Of Respiratory Health
Dr Manoj Kumar Dash, Asst. Professor, Govt. of Ayurveda College, Raipur explains how respiratory health is of great concern in times now as the COVID-19 first attacks the respiratory system in most cases, even leading to deaths due to breathlessness. Hence, he mentioned how one must be cautious about the low respiratory infection, which is caused by the coronavirus. The symptoms to diagnose a low-respiratory disease are listed below:
Dry cough
Low fever
Runny nose
In severe cases, the symptoms could size up to:
Blueish tint in the skin
Severe breathlessness
Fever
Cough with phlegm
Wheezing
Chest pain
Also Read: Strengthen Your Respiratory System As Per These Ayurvedic Norms Suggested By The Ministry of AYUSH
Adding to this is Arvind Varchaswi, Chairman, AYUSH Committee as to how the role of Immunomodulators and how Ayurveda could be a new way of living for maintaining overall Immunity during these challenging times. Also, as cited by Pradeep Multani, Vice President, PHD Chamber, in times like these, there has been a rise in the demand for herbal products each passing day for the growing awareness towards the medicinal properties of Indian ingredients and homemade products. Hence, the only thing required is to stay safe, stay indoors and also rely on the various medicinal properties of easily-available home ingredients, as stated in Ayurveda.
Read more articles on Ayurveda