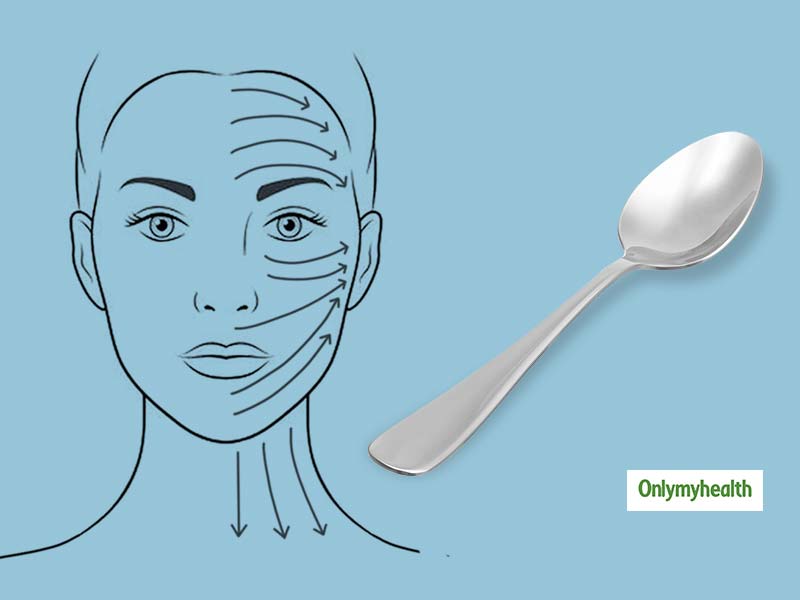 Spoon massage for wrinkles: Do you know that your skin goes through several changes, as you grow older? It also depends on your lifestyle and hormones that make you prone to look older. Do you know that the elasticity of the skin gets weaker, which makes subcutaneous tissues more visible? But then here is a piece of good news! Now you can make your skin look toned and healthy just by a spoon (simple kitchen tool). Moreover, do you know that it is essential for women over thirty to do proper facial massage? And do you know why it is necessary? It is to preserve your beauty and youth.
What ingredients are required to massage spoons?
1 spoon
One glass of water
Ice Cubes
Hot Olive Oil or Coconut Oil
One small cup
Know-why is spoon massage effective?
Here's what spoon massage do to your skin. It improves blood circulation, throws out excess fluids from the skin, restores youthful facial contours and reduces wrinkles. However, what to do for best results? You will need this message regularly for at least ten-fifteen days. How to do the teaspoon massage? What things will you need to perform this massage? It will include a glass of cold water, few teaspoons and ice cubes, small bowl and warm olive oil.
Also Read: Tips For Parents To Prevent and Treat Iron Deficiency In Children
What is the procedure of spoon massage?
Firstly, wash your face with a soothing face wash and remove any makeup that you may be wearing. Now apply a suitable moisturizing lotion or cream all over the face. Meantime, keep your teaspoons in a glass of ice and water. To disinfect the spoons, add some alcohol in it. Now is the time to begin the massage. Take 1 spoon out and put it on your lower eyelids until it loses the coolness (for a few seconds on and off). Repeat the same procedure on the upper eyelids with another cold spoon. For a short while put the spoons in the heated oil. Massage your face and eyelids once the spoon is slightly warm (by applying some pressure). Keep in mind that every movement should be repeated at least 10 times. Once you are done, wash your face with warm water. Be prepared to look younger! This spoon massage is quite active in improving circulation.
Also Read: 5 Reasons Why You Must Read Bedtime Stories To Your Baby
How to Massage for Wrinkles?
To reduce wrinkles, it is advantageous to do spoon massage. For this, dip the spoon in medium hot oil and rub it on your facial skin. Emphasize your skin so that the wrinkle lines are massaged and strained. While the massage should be done on the cheeks in a circular motion to make the skin look beautiful and tighten the skin. How to reduce puffy eyes? For one minute, dip a clean spoon in cold water. To put the entire pressure is on the eyes, place this cold spoon on them for five minutes. Do you know that the warmth on the eyes reduces the swelling under the eyes?
Precautions before performing spoon massage
Do this massage for ten minutes.
When overheated, never apply oil on the skin.
Always take breaks while massaging
Do not massage for more than 2 minutes continuously.
For good results, massage continuously for several days.
Read More Articles in Mind and Body