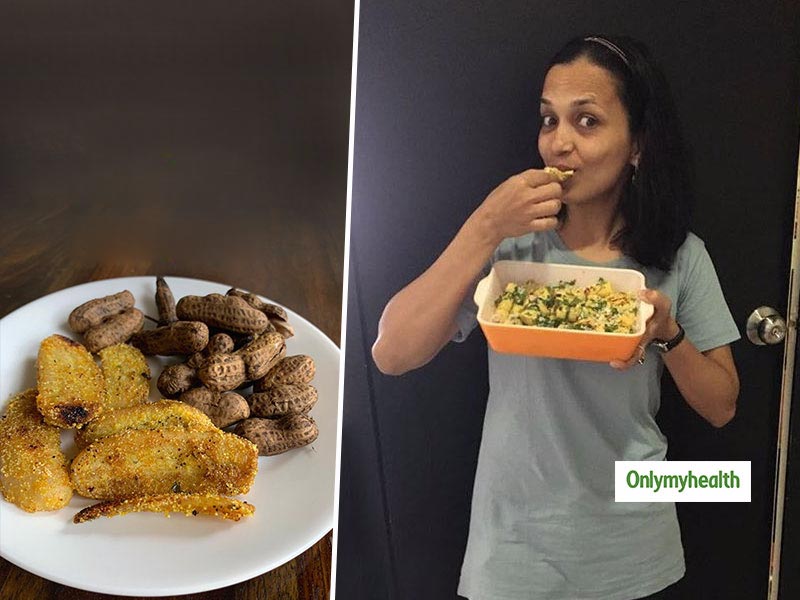 Nowadays, the sedentary lifestyle and extended lockdown have affected your overall health (including the health of your skin and hair). In such a situation, you must include such food in your diet, which helps to keep you healthy. Are you wondering what could be the special diet or food, that can help you keep your overall health, skin and hair strong, then the here's the answer by the celebrity nutritionist Rujuta Diwekar. Yes, celebrity nutritionist Rujuta Diwekar had shared the recipe of a special dish on her Instagram handle to maintain the balance of hair, skin and hormones. This specific dish is made of raw bananas and peanuts, which you can include in your diet. The nutrients in it help nourish your skin and hair that keeps your body healthy. From time to time, Rujuta shares healthy foods, exercises and essential health tips among people through her Instagram handle.
Banana and Peanut Recipe
Both banana and groundnut are rich in nutrients, says Rujuta. If you consume it even once a week, it can help keep you away from many diseases. It is believed that you should include this particular dish in the diet for better hair, glowing skin and to improve hormonal imbalance. Let's know Rujuta's raw recipe for raw banana and peanuts.
First, you have to peel the raw banana and cut it into slices.
After this, put some light oil in the pan and roast these slices of raw banana.
You should also add salt and light spices to it.
When the bananas turn light brown, add boiled peanuts. This way, you can enjoy this tasty dish.
Benefits of Banana and Peanut: Raw bananas and zucchini peanuts have six significant benefits (not only one). Let's know if you include this distinct dish in your diet, what are its benefits to you.
Digestion and blood sugar control: Resistant glycogen in bananas acts as a prebiotic and not only improves digestion but is also helpful in controlling blood sugar.
Peanuts beneficial for skin: Boiled peanuts are rich in antioxidant properties, which is better than raw/roasted peanuts. Boiled peanuts can help you get glowing skin as well as reduce the effects of ageing on the skin.
Improves mood: You get a good dose of Vitamin B6 from this unique dish, which can reduce inflammation and improve your mood. People who have frequent mood swings, they can include this dish in their diet.
For good hair, skin and hormones - especially if you have endometriosis, painful PMS and high prolactin levels, make the raw banana (made on tava with oil, salt and seasoning as you like) and boiled groundnuts with salt (add salt while boiling them), a part of your routine. pic.twitter.com/OyJM9vfs3j

— Rujuta Diwekar (@RujutaDiwekar) November 5, 2019
Better for heart health: Bananas and peanuts are rich in many vitamins and minerals, because of which they are essential for the recovery process and heart health.
Rich in Mono Saturated Fatty Acids and Vitamin E: Peanuts are rich in mono-saturated fatty acids (MUFA), and vitamin E. While bananas have a wealth of antioxidant properties. Therefore, you can reduce the effects of crash diet on skin, hair and digestion with this particular diet.
Helpful in endometriosis: If you are struggling with endometriosis or PMS, also, if your prolactin level is high, then you make raw, roasted bananas and boiled peanuts a part of your diet. You will be relieved.
Read more articles on Healthy Diet