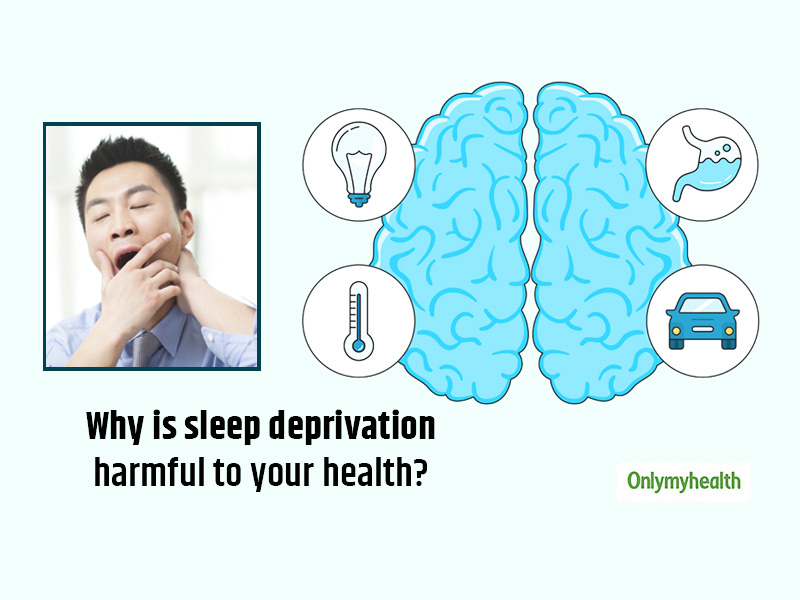 What is sleep deprivation? When we do not get as much sleep as our body and mind needs to rest and relax, it's a state of sleep deprivation. Sleep deprivation causes are not due to underlying disease. Some of the instances include job requirements, stress, poor sleeping habits etc. However, the signs include irritability, fatigue, difficulty in focusing, mood swings and difficulty in remembering. Some of the most severe problems associated with sleep deprivation are diabetes, high blood pressure, heart failure, heart stroke and heart attack. Other potential issues include depression, obesity and impairment in immunity. Do you know that chronic sleep deprivation can affect your appearance too? Sleep deprivation is common with schizophrenia, cancer, pain syndrome, and Alzheimer disease. Some other reasons for occasional sleep deprivation include a change in schedule or disruption in sleep schedule.
FAQs about sleep deprivation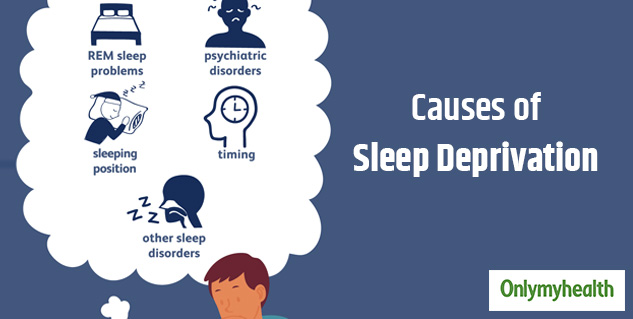 Here are some causes of sleep deprivation: Mrs Kavyal Sedani, Hypnotherapist, Founder, Rise Above states, "the causes of sleep deprivation could be many. A lousy routine of irregular habits of eating and working, too much screen time, extremely stressful nature of work, bad digestion, psychological or real threats of any kind, e.g., paranoia, anxiety, depression all of these could cause sleep deprivation."
What are the symptoms of sleep deprivation in adults? Someone not getting enough sleep could experience any or all of the below. Exhaustion and irritability throughout the day. Slow reflexes, difficulty making decisions and thinking clearly. Fainting spells, mood changes, and difficulty in concentrating on work/studies. In adults, the reduced sex drive also may be experienced.
How much sleep an average human body needs? The average human needs around 7 to 8 hours of sleep, babies need more, and as we get older, the need for sleep reduces.. at the age of 60, even 5 hours of sleep may be enough.
Sleep deprivation: What are the side effects of not getting the required amount of sleep?
If not treated in the long run, the effects on rhe body and mind could be more severe. Know-how sleep deprivation could affect several aspects of health by the hypnotherapist, Kavyal Sedani, it includes: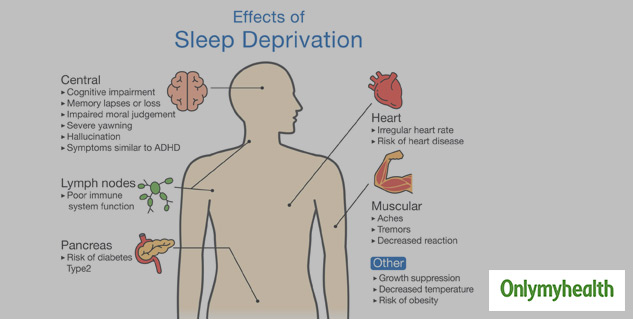 The immune system: Sleep deprivation might cause a person to be more prone to respiratory diseases and infections.
Weight: Sleep could affect the hormones that control feelings of fullness and hunger. It also triggers the release of insulin. Changes to sleep can cause changes in body weight, higher risk of type 2 diabetes and increased fat storage.
Effects on the body: Sleep deprivation also causes the body to release stress hormones, such as norepinephrine and cortisol. Insufficient sleep may affect the production of hormones that boost fertility.
What is the treatment of sleep deprivation?
Medical treatment includes the following for sleep deprivation:
Sleeping pills, melatonin supplements, and cold or allergy medication.
For teeth grinding, usually, a dental guard is used.
Medicines for any underlying health issues.
Specifically, in case of sleep apnoea breathing device are used, and surgery is suggested.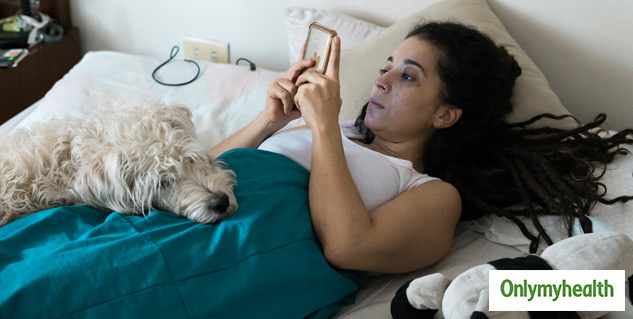 Possible options for sleep deprivation include:
Have you only lost a few hours of sleep? Don't worry as napping could reduce your signs.
Practising healthy sleep habits is a solution to treating and preventing sleep deprivation.
Over-the-counter sleep aids and good sleep hygiene
Breathing device and light therapy.
How sleep deprivation hurts mental health? Explains Hypnotherapist, Kavyal Sedani
Sleep deprivation negatively influences your emotional state and mental abilities. You may feel more or prone to mood swings or impatient. It can also compromise creativity and decision-making processes.
Researches suggest that sleep problems and insomnia worsen before bipolar depression or an episode of mania. (Do you know that mania can be triggered by lack of sleep?) Also sleep problems contribute to relapse, adversely affect mood and cause anxiety disorders.
Sleep deprivation can increase the mood disturbances, such as depression, anxiety and anger, can lead to fatigue, lack of vigour and confusion. Just one sleepless night corresponds with several changes in function.
Do you know that sleep deprivation is misunderstood as sleep itself? Yes, and it can mentally and physically harm people in multiple methods. What can losing sleep lead to? Psychosis, long-term memory impairment and hallucinations.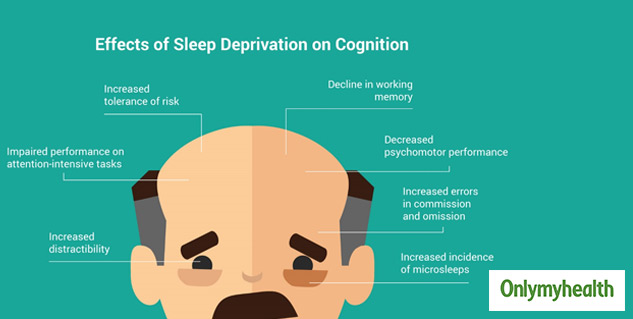 Here's how sleep deprivation affects your kids
Children do need sleep just like adults. Without adequate sleep, they tend to get irritable and, with time, unhealthy. The impact of sleep denial in children can contribute to lifelong problems. While children do sleep a lot, toddlers have a strange ability to resist sleep, particularly the times when they need it the most. The sooner parents can crack the toddler code of being sleep deprived, the faster you can aid your night owl to get the healing rest he or she requires.
Also Read: Why Is Sleep Apnea Known As A Silent Killer?
Signs of lack of proper sleep in children
Dr Atish Laddad, Leading Pediatrician, Founder & Director at Docterz, is sharing some symptoms.
For restored well-being, children must get about eleven to fourteen hours of sleep per 24-hour period, but getting them down to sleep can at times be an epic battle for parents.
Sleep deprivation in children can occur in various forms; the most common sign being clinginess or throwing a tantrum. Food rejection, being hyperactive tears, pumping fists, or frequent falls in the house or outside because of lack of sleep makes them giddy and prone to tumbles are also signs that your kid is not getting enough sleep.
Some of the reasons for children battling sleep tend to be physical. For instance, the teething process, grasping new skills, and growth spurts can lead to restless nights—other reasons causing a toddler's sleep to get hindered emotional. For example, loneliness, scared of scary dreams or any other anxiety can make it challenging to get a good night sleep or even make a naptime difficult. Additionally, when kids are starved for slumber, they usually fail to express their tiredness and being kids, they might perhaps choose not to share with you anyway. This can make toddler sleep deprivation hard to identify for parents.
Dr Atish Laddad shares tips to ensure your toddler is getting plenty of sleep and is well-rested
Primarily parents must try to figure out an ideal sleep schedule for their child. Some kids are down to one extensive nap per day, while others may tend to take two shorter naps like one in the morning and one in the afternoon. Always go with what works best for your child's schedule. The final aim is to ensure that your little munchkin is getting the rest they need, hence if adding a nap makes him happy all afternoon till bedtime; parents must consider doing so.
Secondly, always ensure you are sticking to the schedule that you have made. It may seem challenging initially mainly if you and your kid are both accustomed to going with the flow but an organized bedtime, naptime and even wake-up time approach are vital for toddler sleep.
Hence whatever may be the schedule you choose, you must be steady, no matter how many bedtimes conflicts your toddler tries to involve you in.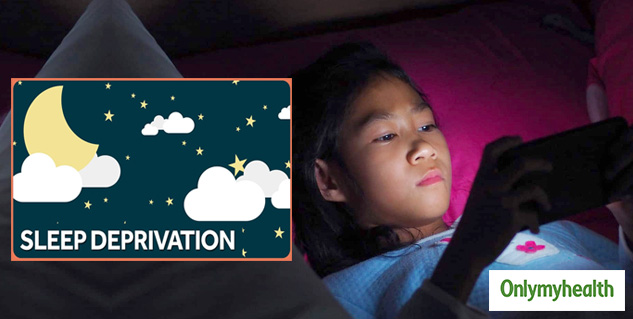 Limiting screen time can majorly help with regulating child sleep patterns. The blue light that is released from screens like phones or tablets can wake up the brain, making it difficult to fall asleep. Hence parents must shut them off an hour before you put your child to bed.
Learning to understand your child's weary signs will also make it effortless to regulate just how much sleep they require. Always be patient while dealing with them. It may take a couple of weeks of controlling your schedule to understand what works, and then it may take some more time for your child to fine-tune to the new routine. But it would be best if you never gave up.
If these efforts still fail to improve the amount and quality of sleep your child gets, you must consider consulting your healthcare provider to help ease the child.
Read more articles on Mind & Body