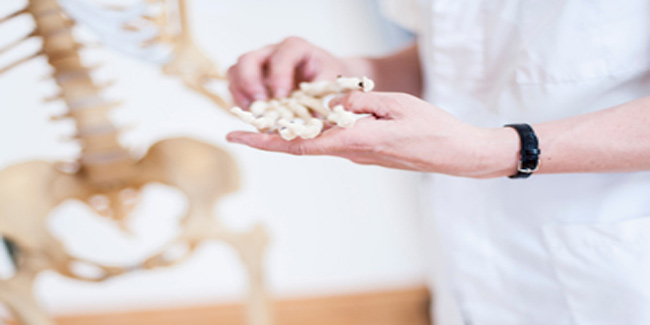 Human skeletal system is one of the most complex systems in the body yet it goes simply ignored. Understand more about the bones in your body.
Our body structure is defined by bones. But we often take them for granted until we break one or are diagnosed with a bone disease in old age. Our bones require lifelong protection and nurturing in order to prevent weakening and injuries. The human skeletal system comprises bones, tendons, ligaments and cartilage in the body. It performs a number of vital functions such as giving your body its structure, supporting bodily movements and producing new blood cells. But did you know some fascinating facts about the skeletal system? Well, you can find them here.
The hands and feet have over half the body's bones
There are different shapes and sizes of bones in the human body structure and they are not evenly distributed throughout the body. Some areas in the body have far more bones than others. Each hand has 27 bones, and each foot has 26. So if we calculate bones of both the hands and feet, it comes to 106 bones in total.
Also read : How to take care of your bones
The world's first functional prosthetic bone was invented by the ancient Egyptians
About 3,000 years ago, ancient Egyptians developed the first functional prosthesis. Prosthesis are artificial devices that are used in place of a missing or injured body part. In 2011, researchers showed that Egyptians with fake toes would have had a much easier time walking around in sandals than people who were missing their big toes but didn't get prosthesis.
Bones are not the hardest substance in the body
Bones are strong and rigid but they are not the hardest substance in the body. So, do you know which one it is? The answer to this is tooth enamel. Tooth enamel protects and preserves the crowns of the teeth. According to the National Institutes of Health, it has the high concentration of minerals such as calcium salts.
Babies have more bones than adults
You may find it a little strange and unbelievable that little babies have more bones than adults. Adults have 206 bones in their bodies while the skeleton of an infant consists of around 300 different components which are a combination of bones and cartilage. The cartilage finally solidifies into bone in a process known as ossification. Over time, the extra bones in the infants get fused to form larger bones reducing the number of bones to 206 by adulthood.
Also read : Simple diet changes and exercises that will help improve your bone density
Some people have an extra rib that can cause health issues
Most adults have 24 ribs but about one in every 500 people may have an extra rib, called a cervical rib. This rib grows from the base of the neck, just above the collarbone. The extra rib can cause health issues by squashing nearby vessels or nerves. This condition is known as thoracic outlet syndrome which results in pain in the shoulder, loss of limb feeling, blood clots and other problems.
Osteoporosis is the most common bone disease
Osteoporosis is the most common bone disease which is characterized by a decline in bone structure and low bone mass. However, osteoporosis can be prevented, diagnosed and treated. Low bone mass occurs when bones lose the minerals that strengthen them, especially calcium, leaving bones weak that can fracture easily.
Humans have been suffering from Bone tumours for 120,000 years
Bones are made up of active, living cells which are similar to other cells in your body. The bone cells are susceptible to benign and malignant tumours. According to researchers, humans have suffered from bone cancer for thousands of years. In 2013, scientists discovered a tumour in a Neanderthal rib bone dating back 120,000 to 130,000 years. So far, it is the oldest human tumour ever discovered.
Image Courtesy: Getty
Read more articles on Healthy Living
For more such stories, Download Onlymyhealth app