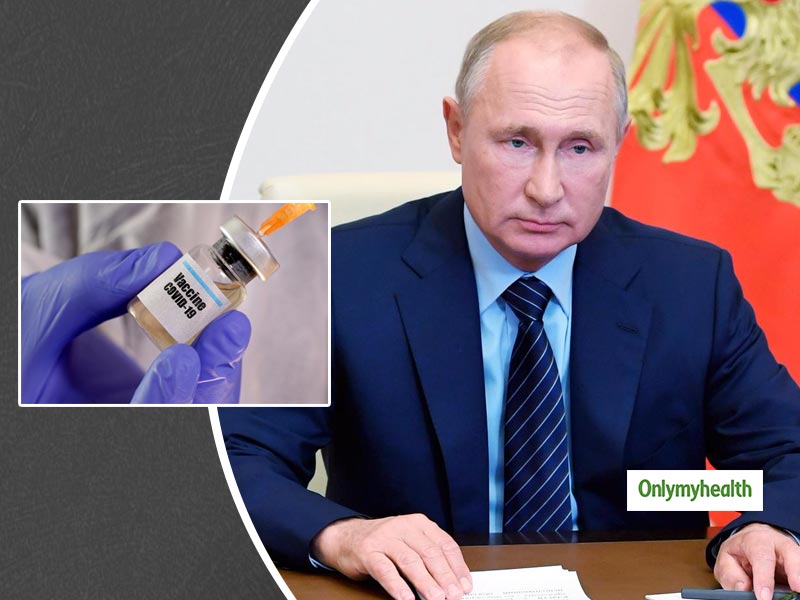 Russia Covid-19 Vaccine: Putin Claims - Russia Makes World's First Corona Vaccine, Daughter Takes 'Dose'
Russia Announces First COVID Vaccine: Russia has succeeded in developing a vaccine to overcome the COVID-19 pandemic. President Vladimir Putin confirmed this on Tuesday. The President said that the first doses of this vaccine that have been given including his daughter. It clearly explains that the coronavirus vaccine has been developed in the country as well as has been registered for use. President's daughter took the vaccine: President Putin said that one of his daughters has also dosed this vaccine. He gave this information at a meeting on Tuesday. The President noted that this vaccine was effective in tests, and it is useful in developing immunity from the coronavirus. President Putin emphasized that the vaccine underwent several necessary tests. He further explained that one of his two daughters took a dose of this vaccine, and she has no side effects, she is fine.
First frontline workers will be vaccinated
Russian officials said the vaccine would be first given to the medical workers, teachers and those at high risk of infection. While developing the vaccine, scientists at the Gamaleya Research Institute in Moscow had said that the first vaccine would be given to frontline health workers after the vaccine was produced. Scientists said that it is more important to be given to frontline health workers because they have to remain among the infection even further. Along with this, Russia has talked about the mass production of this vaccine in September. It is noteworthy that this is the world's first coronavirus vaccine that has received regulatory approval.
Also Read: Take These Cues To Transform The Vibe Of Your Bedroom To Attract Positivity
Russia had claimed to bring the vaccine by 12 August
The whole world was focused on Russia for the vaccine. Ultimately, Russia met its claim and was successful in registering the vaccine against the deadly novel coronavirus in the world. Russia claimed that it was going to disclose the coronavirus vaccine on August 12. On August 7, Russia's Deputy Health Minister said that Russia would register its first Corona vaccine on August 12. The Corona vaccine has been together developed by the Gamaleya Research Institute of Russia and the Ministry of Defense.
Also Read: Learn The Art of Positive Visualization For Sound Mind and Healthy Body
Vaccine trial continues in these countries
Currently, human trials of the vaccine are going on in many countries of the world. Britain, America and China, including India, are engaged in the trial of this vaccine. Britain has the highest expectations of Oxford University. After this, America's Moderna and China's two vaccines are also expected worldwide. Human trials are underway for biotech and Zydus Cadila's corona vaccine in India.
Health Ministry on the taskforce for vaccine distribution
Last Friday the cabinet secretary formed a high-level panel, including representatives of the ministries of biotechnology, external affairs, information technology, the director-general of health services, AIIMS director Dr Randeep Guleria, the Indian Council of Medical Research (ICMR) and India's Aids Research Institute. On Monday, according to the Health ministry, India registered over 60,000 new Covid-19 cases and more than 1,000 deaths, pushing the tally to 2,215,075. The union health ministry said that there are more than 600,000 active cases, and over 44,000 people have died of the viral disease so far.
Read more articles on Health News