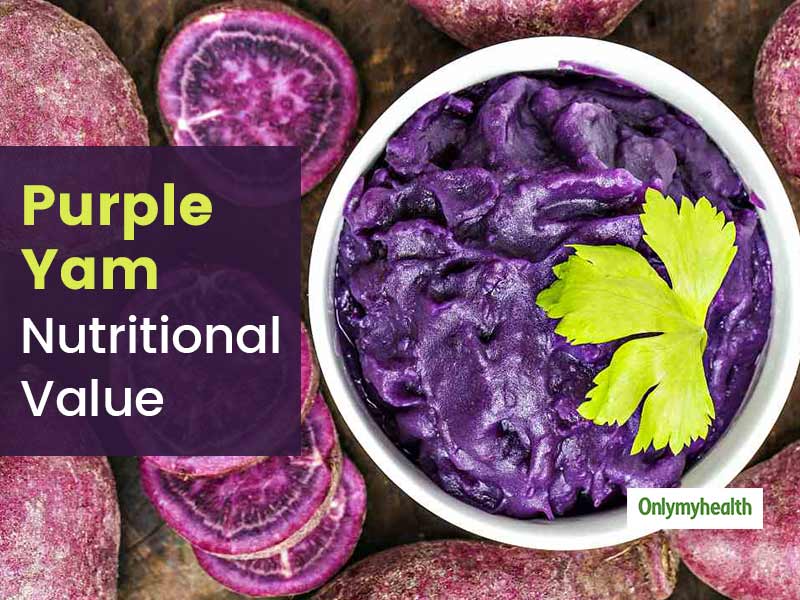 Why eating 'Purple yam' is considered beneficial in the winter season? 4 fantastic health benefits of eating it.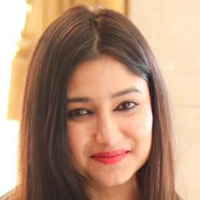 Healthy Diet
Reviewed by: Swati Bathwal, Dietitian and Diabetes Educator
Published at: Nov 02, 2020
Written by: Tavishi Dogra
Purple yam nutrition value: Purple yam is a particular type of vegetable found in various parts of India. But do you know that it is most commonly eaten in Madhya Pradesh? Purple yam tastes delightful due to its crispy taste. Especially in winter, eating hot purple yam chaat is quite enjoyable. Usually, this vegetable comes in winter (October to March) and is considered very beneficial for health. Dioscorea alata is a species of yam usually ascribed to as purple yam, violet yam, ube, or water yam. Do you know that this root vegetable (purple yam or Dioscorea alata) is often confused with taro root (sweet potato)? Purple yams texture becomes soft like a potato when cooked. It has purple flesh and greyish-brown skins, and their nutty, sweet flavour and are used in a variation of dishes ranging from sweet to savoury. Know why purple yam's effect is also regarded as the best diet for winter. Let us tell you the four significant benefits of eating purple yam in cold weather.
Purple yam is rich in fibre content
One hundred grams of cooked (Dioscorea alata) purple yams only have one hundred and forty calories, but it has four grams of fibre and contains potassium, sodium, iron, calcium, vitamin A, and vitamin C. Do you know that purple yams contain plant compounds like anthocyanins too? Purple yam has a rich amount of fibre; hence it is very beneficial for the stomach. The intake of fibre-rich foods clears intestinal dirt and digests the food well. So eating Purple yam eliminates all the problems related to your digestion like- constipation, indigestion, gas etc. Do you know that eating purple yam cleanses your stomach too?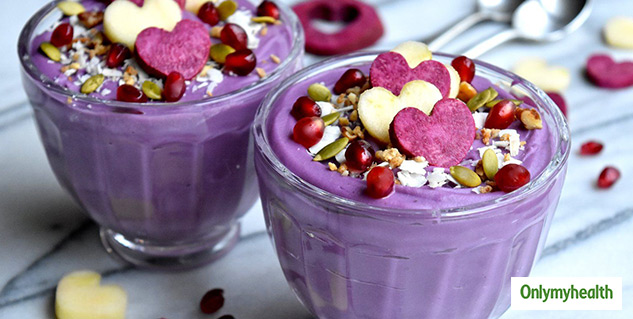 Purple yam for brain development
Purple yam is rich in various types of antioxidants, that protect you from several diseases of the mind and body. Antioxidants are the elements that slow down the oxidation process in the body, keeping you young for a long time and avoiding cancer, tumours, cardiovascular diseases. Eating purple yams may enhance your brain. In a recent twelve-week study, people who ate a purple yam extract tablet scored better on a brain function analysis than those in the placebo group. Purple yams contain an unusual compound called diosgenin that has been found to intensify brain function and promote neuron growth.
Also Read: Can You Lose Weight By Eating Sweet Potatoes?
What makes purple yam stand out is its colour? Explains Dietitian Swati Bathwal
Purple colour means it is rich in anthocyanins which are healthy antioxidants.
To reduce inflammation, build immunity an antioxidant is a must, that's what vitamin c does too.
Hence, purple yam is a nature favourite tuber with a rich source of all minerals and vitamins.
Bake it on a chaat form, make a pudding, mash it with vegetables or grill them in the oven. They taste divine.
Purple yam boosts immunity
Purple yam also contains the right amount of vitamin C; hence, it increases your body's immunity. Apart from this, it is also healthy for bones and teeth. Regular intake of purple yam helps grow the white blood cells in the body. Do you know it also helps in healing the injury and wound quickly?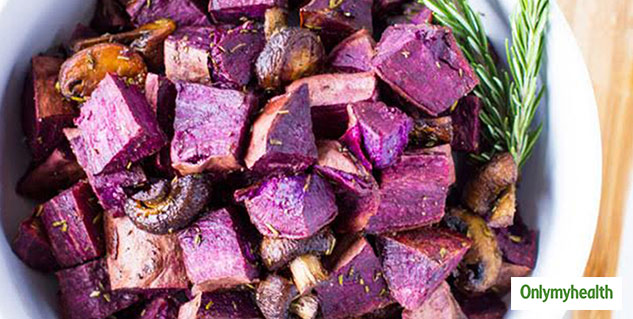 Purple yam nutrient content
Little is known about purple yam, but this vegetable is rich in many nutrients. Elements like calcium, iron, copper, manganese, phosphorus are found in the right quantity in purple yam. All these elements help keep you healthy and protect the body from many diseases.
Read More on Healthy Diet