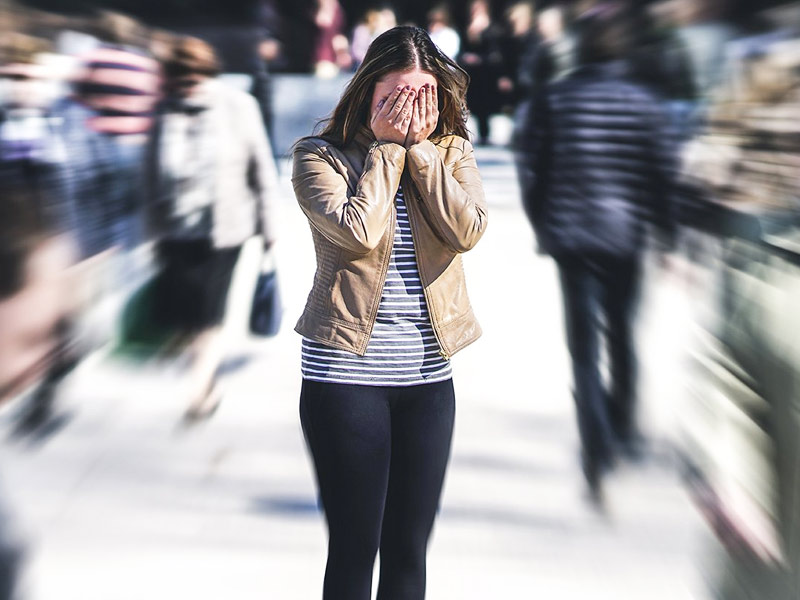 Have you ever felt that sudden feeling of fear or terror that strikes up without any kind of warning? If you have been experiencing these sudden periods of terror and fear then you need to know that these can be panik attacks. This feeling might make you feel that you are experiencing a heart attack and are going to die. People who experience panic panic attacks are more likely to experience it again when in a similar kind of situation. From rapid breathing to chest pain and from rapid heart beat to bringing up the feeling of fear, a person going through a panic attack can experience it all. A panic attack could be understood as an overwhelming feeling of anxiety or fear that is usually based upon the perceived threats instead of imminent danger. In order to know more about this condition and understand its symptoms let us take a deep dive into this article and learn it from our expert Dr. Samir Parikh, Director, Mental Health and Behavioural Sciences. Fortis Healthcare.
Symptoms of Panic Attack
Where almost everyone experiences the feeling of anxiety as a response to any kind of stressful situation. When this anxiety comes in as a response to a stressful situation, it isn't a natural reaction.For people suffering from panic disorder, the feeling of anxiety, panic and stress is pretty common and start kicking in on a regular basis. This regular feeling of anxiety when experienced without any particular reason can lead to various issues. Here's what Dr. Samir Parikh has to say about this- " Panic disorder is a type of an anxiety disorder. In various categories of anxiety disorders one of them is the panic disorder. Panic attack is a sudden episode where a person starts to feel some of these symptoms such as palpitations, increased heart rate, sweating, trembling, feeling of choking, breathlessness, discomforting chest and abdomen, butterflies in abdomen, nausea, hot flashes, fainting, feeling of heart attack and thinking that you are going to die. These symptoms come in an acute way which means that they come in suddenly, get built up and gradually reduce. This can range from being there for a few minutes to 15 minutes to being there for about 45 minutes. While experiencing a panic attack, most of the people fear that there is a cardiac episode or feel that they are dying and hence rush in an emergency. After reaching a medical facility when they are told that it is not a cardiac issue and hence they do not realise that it is a form of anxiety disorder. The preoccupation and the worry around the anxiety attack tends to continue and once these episodes become frequent, people start fearing about the next attack."
Here are some of the symptoms of panic attack that one needs to look for in order to detect the panic disorder.
#1. Anxiety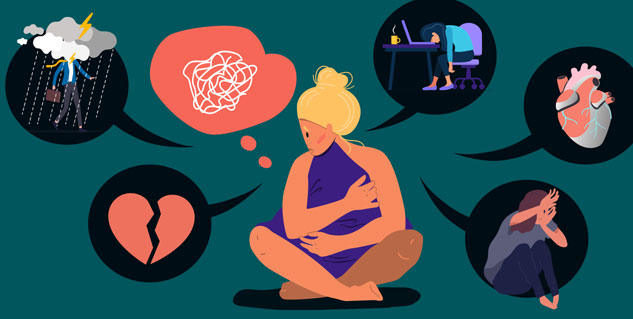 Also Read: Can Certain Foods Trigger Anxiety? Expert Weighs In
A feeling of fear or worry that makes you a bit uneasy. With panic being one of the most severe forms of anxiety, it is often observed that people tend to avoid certain situations as they are afraid that it might trigger their anxiety. Anxiety can also be understood as an indicator of some underlying situation or disease when it starts interfering with a person's daily life activities.
#2. Nausea
Also known as the stress related gastrointestinal distress, nausea during panic attack is a very common condition. Due to a very stressful condition when a person tends to get panicked, the digestive system is something that gets affected first. As the digestive system experiences an adrenaline rush, it tends to disrupt the functioning of the digestive system which eventually leads to nausea and vomiting. With these panic attacks being a very stressful situation, nausea is something that tags along with the panic attack.
#3. Acid Reflux
Before understanding the relation between acid reflux and panic attacks, letus take a quick look at what actually an acid reflux
Also Read: Acid Reflux: Causes, Symptoms & Food Items To Avoid In This Condition
is. An acid reflux can easily be understood as a digestive issue due to which the digestive juices present inside the stomach tend to irritate the inner lining of the food pipe. Commonly known as heartburn, this digestive condition tends to create a burning sensation in the chest. People with severe panic disorder or panic attacks tend to experience acid reflux due to the disturbance caused in the digestive tract by the adrenaline rush.
#4. Hot Flashes
Feeling hot or experiencing a feeling of getting flushed is said to be one of the most common symptoms of anxiety induced due to panic attacks. It is a very usual thing to experience a sudden feeling or sensation of warmth in the upper body. These hot flashes might lead to sudden saddening of the face and hence it seems as if a person is blushing. It is not just the skin redness but also the sweating that is caused due to the sudden feeling of warmth. As due to a tensed situation our body releases stress hormones into the bloodstream which are then sent to the muscles due to which there is an increase in circulation which results in making you feel hot.
#5. Shortness of breath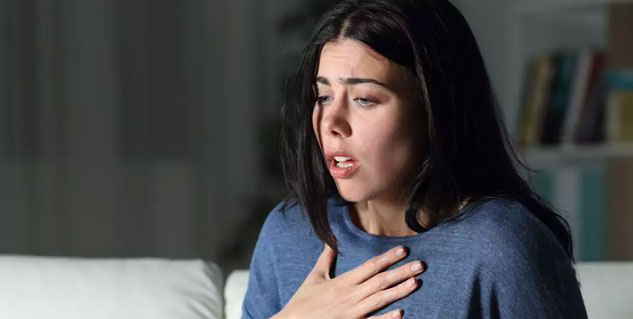 When a person experiences a panic attack, the body's flight to fight response gets activated. This flight to fight response of the body leads to giving rise to uncomfortable symptoms such as being short of breath. Where the feeling of short breath is frightful in itself, it tends to alleviate the panic attacks even more. Due to this a person tends to experience a sudden change in the breathing pattern and they end up feeling shallow or restricted and the pace of breathing tends to get increased. People might also experience a feeling of getting choked or being suffocated.
#6. Dry Mouth
The condition of dry mouth is said to be very common when it comes to panic attacks. As when a person goes through a feeling of anxiety and experiences a panic attack, they tend to breathe through their mouth instead of the nose. As a person breathes in the air through their mouth, it gets dried up. A rapid breathing throughout results in the condition of hyperventilation and results in rapid breathing.
With inputs from Dr. Samir Parikh, Director, Mental Health and Behavioural Sciences. Fortis Healthcare.