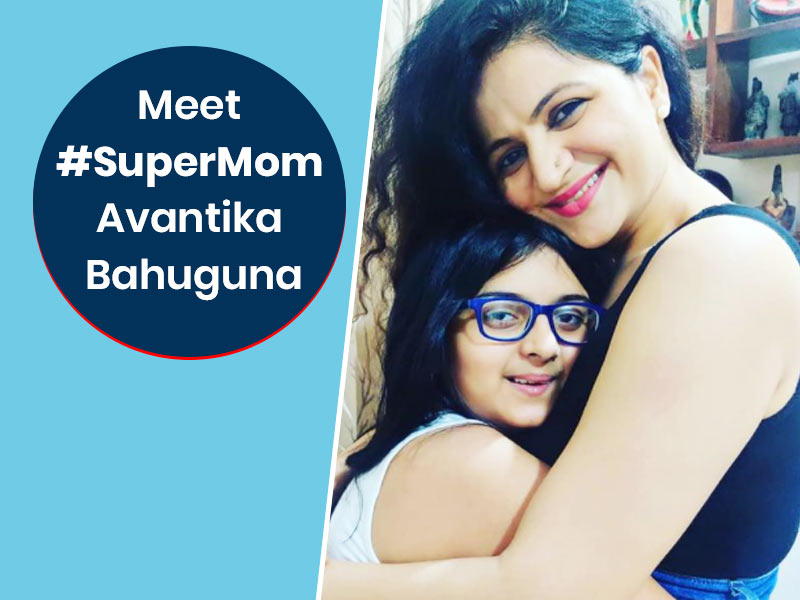 There lies a superpower in every mother and this is why they are supermoms. There is nothing that a mother cannot do and this makes her special in every way. Onlymyhealth has started a #SuperMom campaign wherein we will be introducing some amazing mother influencers and invite them to talk about their idea of parenting. They will share fruitful tips that can help fellow moms to construct their life in the most outstanding way possible. In this series, we had a fun live session with Avantika Bahuguna who is a mom influencer and a Zumba instructor. She shared with us certain tips that she has learnt over the years of being a supermom.
"Take a call, decide yourself and don't let others decide for you"
The road to motherhood is not the same for every woman. Some decide to embrace it early while some wait until they are ready to take up the responsibility. Avantika falls into the latter category. It was after 7 years into the marriage that she decided to become a mother. She didn't fall for the family or societal pressure for pregnancy but went ahead when she felt like. She dismissed all the false statements passed by others for not conceiving for this long. "Being married early, I wanted that time to myself, nurture the relationship and grow as an individual both personally and professionally before becoming a mother", says Avantika.
View this post on Instagram
Life doesn't end after motherhood but it starts. Being a journalist before conception, it was quite challenging for Avantika to manage everything as back then, there were fewer options for women in terms of work flexibility.
Also Read: Mom Blogger Shifa Tells How Mother-Influencers Are Maintaining Work-Life Balance During Pandemic
Obsessed Parenting Is Not Healthy parenting
We have seen our mothers' lives revolving around us only. Calling it obsession is the right word especially for parents who are super-obsessed with their child and not willing to let them outgrow. Obsession may give you pleasure but after some time, you start to crave a life of your own. This is happening a lot with new-age mothers who are not able to adjust to life after motherhood. Therefore, you must take out time for yourself and grow. It is not just about working somewhere but giving yourself the time you need to nurture your mind and soul. Only a happy mom can raise happy kids. This can make you a role model for other mothers who wish to become like you. You don't need to be professionally sound to influence someone but these small steps can bring larger gains. Kids learn what they say and a confident mom raises confident kids.
"Raise your voice, follow your passion and be happy"- Avantika
A Break Can Change Your Life
View this post on Instagram
If you are a working mom or you are planning a pregnancy, it is very important for you to take a break. These days, most companies offer maternity leaves and they must be availed. Besides, you must take a break when you feel exhausted. This is because it helps in aligning your mind and body. Think about your transformation from a woman to a mother and be proud of your superpower that a woman is blessed with.
Postpartum depression is very common and is associated with anxiety. Anxious women often succumb to depression during or after pregnancy. As per Avantika, taking a short break can rejuvenate your mental health. Another most common concern is weight gain during pregnancy and how to lose that weight. You can become fit only if your mind is fit and your body active. Being physically and mentally fit can resolve most of your health-related problems. When you feel low, confide in someone who can understand your situation like your mother or sister or friend. Caregivers play a major role in mother and child's health. Avantika goes on by saying, "It takes a village to raise a child but it takes a community to raise a mother."
Also Read: Follow These Tips To Help Your Kid In Dealing With Childhood Stress
The Journey Of Becoming a Zumba Instructor
View this post on Instagram
For the uninitiated, Avantika is a fitness enthusiast and a Zumba instructor. She wasn't into this since the beginning and talking about how she was introduced to zumba Avantika says, "I was battling weight gain and then someone challenged that I cannot lose weight now. It struck me. Besides, I was also experiencing fatigue and I wanted to resolve these issues. I needed something to turn that negativity into positivity and that's how I discovered zumba. After trying several workouts and fitness programs for weight loss and not getting results, I came across Zumba which is a great dance-cum-workout form. I lost weight and become more positive and happier. I learnt that to lose weight, we need to be happy."
Identify a workout that makes you happy, what suits you and your body would respond- Avantika.
Fitness and Parenting Can Go Hand in Hand
View this post on Instagram
A lot of people find it hard to find time for a workout especially during these pandemic times when you are working from home. You have a child to look after and then household chores, work deadlines, etc. Amidst all of these, how one can find time for fitness? Avantika has a beautiful answer to this- "Where there is a will, there is a way". Those who are determined to stay fit can easily manage everything despite all the hurdles. While looking after her 10 YO daughter, she also manages work and then takes out time to workout. It is easier when you set up a timetable. Of course, you cannot follow it always but it would make you disciplined and that's the secret to fitness.
There are so many mothers out there who are struggling to become fit just because they think they cannot. This is high time that you take a stand for yourself and learn to value yourself. Once you become a good woman, you'll become a great mother and wonderful human being. Just find your passion and pave your way, everything else would eventually fall into place.
Read More Articles in Tips for Parents