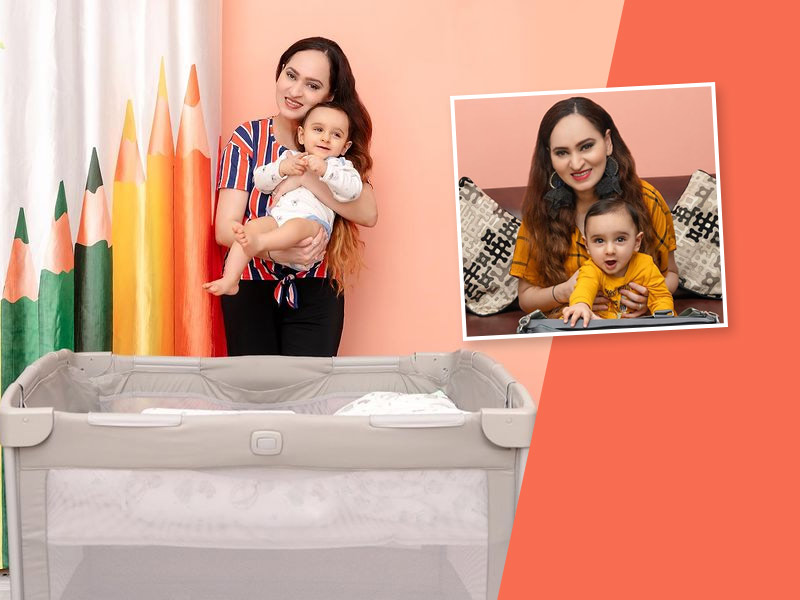 It is not easy to strike the perfect balance between work and personal life. And when you become a mother, things become more complicated. There are so many working moms out there with 9 to 5 jobs and toddlers at home to take care of. However, women influencers who don't have any fixed work routine or schedule find it extremely hard to deal with the situation. Shifa Merchant, a Lifestyle and Travel content creator on Trell who is also a mother to little Ayaan. She embraced motherhood during the pandemic situation which is a whole experience in itself. There is a lot that she has to share which can be of great help for fellow mothers who are new moms and juggling with work-life balance. Let's read Shifa's story
I have always been creating content full-time for the longest time I can remember. Be it my globe-trotting journeys, lifestyle content, wearable fashion, beauty tutorials or skincare hacks, making content that is relatable and sharing my journey with my readers is what drives me. My background of post-graduation in entertainment and a past experience of movie marketing at some of the biggest stables in the country have further steered me in the direction of my dreams. These experiences have also prepared me for the world of content creation and also have had an impact to lead a principled work-life but at the same time have also made me aware of how important family is. Time spent with family only further drives you more accurately towards your goals.
How to balance work and family?
The lockdown had just begun when I had stepped into my third trimester and never did I imagine in my wildest dreams that a pandemic would hit us during my pregnancy. I continued working and travelling all the way till my 2nd trimester ended, and that's when the lockdown began. In fact, I was working and shooting all the way to my delivery day. I think it all stems from the fact that as a little girl I have seen my mamma dearest juggle so many things at once all by herself – her 3 kids, her boutique, her home and so much more. Just like me, even my mom was working till the time her water broke, during all 3 of her deliveries.
I admit when it comes to continuing to pursuing your dreams or following your heart what works is if you love what you do. Then work doesn't feel like work anymore, as it becomes your passion project. So find that ONE THING THAT DIRVES you and you'll automatically find that meaningful balance your life needs.
Also Read: How to Toilet Train Your Kids, Everything You Need To Know
Also, we might all say we like to single-handedly manage things but for me what mattered the most is the support from the right people – from your partner, from your closest of friends, from your parents and siblings, it all matters a lot if you see the bigger picture. I would not be able to do even 50% of what I do if I didn't have my mom and my hubby Salman supporting me from the time I was pregnant. After Ayaanoo was born, right from guiding me to understand and accept the changes in my life to taking care of Ayaanoo and giving me that much required me time to finish my work, calls, meetings, shoots, etc. is the kind of love and support that I know.
How to Maintain Work Life Balance?
I really take one day at a time and try and work at a set time. A self journal and a calendar help me to stay updated with all the deadlines of all my projects Also, pausing to do nothing but to just chill and hang with my family are so so important to me. These breaks allow me to recharge, get better creative ideas, feel warm and happy from the inside and also make me more focused on what I do. So say for example, Ayaanoo Baby sleeps at 4 am, I'll work next to him for the next few hours while my mom or Salman catch up on some Zzzz's. The next day while I rest up for a few hours, they take care of him till my resting and work are both done. These two literally have my back. So it's a team effort you see!!! This is what I mean by a strong support system. I have dived straight into work 5 days after delivering my baby as I absolutely love what I do. Passion is what drives my work! Hence shooting and working in itself is therapeutic for me. And it was all possible only because of this love they shower on me.
Also Read: Paediatrician's Guide To Introducing Solid Food To Babies
Also, spending time with my baby is the BIGGEST stress buster and it energises me. This way I work better, more efficiently and he has also made me realise that I now work faster but with as much dedication.
Also, another practice that has tremendously worked for me is mindfulness. This means I take note of every small good thing happening in my life and in the lives of people who matter. These celebrations immediately cheer you up and when you're happy your work is more efficiently handled too. One small act of calmly training the brain to be aware of all that you are blessed with, all the work, deadlines are all forms of blessings. This turn allows you to regulate what you want from life which for me is the harmonious balance of my work (SassyShifSays) + family time with my baby, hubby and parents.
Also Read: Maintaining Balance Between Physical & Mental Health Is The Ultimate Secret Of A Happy Life
Lastly, I absolutely love to engage in activities where the entire family can participate. For example, simple patterns placards showing or colours placards showing with Ayaan Baby. In this fun learning and brain stimulation activity for the baby, we all get to come together as a family, spend time with Ayaanoo and also bond with each other in the process of making beautiful memories. Plus, everyone also gets to be a part of his growing-up process. Or say planning trips, staycations or getaways that are also a way of rejuvenating yourself and striking the much required work-life balance. Luckily for me, my work allows me to travel the world, which is me living my dream in all its glory and also allows me to work from any corner of the world. All I need is a camera, phone and a laptop and that space become my office.
This in itself is the biggest perk which gives me ample time to dedicate to my life, my baby and my family. So ask yourself the important question, DO YOU LOVE YOUR JOB/WORK?? If your answer is Yes like me, you are already striking the right work-life balance!!
Read More Articles in Mind and Body