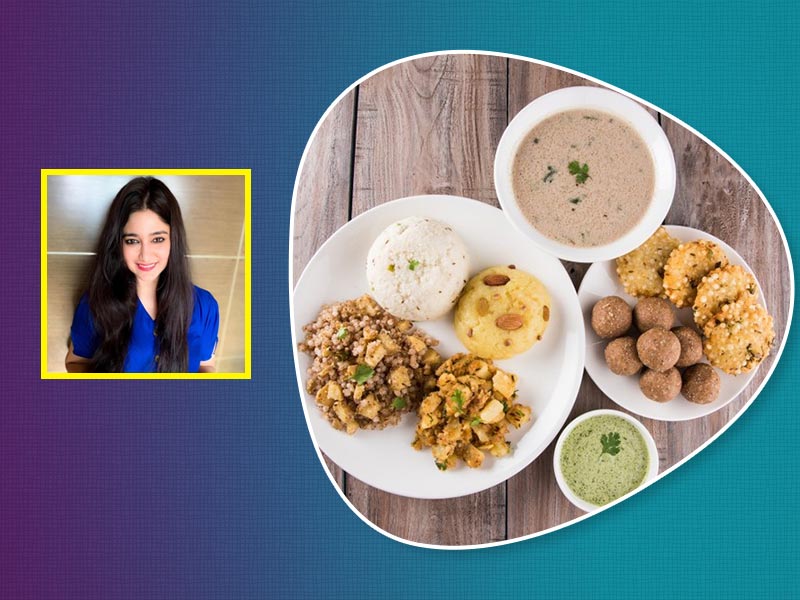 Fasting rejuvenates our body, mind and soul. This Navratri 2021 is surrounded by coronavirus pandemic. Hence the menu is planned by keeping immunity booster foods like vitamin c rich foods- red capsicum, amla, guava, kiwi fruits, mint and coriander leaves, lemon and kokum. When you have diets rich in vitamin C, it boosts your immunity. Tulsi is a highly recommended and its combination with ginger helps in digestion and removes phlegm and sore throat. Cinnamon also helps in boosting immunity. Gulkand aids in the digestion of food and protects your body from heat. Prefer boiled potato and sweet potato over fried potatoes, as potatoes are healthy only once boiled. Please follow your Navratri rules where applicable.
Read the chart by following these points into consideration: M1: Early morning, M2: Breakfast, M3: Mid-morning snack, M4: Lunch, M5: Evening Snack, M6: Dinner, M7: Dessert (optional)
Day 1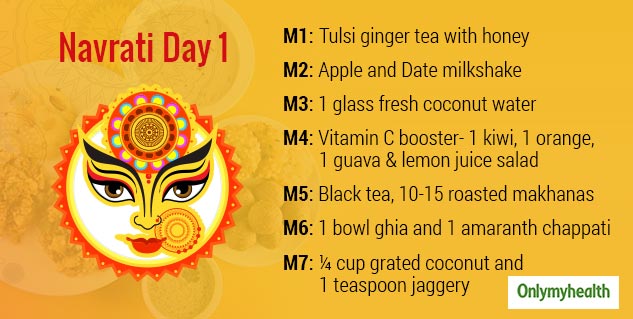 Day one of the fasting is all about balancing your meals throughout the day, without actually overstuffing yourself. Make a balance of good fruits, liquids and some snacks to munch on. Here is the chart for day 1 of eating everything right to start your Navratri celebration appropriately.
Day 2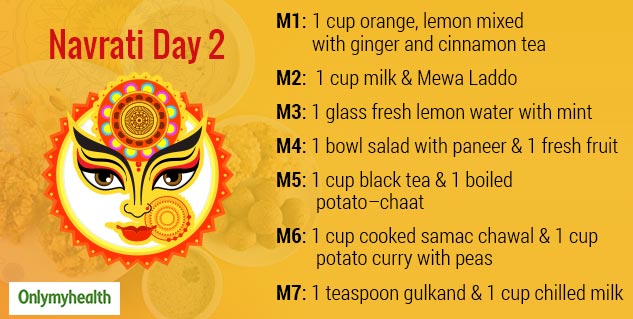 The day can have some salads and the various Navratri food, including samac rice. Samak rice is a kind of millet that is often used extensively during the fasting season. Freshly infused teas are a great way to detox during this phase when we often end up eating dense food during the Navratri festive time.
Also Read: Fasting Guide: Know What To Eat and Avoid From Nutritionist
Day 3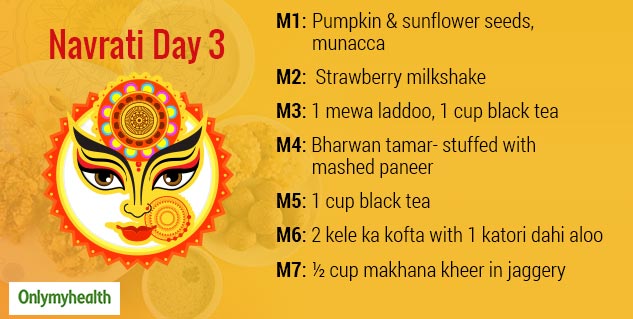 The day 3 of Navratri diet plan can have some seeds, milkshakes infused teas, etc. Also, this chart includes laddoos, kofte made of bananas, curd, potatoes and the much-preferred makhanas or foxnuts. Make sure that you eat in line with the hunger and in controlled portions too.
Day 4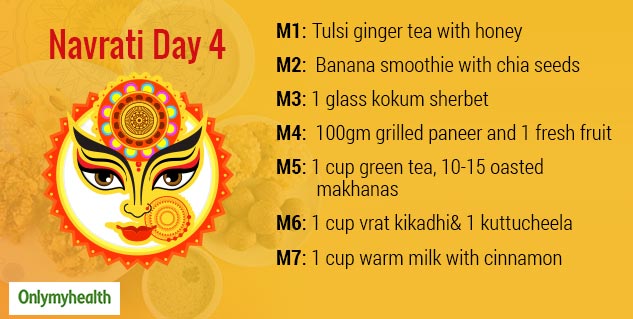 Day 4 starts with teas, smoothies, etc so that one does not find an alibi to eat more while fasting. It is common for one and all to keep stuffing their bodies with delectable yet heavy Navratri snacks, but in every case, moderation is a must.
Also Read: Difference Between Fasting Trends And Traditional Fasting Explained By Celebrity Nutritionist
Day 5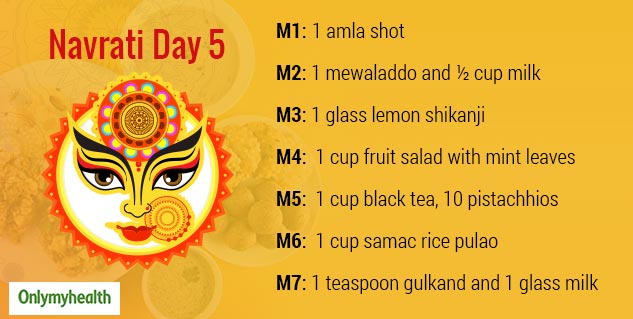 Along with the food, make sure you practise chanting early morning and before bed going to bed. If you cannot move out of the house, move within your house, do some household chores, that is an excellent exercise on its own and don't forget Yoga. Put some music on and dance at home.
Day 6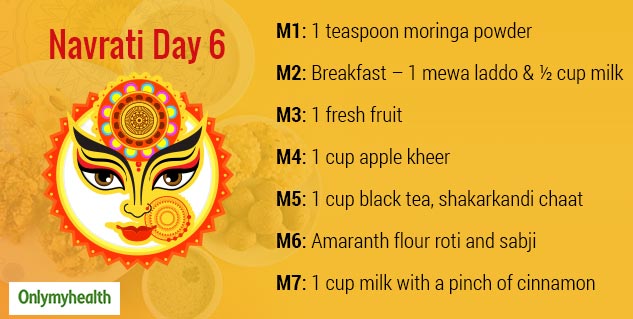 The last few days of Navratri is all about feeling the change and difference in your body after following a diet routine like this. Hence, make sure that you do not give up on eating anything that is not in line with the diet plan.
Day 7
Kickstart your day with an infused tea, and also some have some yummy halwa. Day seven is all about eating clean yet wholesome. Do not ditch the rotis made of amaranth flour, as it is incredibly high on nutrition and yummy to eat too.
Also Read: Navratri 2021 Special: Eat These 9 Superfoods This Festive Season
Day 8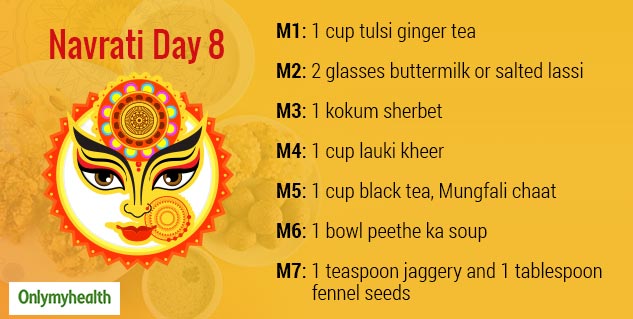 This is the last day for all to end the festive week. The whole plan had teas without milk for a reason. Try tea without milk as polyphenols in milk help in building immunity, adding milk reduces the absorption of polyphenols. Use jaggery or shakkar over white sugar and choose amaranth over buckwheat flour alone.
Here's wishing you all safe and a Happy Navratri.