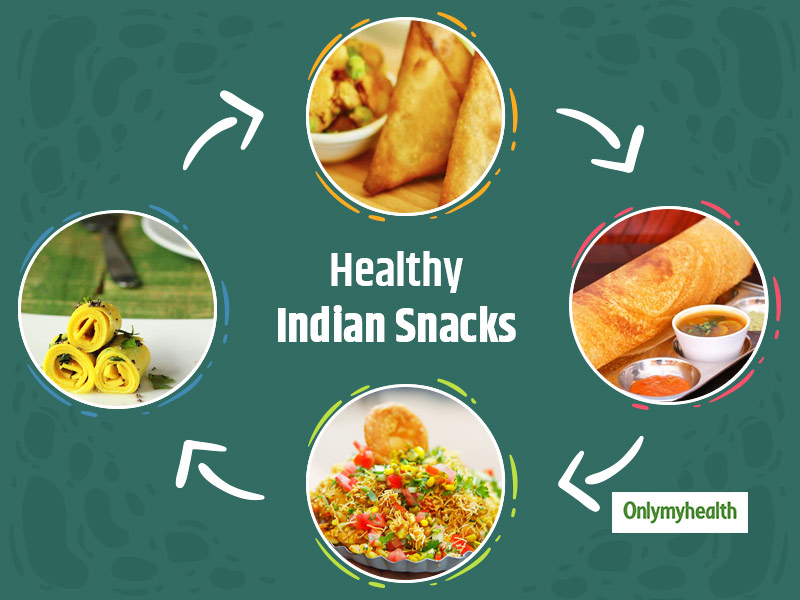 Snacks are often considered less important by people who love to hog on big meals. But this is not the right way to provide nutrition to your body. Eating small meals or snacks in between proper meal times is necessary to keep the metabolism going and providing the body with enough fuel. Besides, there are numerous other benefits of having snacks that would take you all by surprise. Snacking prevents overeating by curbing hunger pangs, it helps to maintain blood sugar and snacks provide immediate energy to the body. Now talking about Indian snacks, the initial food images that would cross your mind are gol-gappe, tikki, samosa and kachori. But there are millions of dishes under the Indian food umbrella. A lot of them are the healthiest foods and we will be talking about eight of them in this article. If you are bored of eating the same fruits, nuts and seeds for snacks, you must check out these food options with better nutritive benefits.
8 Top Healthiest Indian Snacks
Let us take you through the lanes of India and explore foods that you can indulge in guilt-free at any time.
Dhokla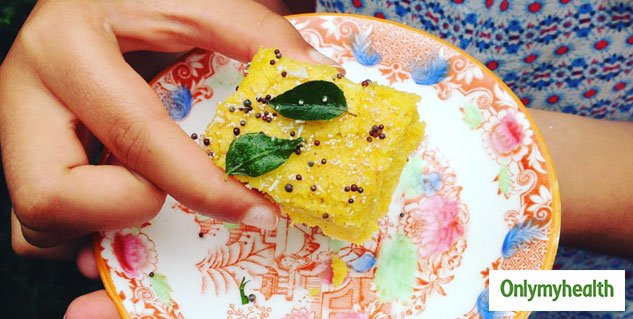 This is the most popular Gujarati snack which is not only lip-smacking but also health-beneficial. There are many variants of Dhokla including khaman-dhokla, Besan dhokla and Rawa dhokla(Sooji dhokla). While all the three are nutritious as their preparation method is the same- fermented batter that is steam-cooked, the healthiest is khaman dhokla that is traditionally prepared from fermented rice and chickpea batter. This is an extremely light snack that can be eaten for breakfast, lunch and dinner as well! One plate of khaman dhokla with four pieces offers 280 calories, 12 grams of protein, 4g fibre and zero cholesterol!
Besan Khandvi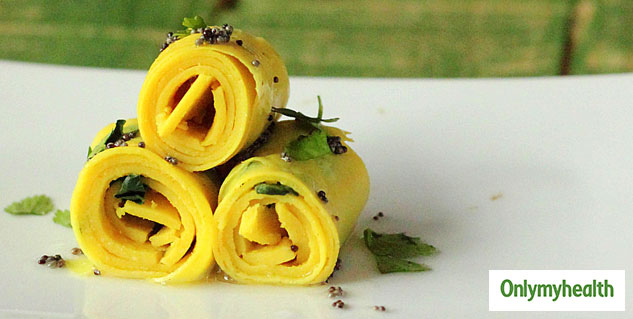 Another Gujju dish that is highly healthy and nutritious is Khandvi. Unlike dhokla, khandvi is prepared only with gram flour or besan. The other ingredient in khandvi is yogurt/curd. Making khandvi is tricky and it may take several attempts to master the recipe. The batter is cooked and is then evenly spread on a flat surface to cool down. The pieces are cut and rolled into khandvi and lastly, it is tempered with mustard seeds, sesame seeds and grated fresh coconut. 100 grams of Khandvi offers about 200 calories along with protein, fibre, calcium, iron, zinc and magnesium. It is also gluten-free, so everyone can enjoy this.
Also Read: 5 Healthy and Lip-Smacking Indian-Style Oats Recipes
Idli
This delectable dish belongs to South India where it is legit everyday breakfast there. Just like dhokla, this versatile food can be consumed at any time of the day. Idlis are prepared with fermented urad dal and rice batter. They are steam-cooked and served with hot sambhar which is a lentil-based vegetable stew that contains myriad veggies including drumsticks, potato, tomato, lentils, to name but a few. Basically, you can throw any vegetable to make sambhar and it would taste equally delicious. Idlis can also be made with semolina base, ragi and oatmeal. These are healthier versions of idlis. Coming to their nutritional profile, one plate of idli-sambhar offers about 35 calories, 8 grams of carbohydrates and 2 grams of protein.
Dosa
We are talking about healthy South Indian foods and how can we not mention Dosa! Idli and dosa are basically sister-brother. Made from the same batter but different sizes and shapes make them different. Needless to mention, they taste also different. While the traditional dosa recipe contains rice and dal batter, there are numerous versions of it with semolina, oatmeal, moong dal, ragi, to name but a few. One traditional dosa has around 130 calories with a lot of protein and carbohydrates. It also contains nutrients like calcium, potassium and iron. Use little oil while making these and you'd be in your healthiest form.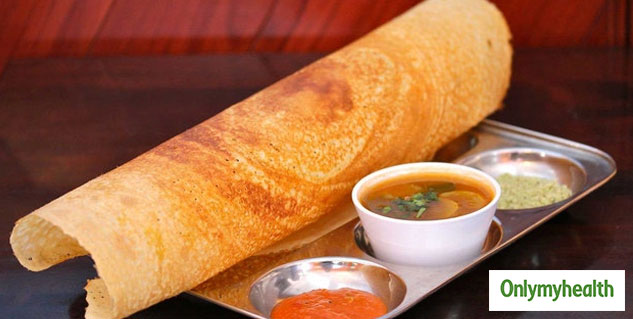 Also Read: Calories And Nutrition In A Masala Dosa Thali
Kathi Roll
Another popular snack or street food of India is Kathi Roll. While this originated in West Bengal, it has reached out to all parts of the country. People love to devour on this filthy and tasty street food but we admit that what you get on the street food joints is not healthy. They prepare these with a lot of oil. But if you prepare these at home, this can beat other healthy snacks in terms of taste, nutrition and preparation. Make a roti with whole wheat flour or grain flour(as per your taste). Now, sauté vegetables in very little oil and add some soy sauce, chilli sauce and tomato ketchup. Add salt and pepper to taste and wrap a roll. You can make any filling that you want to wrap in the kathi roll. Apart from calories, this snack would give you fibre, protein, carbohydrates and vitamins. For a protein-rich roll, add paneer or chicken filling to it.
Bhel-Puri
You must have gotten bhel-puri while enjoying yourself at the beach, right? While it is the best food with a beach walk, you can also have it as a snack. What vendors sell contains oil and a variety of chutneys. When you make them at home, try to avoid oil and sugary chutneys to it. Bhel-puri is made with puffed rice, spices, veggies like onion, tomato, chillies and ginger. You can add peanuts to enhance the taste. It is the best source of protein and complex carbs. If you are on a weight loss diet, you can indulge in this guilt-free as one wholesome serving of bhel-puri gives you only 50-60 calories. Meanwhile, you can also add boiled chickpeas and sprouted moong dal to your bhel-puri and make it more filthy and nutrient-packed.
Also Read: 4 Homemade Dishes To Control The Munching Habits
Baked Samosa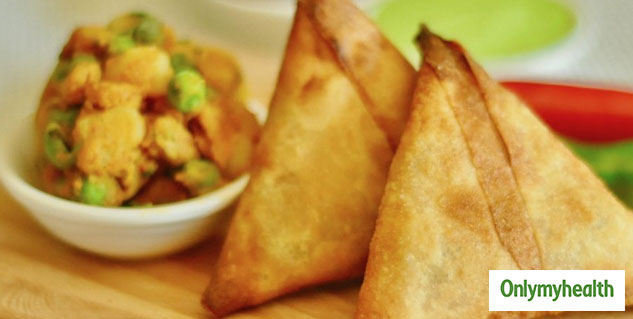 Samosa is indeed the most-loved Indian snack but we all know that deep-fried samosas are bad for health. No matter if they are fried in olive oil! In order to make it healthy and nutritious, you can opt for baked samosas. It would satiate your samosa craving without giving unnecessary calories. In addition to this, prepare the samosa covering with whole wheat flour instead of the refined flour to save up on more. Stuff it with peas and potato filling that provides you with high-fibre and low-calories. Minced paneer, vegetable stuffy and chicken samosas are also healthier versions that you can try.
Hung Curd Sandwich
This is a tasty and healthy sandwich recipe that will make you lick your fingers. Use whole-wheat or multigrain bread to make this sandwich. This sandwich is made using hung curd that is very healthy as it is high in probiotics. Add grated veggies like onions, carrots, cabbage, etc. Add a pinch of salt and black pepper powder. This sandwich offers about 200 calories that may look high but it is great for your digestive health. It also offers vitamin A and C, calcium and iron along with protein and fibre.
Conclusion
Snacking has many benefits and this is why we must have snacks in between meals. Instead of having packaged snacks, we should consume these healthy snacks. These are fulfilling and nutritious that would help in building your health rather than deteriorating it like other snacks. Eat healthily and boost health.
Read More Articles In Healthy Diet