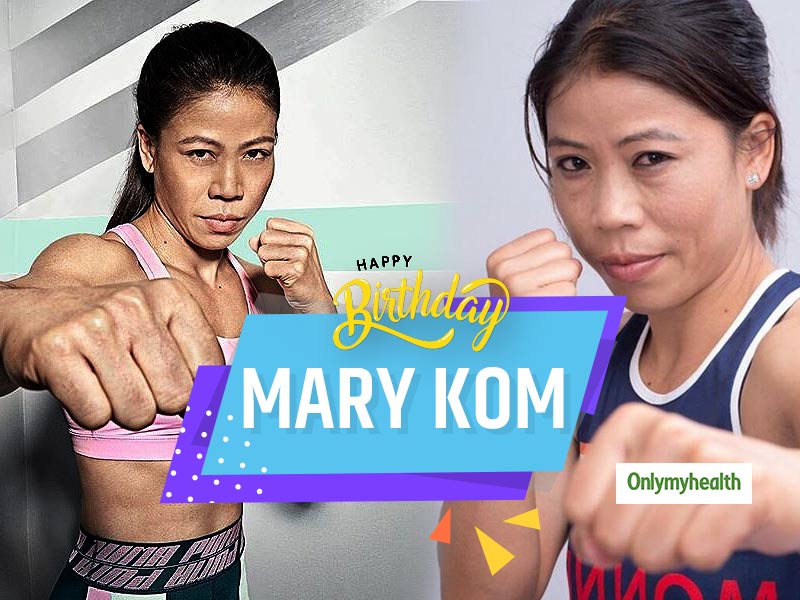 First Padma Shri(2006) then Padma Bhushan(2013) and now Padma Vibhushan(2020), Mary Kom has come a long way. She carved her path to success against all odds which made her what she is now. Nothing can stop MC Mary Kom whether it is age or family responsibilities or any other hurdle. She is born to rule. Six world championship titles and one Olympic medal in 37 years is a huge achievement that MC Mary Kom has achieved so far! Being a mother to three young kids, it is not easy for a woman to continue sports and register big wins but Mary Kom did it and we cannot be more proud of her. To know what it takes to be Mary Kom, read this article.
View this post on Instagram
Mary Kom Fitness Routine
Considered to be a world champion and the pride of the country, Mary Kom's hard work is behind her fitness. They do not mind how busy their day is. Mary begins her day with some core and strength enhancing exercises. Mary spends at least 1 hour to 30 minutes every day for her fitness, in which she does these exercises:
Running
Stretching
Skipping
Whooping
Punching
Kicking
Mary runs about 15 kilometers every day and does the rest of the exercise in the gym area. Apart from this, she also plays some sports like skipping and badminton.
Fitness After Pregnancy
Mary Kom 3 is a boxer as well as a wife and mother of 3 children. She is a mother twice, including three children, once she is the mother of twins. Despite this, he says on how he has kept himself fit, although he has given birth to children twice, this has not affected his body. Because she has always been exercising training, which has kept her fit.
Also Read: Morning Workout Vs Evening Workout: Which Is Better And Why?
Mary Kom Diet
Mary Kom loves balanced and nutritious food in her diet plan. In which she mostly eats boiled rice, green vegetables, fruits, meat and bread. Although she occasionally eats jalebi or ice cream and some sweets, she maintains satisfaction with her exercise. In addition, she prefers less spicy food and regularly takes supplements.
Mary Kom has a schedule from her dinner to workouts, in which she has breakfast between 8-9 in the morning, 1-2 in the lunch and 8-9 in the morning.
Breakfast: Mary drinks a light snack like a shake or a smile before her workout and then a heavy breakfast, which gives them energy for the whole day. Their breakfast includes green vegetables, fruit juice, eggs and bread.
Lunch: Mary likes to eat bread, rice, lentils and sometimes meat during the day.
Dinner: Mary includes meat, lentils, vegetables and roti for dinner. Meat helps meet their protein needs and also helps in maintaining their weight.
Water and fruit juice to stay hydrated
In addition, she drinks water and fruit juice to keep herself hydrated and active. Apart from this, a glass of milk is also necessary for them before going to bed at night. They believe that these three things help to keep you strong and away from diseases.
Read More in Exercise and Fitness