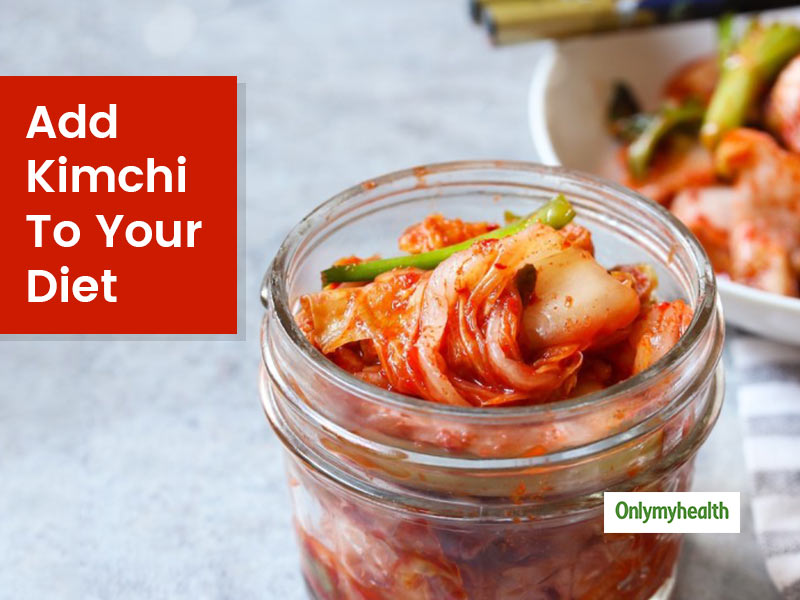 Kimchi is a traditional Korean dish but it is now consumed all over the world. This is a fermented side dish with exceptional health benefits.
Have you heard about kimchi? This is an authentic Korean dish that has now become popular worldwide. This is one of the very few Korean dishes that marked presence globally. If we are to explain the importance of kimchi in the Korean diet, we would say that what Chutney is to us Indians, kimchi is to Koreans. But that is not all, the main reason behind the growing popularity of Kimchi is its nutrition. This is a fermented food with high probiotic content. This is best consumed as a side dish to amplify the taste and boost digestion at the same time. Made with salted and fermented vegetables, Kimchi is our recommendation for a healthy food guide. To know more about kimchi and its benefits, keep reading.
What is Kimchi?
Let us give you an overview of kimchi. So, this is a staple in Korean cuisine where people love to have kimchi as a side dish with rice, soup, noodles, basically everything. The traditional kimchi recipe is made with cabbage but there are many variants where you can use onion, radish or cucumber in place of cabbage. The veggies are salted and kept aside for days to ferment. This enhances the nutrition and taste of kimchi, making it palatable and digestible. Due to the fermentation process involved in making kimchi, probiotics are in abundance. Besides, it is also a zero fat and low-carb dish that would only help you shed extra kilos. If you aren't convinced yet, find the nutrition facts of Kimchi and its health benefits down below.
Nutrition Facts of Kimchi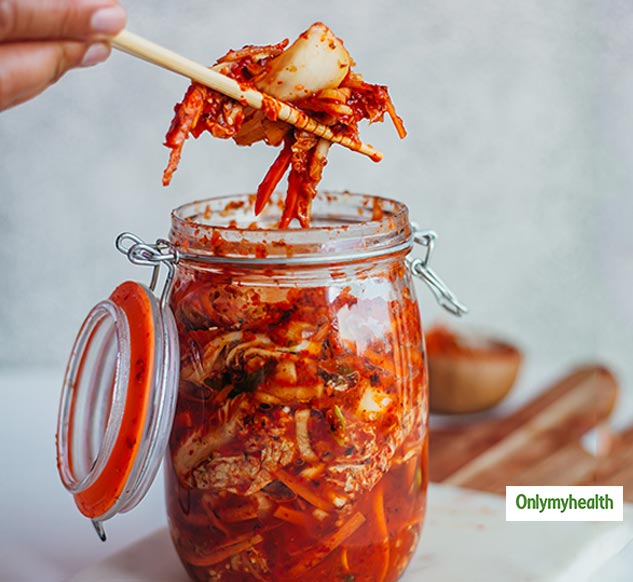 Here is the nutritional breakdown of traditional Korean food kimchi. This is of the authentic kimchi made with cabbage. The values may vary according to the dish and its contents.
80g or Half a cup of Kimchi contains:
20 Calories
Fat- 0g
Fibre- 1g
Protein- 1g
Carbohydrates- 4g
Sodium: 290mg
Health Benefits of Kimchi
Let us give you a brief about the benefits kimchi can offer to your health.
Rich in Probiotics
There is a fine line between probiotics and prebiotics but both are essential for the body. Kimchi has a high probiotic value. As cabbage is fermented, it releases lactic acid that produces healthy gut bacteria. These are supremely great for digestive health. The secret behind the flawless skin and lean body of Korean people is this kimchi! The good bacteria boost digestion and prevent gastrointestinal issues like gas, constipation, diarrhoea, etc. Great digestion is the key to great health and an active body.
Great for immunity
All that we are concerned about these days is immunity. The coronavirus pandemic taught us all a lesson for life which is to keep your immune system strong to fight any kind of disease. Probiotics in Kimchi not only helps with digestion but also upscales immunity. The reason is that fermented foods are linked with immunity and since kimchi is a fermented food, it is also a potent immune-booster. Meanwhile, kimchi also contains vitamin C which is linked with immunity.
Also Read: Pickle Vs Chutney: Which One Is Healthier And Why?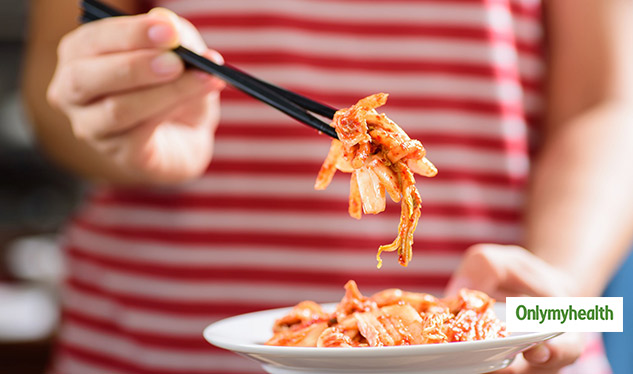 May Reduce Inflammation
There is no confirmation on this but a study found that kimchi contains a compound 'HDMPPA' that has anti-inflammatory properties. This compound is found to counter the inflammatory effects of proteins thereby aiding inflammation. Further research is needed to prove this statement.
May slow ageing
Kimchi may help in preventing premature ageing. Inflammation causes early ageing and consumption of kimchi fights inflammation to delay ageing. A study found that kimchi can boost cell health and prevent early decay, thus, keeping you look young and ward off the effects of aging.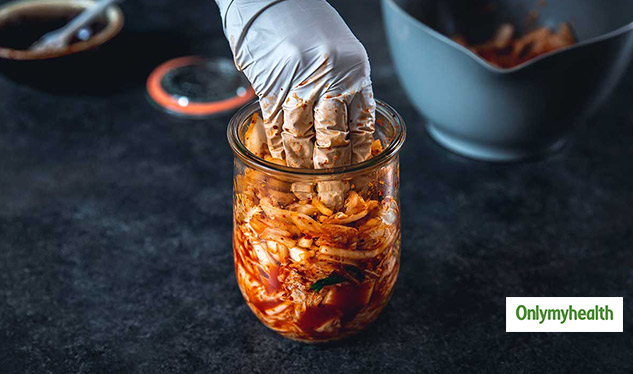 Also Read: Symptoms and Warning Signs of Silent Heart Attack
May aid heart health
Along with other benefits, kimchi may also prove to be beneficial for your heart. Due to the amazing anti-inflammatory properties, kimchi can reduce the risk of heart ailments. It can also control cholesterol and suppress fat accumulation to avert the risk of artery blockage due to fat.
Might aid asthma symptoms
Kimchi and asthma? Can there be a link? Well, we cannot assure you of this but a study conducted on Korean adults found that consuming kimchi on a regular basis helps in reducing the symptoms and flareups of asthma. In addition to this, its consumption may also lessen the risk of asthma in potential patients who are at risk of developing this respiratory issue.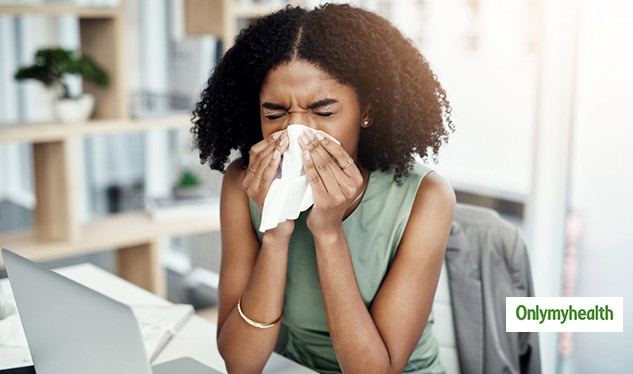 Compatible with all diets
Just like Indian chutneys, kimchi can be consumed with a wide variety of dishes and cuisines. It can basically go well with nearly all meals. Whether you are vegetarian or on a vegan diet or gluten-free or any other weight-loss diets, kimchi can be accompanied by all diets. It has a simple plant-based formula that can compliment each and every diet. You don't have to think before consuming kimchi and that's probably the best part.
Are there any side-effects of kimchi?
Having talked about the benefits of kimchi, we would also like to warn you about the potential problems. Even though kimchi is a healthy dish, it may not suit some people. Here are some things that you need to consider before its consumption:
Kimchi is the healthiest when made at home. Also because you can customize the ingredients as per your liking.
If you are buying packaged kimchi, always check the ingredients. A lot of recipes include shrimp, shrimp paste, fish sauce, etc. This may be a setback for vegetarians and those with shellfish or fish allergy.
People without any health condition can have Kimchi without a second thought.
Since Kimchi is prepared with a lot of salt, sodium content is high in it. People who are heart patients or have hypertension should not have kimchi. This may increase sodium levels in their body thereby putting their health at risk.
Never consume a lot of kimchi as overconsumption can cause excess probiotics. Instead of benefiting, this would cause adverse effects. Upset stomach, bloating, gas, constipation, etc. can be experienced.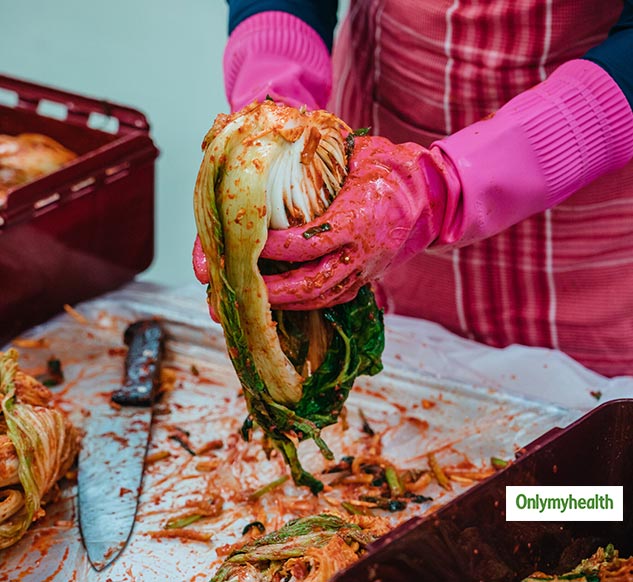 Food safety and storage guidelines for kimchi
Storage of fermented foods is a tricky thing. A lot of people do not know how to store fermented foods properly and therefore worry about the safety and durability of the food. If you are also concerned about food safety and storage of kimchi, let us tell you that this popular Korean dish would remain fresh and good to consume for a week after opening when kept at room temperature. Ideally, it should be kept at a cool temperature but if you forget the bottle at your kitchen platform, it won't spoil for at least a week. This is for store-bought kimchi. To keep your kimchi fresh for longer, keep it in an airtight jar and then place it in the refrigerator. It would remain fresh for six months.
Canned or jarred or bottled kimchi keeps on fermenting until it is finished! This is the magic of fermentation and probably why kimchi is the best-fermented food. However, fermentation makes kimchi mushier and sour over time. Until you see mould or foul smell coming from kimchi, it is perfect for consumption.
This was kimchi for you. Most of us aren't aware of the benefits of probiotics and fermented foods. Having these daily would resolve all our stomach-related problems and some other general issues too. Kimchi is indeed one of the best and tastiest fermented Korean food that you must try.
Read More Articles in Healthy Diet