Are jackfruit seeds poisonous? Jackfruit is a kind of fruit, which is eaten in many parts of India. Jackfruit is also a part of several Indian meals for its great taste. Apart from taking jackfruit in meals, people eat jackfruit seeds for its health benefits. Though jackfruit seeds contain several nutrients, some health experts believe that jackfruit seeds can be poisonous and harm a person's health. It can also be a reason for deaths in people. Let's tell you everything about the advantages and disadvantages of jackfruit seeds.
Benefits of Jackfruit Seeds
Jackfruit seeds have several nutrients, which are beneficial for the body. The seeds contain a right amount of starch, protein, vitamins, minerals and antioxidants. Apart from this, 28 grams of jackfruit seeds contain 53 calories, 11 grams of carbohydrates, 2 grams of protein, 0.5 g fibre. Also, vitamin B, magnesium, phosphorus, etc., are found in abundance in jackfruit seeds.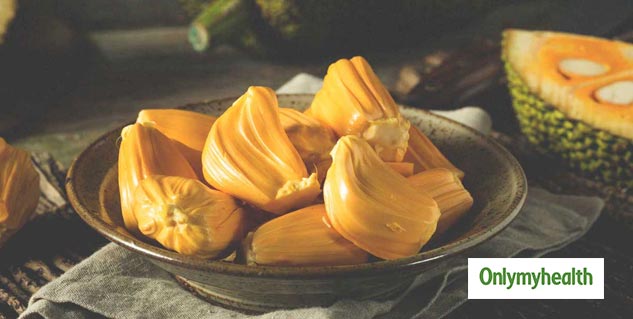 Jackfruit seeds can be beneficial for diarrhoea patients as they contain antibacterial properties.
The seeds of jackfruit are special antioxidants, which also protect you from the risk of cancer. These antioxidants, which are prominently present in this fruit, are flavonoids, saponins and phenolics.
The seeds of jackfruit have both soluble and insoluble fibres, so it is also very beneficial for the stomach. Patients suffering from chronic constipation should eat jackfruit seeds.
Researchers suggest that jackfruit seeds are also helpful in reducing bad cholesterol in the body. Along with this, it also enhances the level of good cholesterol, adding to good health.
Also Read: Bhumi Pednekar: The Inspirational Diet and Workout Secrets Of The Birthday Girl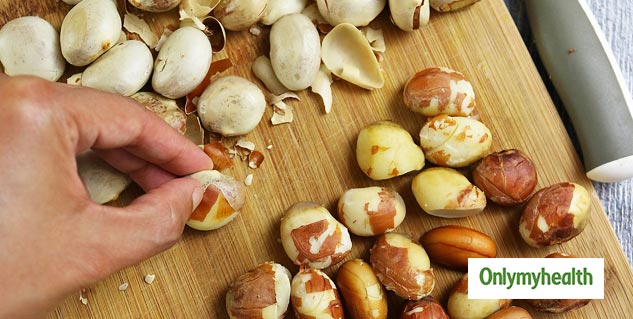 What can be poisonous about jackfruit seeds?
Apart from its several health benefits, jackfruit seeds can be poisonous for some people. Medications including aspirin, ibuprofen, naproxen, platelet-reducing medicines, blood dilution drug, etc. do not go well with jackfruit seeds. Consuming both together may add to high blood pressure in the body.
The seeds of raw jackfruit also contain some elements that can be harmful to the body, such as tannins, trypsin etc. These elements prevent you from absorbing certain nutrients in your body, leading to indigestion.
If jackfruit seeds are boiled or roasted, it hampers the properties of the seed, leading to its contribution in ill-health.
Also Read: Include These Proteins in Your Diet For a Flat Stomach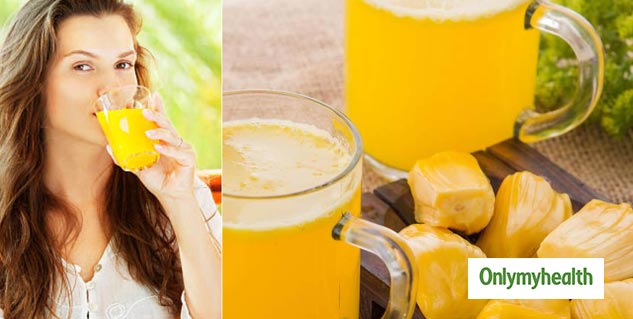 How to eat jackfruit seeds?
Jackfruit seeds are rich in all the nutritious properties. However, some necessary precautions are required while making it a part of your diet. First and foremost, never eat jackfruit seeds raw. Boil them in water for 20-30 minutes before eating. If you wish to have it fried, fry the seeds at 205 degrees Celsius for a minimum of 20 minutes. You can eat jackfruit seeds in the following ways:
Add jackfruit seeds in salads with other veggies, before adding, either boil or fry the seeds.
Its powdered form can be added in wheat dough or any other dough for its health benefits.
You can put jackfruit seeds while making smoothies to enhance the nutritional level of the drink.
Jackfruit seed can also be consumed as a snack. Just boil it, add some chopped onions and tomatoes and a dash of lemon it. It can make for a great evening snack.
Read more articles on Healthy Diet