If you are an avid buyer who likes to purchase dal from the nearest grocery store, or milk from your long-time milk supplier, think twice. Always better to look for pros and cons, before relying, isn't it? Items packaged beautifully on top of retail shelves, a variety of spices, chillies, coffee powder, tomato sauces and even your favourite flavour of ice cream can be adulterated. Consumers choose to depend on specific brands, stores and retail outlets for buying essential items from the kitchen or filling out extra spaces in their cupboards. Often, irrational buying without looking at specific ingredients can lead you to traumatic risks in the future.
Shopkeepers and businesses are in the run to deliver supreme quality products and match each other in terms of colour, taste, value, substance and more. In the process, they might add external elements to make the quality appear higher or being unaware of significant risks that their 'small' mistakes can put your lives in. The process of adding or eliminating substances to alter the natural quality and taste of food substance is known as Adulteration. Adulteration is either done intentionally by either removing substances from food or by altering the taste altogether by adding hazardous substances or elements.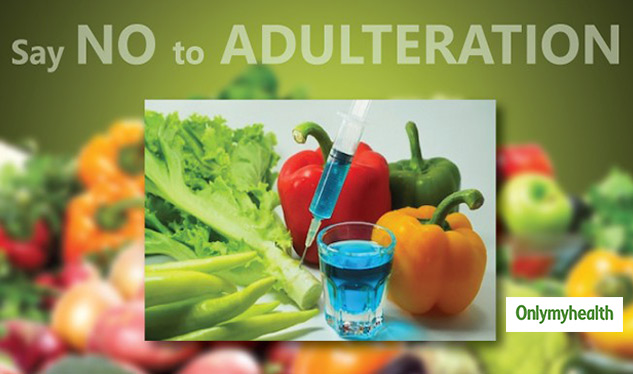 Also Read: Are Canned Foods Safe? Know The Pros and Cons of Canned Food
Enumerating the wider process involving food adulteration, Sweedal Trinidade, Senior Officer, Dietitics, P.D. Hinduja Hospital and MRC gets in touch with Onlymyhealth. She says, "It is not just the packaged items consisting of food adulterants but natural food items like vegetables are adulterated too to make them look more appealing and fresh. The most common item to be adulterated is green tea. As over time, due to day's heat, etc. the leaves appear dull, so green colour is added for the greener touch. It is always advisable to rely on known sources and look for FDI, FSSAI labels to ensure the quality of food for better usage."
Read to learn more about Food Adulteration, Common Types, Health Impacts and much more.
What is Adulteration of Food?
Food adulteration is a common and an age-old phenomenon, which is likely observed in low and middle-income countries and even developed countries fall prey to the vicious practice. The problem is aggravated in specific economies and low economic zones which include Asian nations like Bangladesh, Indonesia, Vietnam, India, and African countries. Consumers often fall prey to unscrupulous means used by importers, producers, wholesalers, or retailers, to raise their profit margins out of a limited income and expenditure. A host of hazardous chemicals are added to raise or later the texture of food, such as calcium carbide, sodium cyclamate, formalin, including cyanide to ripen green fruits early and keep them safer for long.
Do you wonder what makes confectionary items and beverages look so attractive and colourful? Well, they are result of effects created by low-cost and cheap textile dyes used for colouring vegetables, old fruits, sweetmeats, soft drinks, beverages and confectioners to grab eyeballs and attract customers. This can surely scale up sales, but can murder your health. Moreover, chemicals such as formalin are used by fish sellers to preserve the fish and prevent it from internal decomposition.
How is Our Food Adulterated?
Commonly, if our food is mixed with poisonous or harmful substances that can degrade its quality and render it malicious for health, it is said to be adulterated. An example is that of apple cider mixed with E.Coli O157:H7 and pale-colored Brie cheese adulterated with Listeria monocytogenes. One needs to ensure if the poisonous or harmful substance in the compound is present naturally and the desired quantum does not impact health. Food needs to be tested on the basis of tolerance or threshold limit, to check if the poisonous substance is within the limits of established tolerance level.
Food is prone to adulteration by the presence of foreign matter that is considered harmful or gruesome such as, glass, metal, plastics, wood, stones, sand, cigarette butts, etc. A food is also turned toxic in parts or as a whole, by removing valuable ingredients and adding extraneous elements, such as diluting olive oil with tea tree oil to hide its quality, taste, etc.
Even Spices are not left alone
It is extremely crucial to watch out for quality when buying spices from retail shelves. Spices sold in powdered forms for the ease and comfort of selling are added with coloured fillers to generate profits that are difficult to detect. Spices being rich in taste and graded in value, addition of coloured pigments can dampen their originality and taste.
Corn starch, saw dust and flour are used as common 'fillers' in spices and based on the quality and its degradation can be classified as food adulterants. Marketers have a way to outsmart consumers by using low-quality powdered spices in tightly-wrapped decorated packets sold at expensive rates. Concerns raised by Food Safety and Standards Authority of India, FSSAI pertaining to the use of carcinogenic elements to add extra colour to older stored stocks of spices indicate that methanol yellow colour along with red chromate are used in spices such as turmeric powder.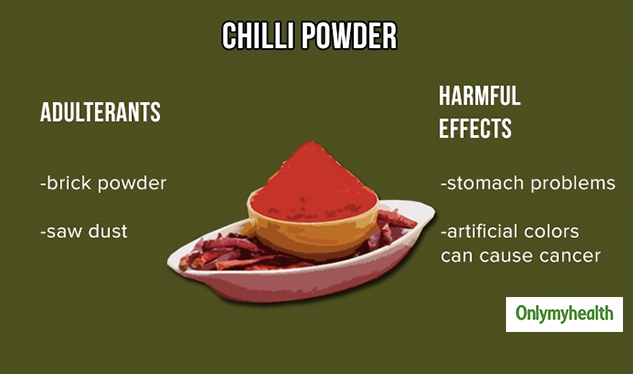 Also Read: Beware, 3 Steps Can Help You Check Adulteration In Almonds, Follow Steps For Food Safety
How to Look For Adulterants in Food?
1# Substance: Milk/Adulterant: Water
To Test: The presence of water in milk can be tested by putting a drop of milk on a polished slanting object. The drop of pure milk is likely to slide down slowly leaving behind a trail, while adulterated milk will slide down without leaving a mark.
2# Substance: Milk/Adulterant: Synthetic milk
To Test: Synthetic milk has a bitter taste, produces a soapy feeling when rubbed between fingers and turns yellowish upon heating.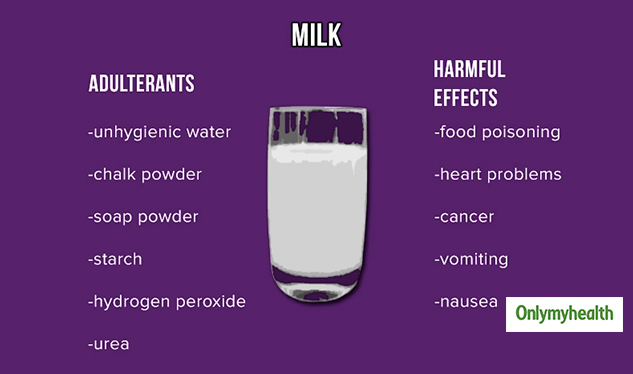 3# Substance: Sweet curd/Adulterant: Vanaspati
To Test: We need to take 1 teaspoon full of curd in a test tube and add 10 drops of hydrochloric acid. Then mix up the contents by gently shaking the test tube and after 5 minutes, observe the concoction. The red colour will indicate the presence of vanaspati in curd.
4# Substance: Edible oil/Adulterant: Added colour
To Test: We need to take 5 ml of sample in a test tube and add 5 ml of concentrated hydrochloric acid and let it hold for 5 minutes. Upon shaking, the colour will form a separate layer on top.
5# Substance/s: Wheat, rice, maize, jowar, bajra, chana, etc / Adulterant: Dust, pebble, straw, weed, seeds, damaged grain, insects, hair, etc.
To Test: The food grains may be examined visually through eyes to look for foreign matter, rotten grains, discoloured seeds, insect or rodent waste, etc.
Food Adulteration: Impact on Health
Deleterious substances can work disasters for our body and alter the functioning of hormones. Ranging from a chunk of harmful effects, adulteration can generate toxicity in the body, lead to paralysis or eventually the death of a patient. A wide variety are highly toxic leading to heart failure, cardiac arrest, liver malfunctioning, kidney disorders, and much more. Adulteration alters the product quality and destroys the nutritive component of food. Elimination of essential nutrients can lead to deficiency in our body resulting in poor metabolism and health.
Common Food Adulterants:
Adulteration impacts the quality of food severely and create a storehouse for diseases to come and attack us. It is surprising to enlist a wide variety of food items that are adulterated with harmful chemicals and can take consumers by surprise. Some of common adulterants are:
1# Milk
Study conducted by FSSAI in the year 2012 across 33 states in India indicated that milk was adulterated with diluted water, detergent, fat molecules and even substances such as urea. Other adulterants to process milk include water, chalk, urea, caustic soda and skimmed milk. Level and amount of adulteration varies greatly and is likely to cause stomach related disorders.
2# Beverages like Tea/Coffee
Two of the most commonly used beverages in the form of tea and coffee are widely adulterated. Tea leaves are added with same coloured leaves, some difficult for consumption. Significant cases of stomach ache and liver infections have occurred owing to consumption of adulterated tea. Coffee seeds are often mixed with tamarind seeds, mustard seeds and chicori. These adulterants are harmful for digestive reasons and can result in diarrhoea.
3# Food grains
It is common to witness food grains like wheat adulterated with ergot, a fungus that grows on rye and other food grains like wheat that is harmful for health.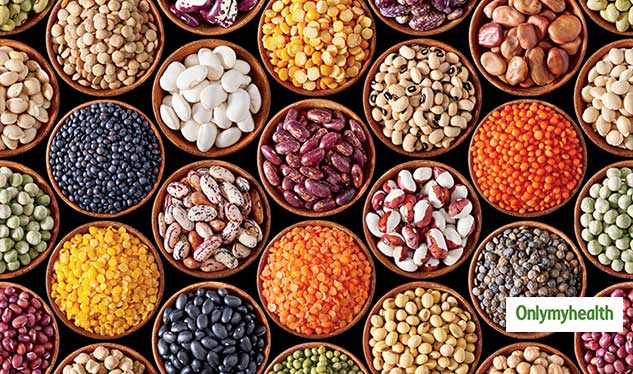 4# Vegetables
Vegetables are coloured with external dyes to enhance their brightness and texture. These forms are mostly added with malachite green, a type of chemical dye, a carcinogen
5# Sweets
We have seen sweets in confectioners and shops wrapped in silver foil. As per FSSAI regulations, silver must be 99.9 percent pure if it used in foods and sweets. Did you know eating in silverware has health benefits?
As silver gets expensive, shops opt for silver vark containing aluminium. Popular ingredients including khoya and chena are added to enhance the flavour of sweets which are adulterated with starch. But, one can test for the adulterated substance by boiling a sample in water, cooling it further and adding some drops of iodine solution. A blue colour on the sample indicates the clear presence of starch.
6# Dal
Commonly adulterated dal in the form of arhar dal is added with metanil yellow, which is used on a vast scale in the country. Prolonged consumption of metanil yellow can have disastrous consequences on a developing and adult brain in the form of neurotoxicity.
The condition results in damage to the nervous tissue. Metanil yello in dals is used as a colouring agent. The presence can be checked by adding few drops of HCL to a testing sample. The solution turning pink indicates the presence of the toxin.
Also Read: Here Are Seven Major Reasons To Refrain From Junk Food
Conclusion
Adulteration being a wide-based phenomenon is uneasy to track and has influenced our economic and material well-being. Committing food fraud by adding, eliminating, substituting, tampering, mislabelling food items and making false claims about a product to gain economic benefits is putting the entire population on a slow burn. Offences once detected can not only damage a company's reputation in the market, but can pull off consumers from trusting the brand again.
The challenge now remains as to which source to rely on. Consumers from decades have been wilfully buying from trusted and reliant partners to avail of special offers and discounts and meet their kitchen needs. To put them on a pedestal is not just a murder of sentiments, but a crime of will and negligence.
(Written By Shivani Priyam, Sub Editor, Onlymyhealth)
Read more articles on Healthy Diet