Raise your hand if you have also gained put on some weight during this lockdown. You're not alone as most of us have received bulging belly as a quarantine gift. It is easier to gain but harder to lose and the struggle is real! Just dieting and physical labour may take months to flatten your tummy. If you want to get back into shape, have some bitter sips of garlic water. It may sound weird but it works! Garlic is known to be a great weight loss ingredient and drinking garlic water is one of the best ways to lose belly fat.
Garlic is an ingredient that is widely used in global cuisines but it holds a special place in Indian households. It has a fine flavor that can enhance any dish. Not many people know that garlic is a powerhouse of essential nutrients and offers innumerable health benefits. From weight loss to immunity boost to heart health, we can prepare a long list of health advantages that it brings. In this article, we will be talking about the weight management properties of garlic and different ways to consume garlic for weight and fat loss.
Garlic for weight loss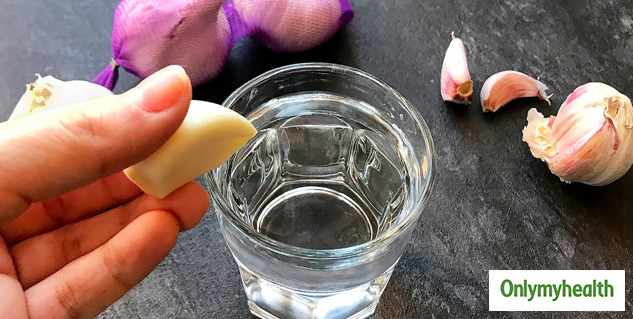 Garlic contains fiber, calcium, vitamin B6 and C, and manganese. All of these are vital nutrients and aid weight loss. If you consume garlic along with maintaining a healthy and active lifestyle, you can lose weight within a week! Read these pointers to understand how garlic helps in weight loss.
Garlic has fat-burning compounds to target the accumulated fat in the body. It stimulates the process of melting unnecessary body fat.
Garlic carries a body detoxification process to flush out toxins and harmful compounds from the body. It boosts digestive health for faster weight loss.
Garlic possesses appetite-suppressing properties to prevent overeating. It keeps the stomach full for longer to curb hunger pangs.
Garlic boosts metabolism and amps up energy levels to keep your active. This helps in burning all the calories and lower down weight effectively.
Garlic Water for Flat Tummy
Drinking garlic water on an empty stomach can work wonders for your body. You have heard about drinking lemon water on an empty stomach for weight control. But drinking garlic water can trigger fat burns. Many people consume raw garlic in the morning with water. Garlic water is great for those who cannot withstand the pungent flavor of raw garlic but want to reap its benefits anyway.
Also Read: Health Benefits of Garlic you Must Know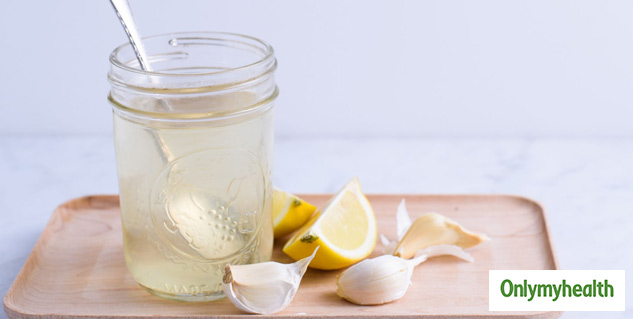 In a glass of water, add 2-3 peeled raw garlic cloves.
Do this a night before to allow the water to absorb the nutrients.
After you wake up, drink this water but not all of it.
Drink half of the water.
Drink the other half in the day.
Do this regularly for 3-4 weeks and see visible results.
Other ways to consume garlic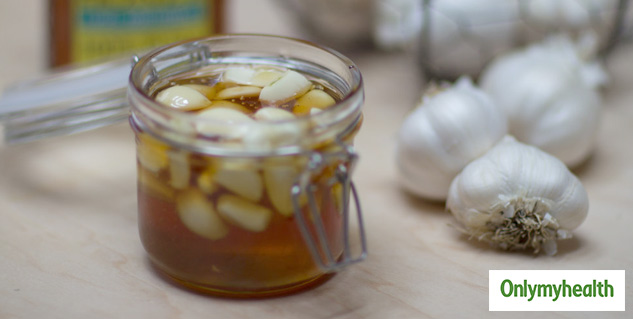 Garlic and Honey
Fill a small jar with honey. Peel some garlic cloves and add them to honey.
Keep this aside for a few hours and then eat the garlic.
Garlic and lime water
In a glass of warm water, squeeze some lemon juice and add grated garlic. Drink this on an empty stomach to trigger weight loss.
Read More Articles in Weight Management