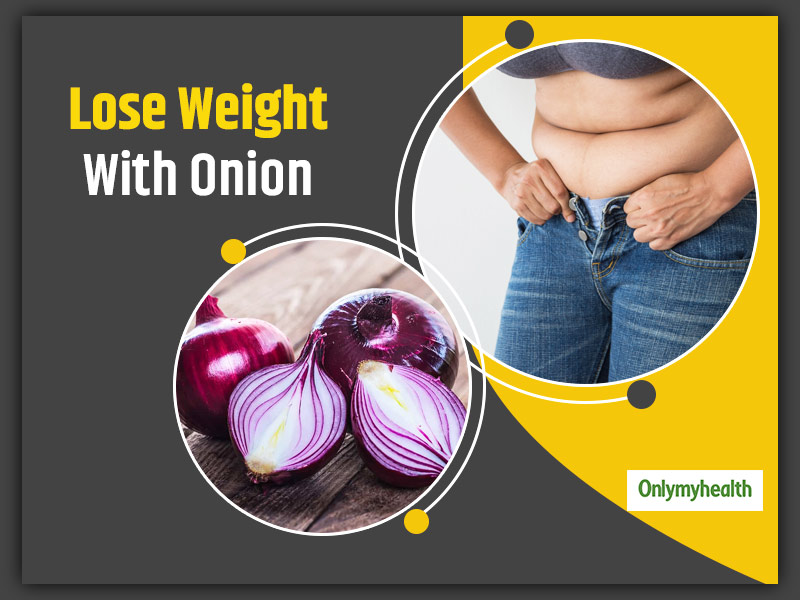 Have you put on weight during the lockdown or quarantine period? You are not alone. A lot of people have gained weight during this pandemic situation. Restricted outings, reduces physical activeness levels, increased food consumption, long work hours, etc. have altogether caused weight gain. Many of you must have got belly fat and love handles also, right? What are you doing to get rid of them? The most probable answer would be exercising but other than that? Let us tell you how you can partner with onion to get fit again.
These days, most of us are dealing with what's termed as Quarantine Weight Gain. This is basically a term given to weight gain during quarantine or lockdown. While some people managed to do home workouts all this while, some couldn't comply with the fitness regime and gained a lot of weight. If you are also striving to fit into your old-sized clothes, we have help for you. Lose weight with onions. Yes, onions can help you in getting rid of the love handles as well as belly fat.
How onions can help in weight loss?
Onions especially red onions have a flavonoid named quercetin which helps in inhibiting fat accumulation at different parts of the body. This flavonoid boosts metabolic rate. It is also rich in high fiber which improves gut health. It has probiotic properties, it is low in calories, it gives anti-obesity effects and so many other benefits. Let us tell you different ways to consume onions to lose weight.
Raw Onions
Raw onions have phytonutrients that make it great for overall health. Eating raw onions can aid you with weight loss. Just like how garlic helps lose weight, onion is no less. The only problem is the mouth odour caused after consuming raw onion but you can bear with that if you wish to lose weight. Just slice raw onions and sprinkle salt on it. Eat it as salad to enhance the taste of food and initiate weight loss mechanism.
Also Read: Have You Tried Onion Tea? Read Health Benefits Of Onion Tea
Onion Juice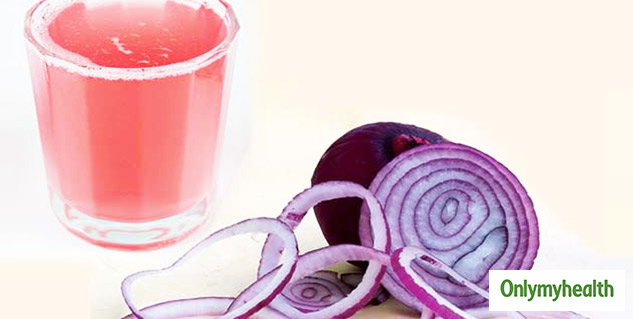 Another onion recipe for weight loss is onion juice. It is literally great for weight loss. Here is how to make onion juice:
Take 2 large-sized onions and slightly boil them.
Take the onions out of the pan and let them cool down a bit.
Now, transfer them to a mixer and grind them.
Sieve the juice in a glass.
Your onion juice is ready.
You can have this plain or add some sea salt and lemon juice to make it palatable.
NOTE: Do not consume onion juice on an empty stomach as it may cause digestive issues. Else, you can have this at any time of the day.
Also Read: 1 Cup Garlic Tea In The Morning Is The Answer To All Your Health Woes
Onion Soup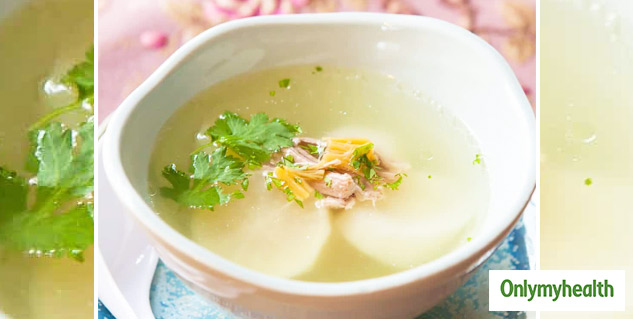 The next recipe is onion soup to which you can also add vegetables of your choice. This is not only tasty but also healthful. Here is how to make it:
Roughly chop six onions and other vegetables that you want to add to the soup.
In a pan, heat some olive oil.
Add grated garlic, ginger and onions to it. Saute them.
Now add other vegetables that you want to add.
Cook them.
Add salt, pepper and other herbs to the mixture.
Your onion soup is ready to be served.
You can have onions in any form. Consuming onions is good for weight loss whether you consume them raw or cooked. So, get up and have some onion to lose unnecessary weight.
Read More Articles in Weight Management