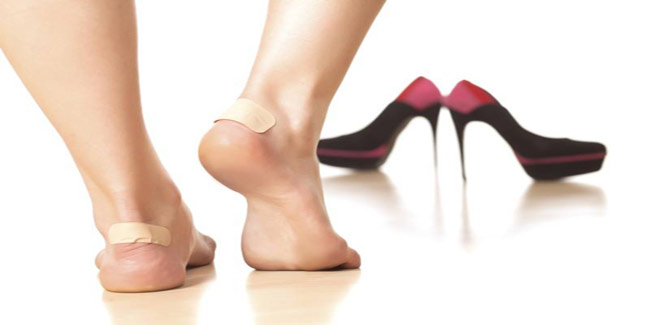 Fed up of the annoying shoe bites? It's time to get rid of them with natural home remedies.
Shoe bite is a common problem especially when you wear a new pair. A shoe bite may leave your feet swollen up with blisters highlighting the corners. Shoe bites can be extremely painful and may cause discomfort especially when you wear them for long hours. Here is how you can treat shoe bites naturally.
Ice C

ubes
Using ice cubes on the affected part is the most easiest home remedy to treat a shoe bite. Ice cubes offer instant relief to the feet and soothe pain caused by a shoe bite. Take a few ice cubes and wrap them with a cloth. Rubbing it on the affected spot not only soothes the pain but also reduces swelling caused by the bite.
Aloe Vera
Another remedy for shoe bite and pain is aloe vera which is known for its amazing healing properties. Apply aloe vera gel on the affected spots for instant relief from pain. Prolonged usage of aloe vera will also help to reduce scarring that the bite leaves behind.
Aspirin
Did you know you can treat a shoe bite with aspirin? No, you don't have to take it with water. You just have to apply it on the affected spot to treat shoe bite, scars and blisters. The anti-inflammatory properties of aspirin can reduce swelling and inflammation caused by shoe bites. All you have to do is prepare a paste of aspirin tablet and water and apply it on the affected spots. You can wash off the legs with water when it gets dry.
Toothpaste
Your toothpaste can do wonders in treating shoe bites, pain and scars. Toothpaste has compounds like menthol, hydrogen peroxide, baking which can you heal the blisters. Apply white tooth paste to the blisters and leave it on for a few hours before washing it off with water.
Petroleum Jelly
Applying petroleum jelly on the affected spot can soften and soothe irritated skin caused by shoe bite. Wash your legs and rub some jelly on the shoe bites. Leave it on overnight by using soft socks to prevent staining your sheets. It will lessen the pain and will remove spots.
Neem and Turmeric
You can also treat shoe bites with neem and turmeric paste. Both neem and turmeric are known for antimicrobial and anti-inflammatory properties. Take a few neem leaves and blend them in a mixer with some water and turmeric. Once the paste is prepared apply it on the blisters and scars. Leave the paste on the affected spot for some time and then wash it off with water. Repeat it twice a day.
Honey
Another effective remedy for shoe bites is honey. The healing properties of honey not only accelerat recovery but also reduce bruises, inflammation and pain. It helps lighten the shoe bite scars as well. For quick results, apply raw organic honey on the affect spot.
Image Courtesy: Getty
Read more articles on Home remedies