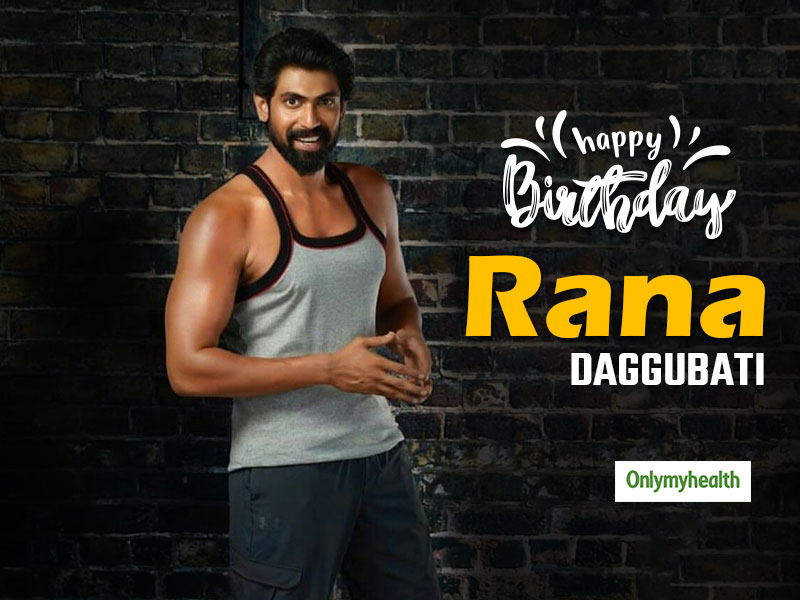 Rana Daggubati has been one of the most loved villains of all time. On his birthday, let's take a look at what the actor does to stay fit and healthy
Born on December 14, 1984, South Indian actor Rana Daggubati turns 35 on December 14. Primarily known for his work in the blockbuster film, Baahubali 2, where he is seen flaunting a ripped body. Rana has also been a producer, visual effects coordinator and a photographer in both Telugu cinema and Bollywood movies. He is currently shooting for his upcoming film Bhuj; The pride of India, which is scheduled to release on March 14, 2020. Ever since he joined the industry in 2005, he has always been a focused campaigner and accepted every challenge he faced as an actor. Whether be it gaining 25 kilos of weight while preparing for the sequence of Baahubali or losing weight for the biopic of Chandra Babu Naidu, the actor has always been up for challenges, Rana has now become a role model for many young fitness freaks.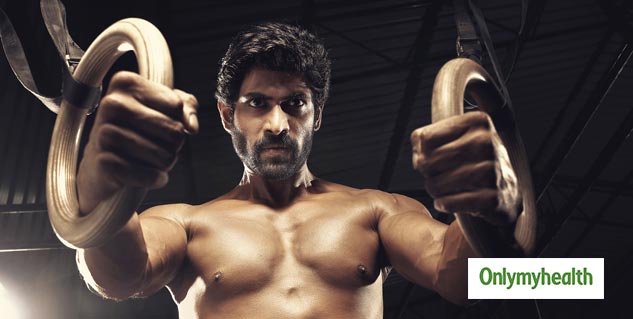 On his birthday, we would like to share with you his day to day diet and fitness regime he follows to stay flawless at whatever he does:
Rana Daggubati Fitness And Workout
While he generally goes to the gym two times a day, Rana usually keeps at least half an hour in the morning and about a full hour in the evening. His morning routine starts with cardio exercises for about 15 minutes, which is followed by strength maintaining exercises. He ends his workout with push-ups and weight lifting. His evening routine starts again with cardio. His exercises are focused on building the chest and triceps as he is mentally focused on working hard to maintain a balance between both the sides of his body.
View this post on Instagram
Also Read: Happy Birthday Deepika Padukone: Know The Secret Mantra Behind Her Stunning Looks
Rana Daggubati Diet
As Rana Daggubati has to adapt to different roles and maintain his body, he follows a rigorous diet plan, which includes 5 meals a day. He loves to eat non-vegetarian food and steers clear of smoking and drinking. Here's what he usually eats:
Breakfast: His breakfast usually starts with a huge bowl of oatmeal and nuts, which is followed by 5 slices of brown bread with 8 egg whites and lots of veggies. He ends it with fruits, which usually is either a watermelon or papaya.
Snack 1: At about 11 am, he takes a protein shake with some fresh fruits, while sometimes adding light snack with it.
Lunch: His lunch is focused on a lot of proteins. For proteins, he has fish along with protein-rich veggies.
Snack 2: Before starting his evening workout session, he prefers to take 4 slices of brown bread with 4 bananas.
Dinner: He takes his dinner at 9 pm, which is usually loaded with proteins as the body repairs itself during the sleep with the help of protein components. Rich protein salads are also a part of his dinner.
View this post on Instagram
Also Read: Happy Birthday Sonu Sood: Know What It Takes To Maintain A Tough Body Like Sonu
Work out and fitness tips by Rana Daggubati, as told to Workout Info Guru:
One should make fitness a part of his daily routine while keeping in mind the metabolism of his/her body.
One should avoid alcohol and smoking
Written by: Siddharth Kr Singh
Read more articles on Exercise And Fitness