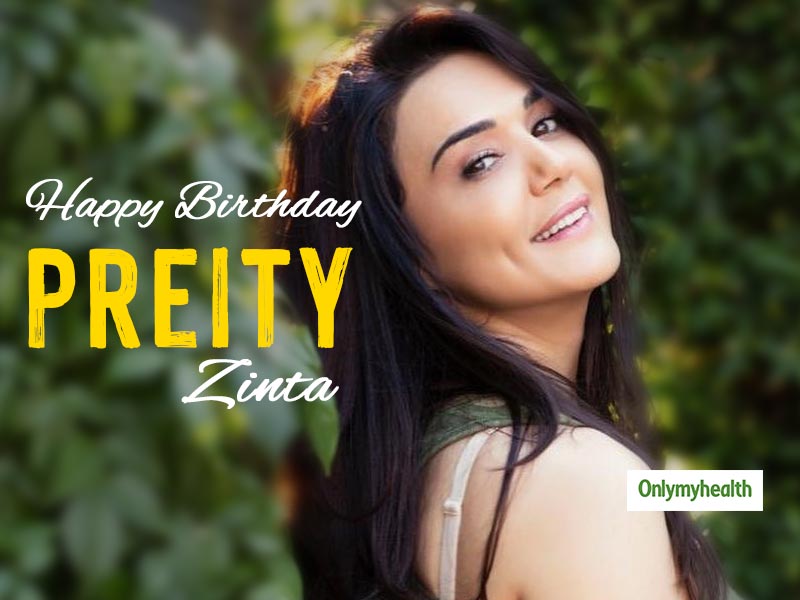 Bollywood's most popular and highest-paid actress in the decade 2000-2010, Preity Zinta has been one of those actresses who has been evergreen since her debut film Dil Se in 1998. After her debut, she was more recognised for her Bollywood hits like Kal Ho Na Ho, Veer-Zaara, Kabhi Alvida Na Kehna and the most popular one with Hrithik Roshan, Koi Mil Gaya. As she turns 45 this January 31, she continues to be true to her fitness regime and can give any actress a run for her money. Let's find out what has been the mantra behind her flawless skin and fit body. Also, it won't be wrong to say that this pretty actress, is surely ageing like wine.
Preity Zinta's Fitness Schedule
Not being a big fan of crash diets at all, Preity believes in exercising hard and eating well so that her body keeps in shape. She also prefers to do yoga in the morning as she thinks that it helps her in improving her concentration level. She takes dance lessons too so that she can be ready for performances and shoots. Preity also prefers adventure sports once or twice in a month.
Also Read: Akshay Kumar Fitness Tips: Here Are 4 Teenage Bodybuilding Mistakes To Avoid
Preity Zinta's Hair Maintenance Plan
Being a celebrity, Preity Zinta is bound to take proper care of her hair. She even eats a healthy diet to take adequate care of them. She says that she shampoos and conditions her hair at least 3 times a week; she often trims them so that they grow quickly. She even changes her hairstyles in 2-3 months every time and makes sure she stays away from artificial hair products.
View this post on Instagram
Preity Zinta Diet Plan
Her diet is mainly based on fruits. She drinks a lot of fruit juices and prefers to prepare them at home. Her favourite fruits are papaya and mango. She often treats herself with the occasional Gajar Ka Halwa every time she craves something sweet. Other than this, she takes green leafy vegetables and fruits daily as she eats small meals at least six to seven times a day. Her fruit concentrated diet had made it easy for her to maintain weight as well.
Priety Zinta's Skin Maintenance
We know how glowing her skin is! From the start of her career, PZ has been lauded for her clear skin. For maintaining her healthy and glowing skin, Preity drinks a lot of water daily. She even eats a lot of carrots every day for the same purpose. She drinks water so that it helps her in flushing out the toxins, keeps her hydrated and gives her a stunning look with a charming appearance. She also believes in cleansing tones and moisturising herself daily. Her night facial cream is also one of the secrets behind her excellent skin.
Also Read: Bobby Deol Birthday Special: Some Tips From The Housefull 4 Actor To Stay Fit And Healthy
Preity Zinta Rests For Good health
She prefers to take adequate rest every day, as this makes her store enough energy to keep herself going the next day. According to herself, lack of sleep can lead to overeating and chances are there that you can put up some weight. She keeps at least 7-8 hours for sleeping every day.
Read more articles on Exercise & Fitness