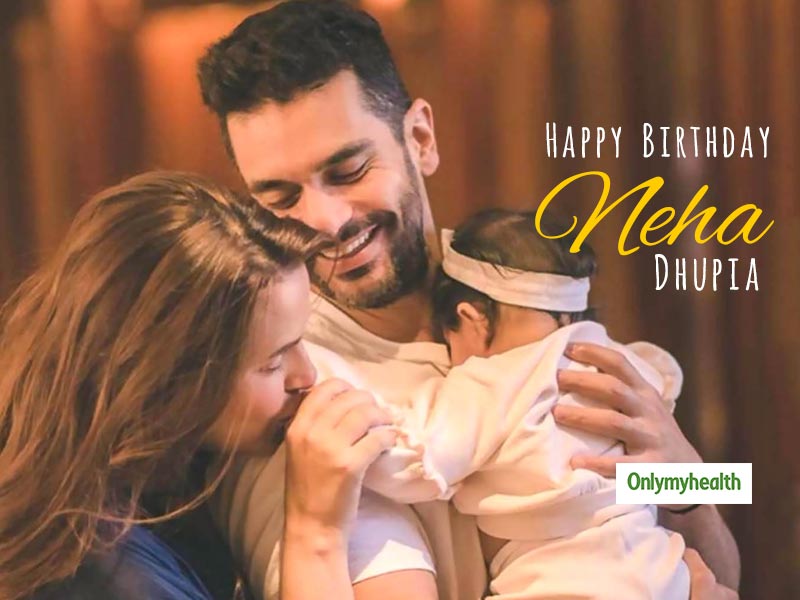 Happy Birthday Neha Dhupia: She is one of the finest actors of Bollywood who is now a mother to a beautiful baby girl 'Mehr'. Read this article to know how she is managing everything.
From a hush-hush marriage to beau Angad Bedi to getting pregnant before marriage to hiding her pregnancy for the longest possible time to giving birth to a beautiful daughter, Neha Dhupia's life was the hot topic last year! Currently, she is busy being a mum to 'Mehr' while balancing her work and home altogether. Let us take you through her journey of becoming a mother at the age of 38 and how she's being a hands-on mother, host, actor and producer.
Ever since Neha broke the news of her pregnancy, she was under the media scanner. In between all the shaming comments, she decided to face them all and not hid behind the walls. Throughout the nine months of tenure, we would see her working. From being a gang leader in MTV Roadies to actively participating in fashion shows, she was unstoppable! Talking about embracing motherhood, Neha once quoted, "I never thought I'd love someone infinitely more than I love everybody else in my life. I must admit that being a mother is a full-time job, and there's a reason they say that. But it's the best job you could ever take up. Those little hugs, when Mehr clutches on to my fingers, and heavenly smile make my day, every day."
Balancing work and home
View this post on Instagram
Neha ardently follows a principle, 'go with the flow'. After knowing that she's pregnant, Neha was decided to go ahead and bring the little life to the world. She and her then-boyfriend, now-husband Angad Bedi decided to take nuptial vows and here they are, a happy family of 3! She believes that one should go with the flow. Neha worked till the eighth month of her pregnancy which is a really big deal. Not just that, she resumed work just a few weeks after delivering her daughter 'Mehr'. She says that when she's at work, she is 100% working and when she's home, she is 100% home! This is what makes her a successful actor, mentor, producer, host, responsible and definitely, a hands-on mother.
Also read: Tightening Of Stomach During Different Stages Of Pregnancy
Becoming a mother in late 30s
View this post on Instagram
Also read: 7 Foods That Cause Heartburn During Pregnancy
Neha is known to break stereotypes where she is seen doing things that are against societal norms. Many people believe that pregnancy becomes difficult with age but Neha beautifully slammed this notion. She worked throughout her pregnancy period with full-on zeal and stamina. She set an example in front of the women that it is you who decide your fate. It is your choice to become a mother or not. It is your sole choice to decide when you want to become a mother. Age is a factor but not a barrier.