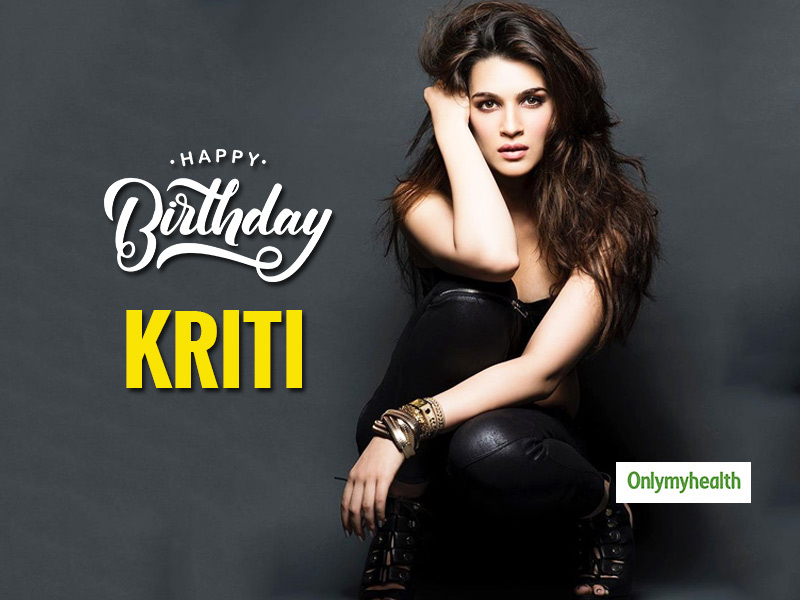 Kriti Sanon doesn't need an introduction. The engineer-turned-actor stepped in the media & entertainment industry five years back with 'Heropanti' and she's been unstoppable ever since. She entered the industry without any godfather and created a room for herself all on her own! She is extremely experimental and always ready to take up challenging roles. Looking at her petite figure, you cannot tell that she is a complete foodie but also loves to workout. On the occasion of her birthday, we bring to you the diet and fitness secrets to Kriti Sanon's slender body.
Kriti Sanon Workout Regime
Kriti trains under celebrity fitness trainer Yasmin Karachiwala who seems to be a great friend to her. She often shares her workout videos on Instagram. She mainly does weight training and pilates which are specially curated by her trainer according to her body type.
Even though she is extremely lazy, she makes it a point to not miss any training session. Kriti once quoted, "I'm pretty lazy and need a trainer to drag me to the gym and motivate me." She also loves to try other forms of exercises that can help strengthen her core. She learned sword fighting and martial arts for one of her films. Also, she loves to practice kick-boxing as a part of regular exercising. Kriti is very focused on maintaining her body. She follows her trainer's guidelines to improve stamina, balance and flexibility.
Kriti loves to dance and has learned a lot of dance forms including Kathak, contemporary, jazz, and many more. According to her, dancing is the best and easiest exercise one can do to exercise the entire body. It also soothes the soul and provides the utmost happiness.
Also Read: Actress Kriti Sanon To Get Fat and Gain 15 Kilos. Know The Reason For This Drastic Step
Kriti Sanon Diet: Eat all day but dine light
A great body requires proper nourishment and do Kriti is very strict about eating healthily. Even though she is an absolute foodie, she follows a proper diet chart given by her nutritionist.
Also Read: How TV Actress Diyyanka Tripathi Dahiya Stays In Shape, Her Workout And Diet Secrets
Soon after waking up, Kriti drinks a glass of warm water with honey.
For Breakfast: Kriti eats brown bread with two eggs as the first meal of the day. As she usually works out in the morning, she also drinks a glass of protein shake along with her usual breakfast.
For Lunch: She likes proper desi khana at lunch. 2 chapattis, daal, rice and vegetables. She loves meat which is why she likes eating chicken curry for lunch. Some days, she likes to eat a light lunch with only salads, soup or a sandwich.
Dinner: She keeps her last meal of the day very light wherein she only eats salads and a glass of milk before going to bed.
Snacking: Whenever she feels hungry in between the meals, she drinks green tea and eats fruits to energize herself. She always keeps nuts, dried berries, dates, protein bars, and chocolate in her bag so that she can munch on these whenever she feels hungry on the go.
Read more on Exercise & Fitness