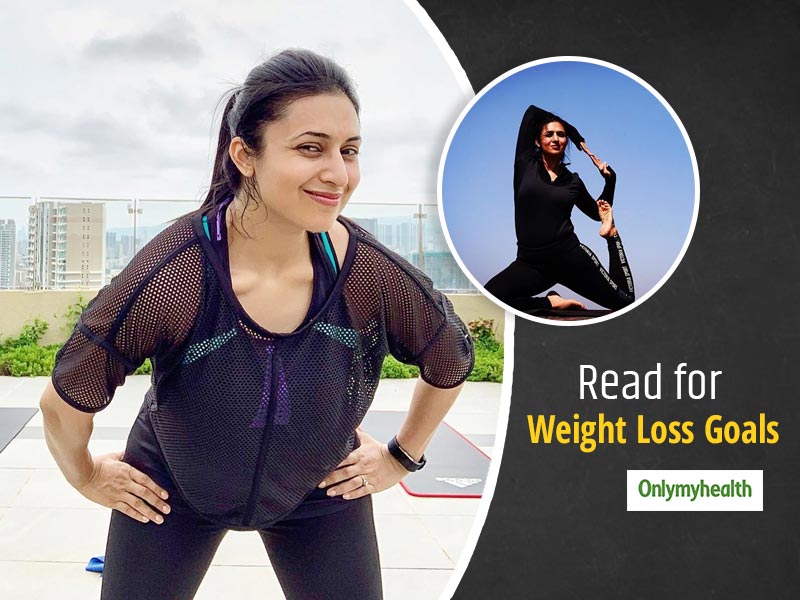 We know how inspired we feel when we see our favourite celebrities or TV stars sharing how fit and healthy, they are. Some may be of the thought process that those stars could be blessed to be in shape. However, only when you dig deeper, you will know the struggle behind maintaining healthy body weight, and also a flawless skin. One such actress who has wowed everyone with her acting skills is 'Yeh Hai Mohabbatein' actress Divyanka Tripathi Dahiya. She has a huge fan following is known for her flawless looks. However, the actress, more known for her acting skills, was mostly considered on the heavier side owing to hectic shoot schedules and her role types too. Playing a mother onscreen to grown-up kids had her to be seen in a specific character. However, this star is not behind in making the most of her lockdown. After her stint at a reality dance show a few years back, we could see the diva transforming into a beautiful swan for the time she got to exercise (dance practice sessions) for the final show.
Also Read: Kareena Kapoor's Fitness Secret Revealed: 50 Times Surya Namaskar In A Day
Now, making the most of her lockdown, she leaves no chance of sweating it out not to let the 'work-from-home phase take over her life in the form of extra flabs. Hence, the actress has been sharing her fitness journey on her Instagram account and is seen to enjoy every second of her lockdown with her husband, Vivek Dahiya. Read below to know how this TV actress keeps in shape in these pandemic times, when almost everyone is complaining of stress and other health concerns due to extended lockdown and quarantine sessions.
What Are The Diet Secrets Followed By Divyanka Tripathi?
The actress, out of her counterparts, has always been very vocal to be close to her fans and has ensured that her sweet nature has kept her on the favourite spot since she started acting. In an interview with an online portal, Divyanka explained how meticulous she is when it comes to her diet. She has a set morning ritual where she starts her day with tender coconut water, followed by a kings-size yet healthy breakfast around 10 am. Also, she loves having her glass of green juice every day, which has less to little sugar but high on health benefits. Her breakfast consists of fruits, pancakes, etc.
Not Blessed With A Good Metabolism
We have all seen her struggle to stay in shape, which makes her not-so-blessed when compared to other actresses. She knows she cannot eat anything and lose weight or not gain extra pounds without any exercise. So, for Divyanka, carbs, sugar and rice are a total no-no and she tries to stay away from these, as weight loss does not come naturally to her. For her, if she is having roti/chappati, that sums up to be her cheat day, which is otherwise a staple food in India. Her meals consist of vegetables like broccoli and other green vegetables with very less oil. Her stress is majorly on getting all the necessary nutrition to stay healthy.
TIP: She has a fixed meal timing and finishes her meal by 8 pm. This helps in better digestion of food. Also, she includes a lot of fibre in her diet, which helps her be in shape. Fibre keeps you full for a longer duration, limiting the need to binge eat.
What Is Divyanka's Workout Plan?
Those who would have followed her Nach Baliye journey, those would know the transformation she had in terms of weight. That was all because of having a fixed exercise schedule after a long time for the actress. Now, to stay safe and in shape, the actresses now have a newfound love for exercising and working out. She exercises every day, even during this time when most of the people are under a lockdown or in quarantine.
Watch: If you are streuggling with belly fat, watch this video for effective belly fat loss exercises:
She loves doing cardio and weight training does not forget to balancer her cheat days with an intense workout session. Over the years, the actress has transformed beyond belief. She finds support in her husband, who does not let her cheat even on her off days or cheat days. Divyanka likes to do both cardio and weight training together for her workouts. She burns her calories with a good cardio workout and uses weight training exercises to keep her body and muscles toned.
Also Read: Ram Kapoor: His Journey From Fat to Fit Through Intermittent Fasting Is Every Bit Inspiring
What makes this actress standout from the rest is her acceptance to the struggle to lose weight and to be in shape. Even though it has been quite some time since this actress has lost weight, she is an inspiration on tips to maintain the weight loss, for most of the people complain of getting it all back due to irregular practices. Hence, read Divyanka's story to know on the importance of following a healthy weight loss and diet plan to stay in shape forever.
Read more articles on Exercise & Fitness