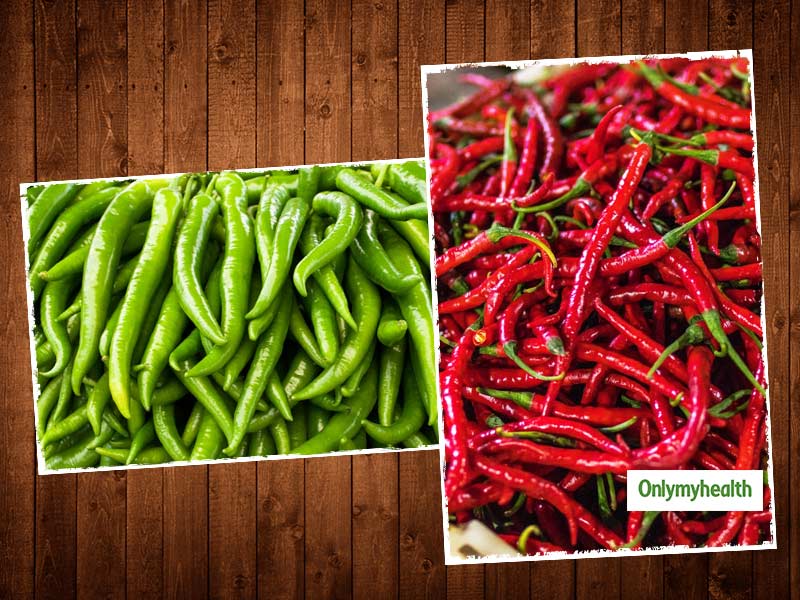 Green chilli or red chilli powder? What's your take? Which one is good for health?
Benefits of Red and Green Chilies: The taste of chilli is significant for those who like hot and spicy food. Many people like red chilli tempering/tadka, while some people have a habit of eating green chillies. Chilis are rich in many nutrients like vitamin A, B6, C, iron, copper, potassium, protein and carbohydrates. Not only this, but there are also good things like beta carotene, cryptoxanthin, lutein-xanthin, etc. Although it has been commonly used to enhance the taste of food, many recent pieces of research claim that eating green chillies can get rid of many health-related problems. But, do you know which type of chilli is beneficial for your health?
Let's understand which of the two chillies are more beneficial for our health.
Healthy Benefits Of Green Chili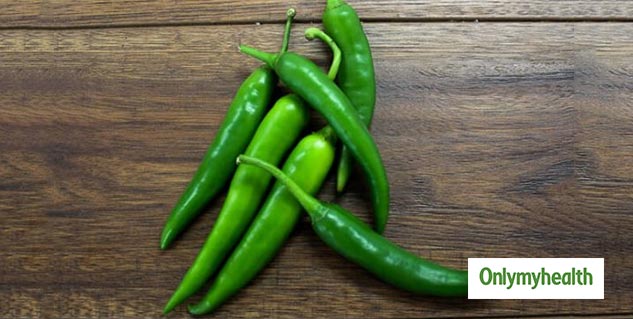 The use of green chillies in a fresh salad, chaat and lentil tempering enhances the freshness of the dish. Eating green chillies improves digestion because it contains fibre which makes the digestion process more comfortable and also keeps the gut healthy. Apart from this, there are many benefits of green chillies.
Weight Loss: Green chilli is also considered very effective in reducing weight (as they do not contain calories). At the same time, their intake increases metabolism, which is regarded as useful and helpful for weight loss. Green chilli rich in vitamin A is also very beneficial for eyes and skin.
Healthy Heart: Beta-carotene is found in fresh green chillies. This element helps the cardiovascular system to function correctly. Green chilli is an excellent anti-oxidant medium. Dietary fibres are abundant in green chilli, which keeps the digestion process smooth.
Cancer Protection: Just as chillies contain potent antioxidants such as vitamin C. Therefore, it is considered a spice that protects against cancer. Due to the presence of antioxidants, the risk of lung cancer, oral cancer and colon cancer is reduced. In many pieces of research, the use of green chillies has also been considered beneficial as protection against lung cancer. However, no official confirmation of this has been done yet.
Healthy And Unmatched Benefits Of Eating Red Chili
People who like the taste of red chilli, they should also know its benefits. Adding red chilli powder to dishes like curries, vegetables, kadhi-pakoras and Dahi-vada also enhances their flavour and colour. By the way, there is no significant difference in the nutrients of green chillies and red chillies. As the chillies dry, the amount of water in it decreases. Although red chillies also have their health benefits.
Also Read: Forget Green Tea And Switch To Earl Grey Tea, Know Earl Grey Tea Health Benefits
Fat Burner: Capsaicin is a compound found in chillies, thereby speeding up the fat-burning process. Apart from this, eating red chillies also produces happy hormones which enlighten your mood. Red chillies contain sufficient amount of vitamin C. Vitamin C helps other vitamins to be adequately absorbed in the body.
Keeps Blood Pressure In Control: Red chilli, rich in elements like potassium, also helps to keep your blood pressure level under control. According to some recent studies, red chilli is effective in reducing blood sugar.
Immunity: Levels of elements like vitamin C are also very high in red chillies. These active and healthy antioxidants keep the immune system strong and help fight diseases. Red pepper has anti-bacterial properties, due to which the body remains bacteria-free, and it also helps to strengthen the immune system.
Cardiovascular Health: A significant benefit of eating red chilli is that it reduces the risk of heart diseases. Red pepper works to stop the process of blood clotting, which keeps the body's blood circulation intact. In this way, there are very fewer chances of heart diseases.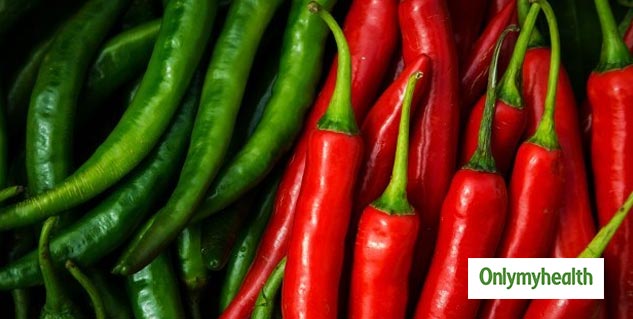 What Is More Beneficial To Eat - Red Or Green Chili?
Whether its red chilli or green chilli, both have their health benefits. Just pay attention to the fact that you must consume them properly. For example, green chilli is always eaten raw. Similarly, dry red chilli should be used with a combination (can be eaten raw or mixed in the tempering). However, consumption of red chilli powder should be avoided (different types of adulterated chilli powders available in the market, which can be harmful to health).
Read More in Healthy Diet